Scandals are commonly seen every year when professor and associate professor titles are granted, which raises doubts about the qualifications of scientists and the talented of the society.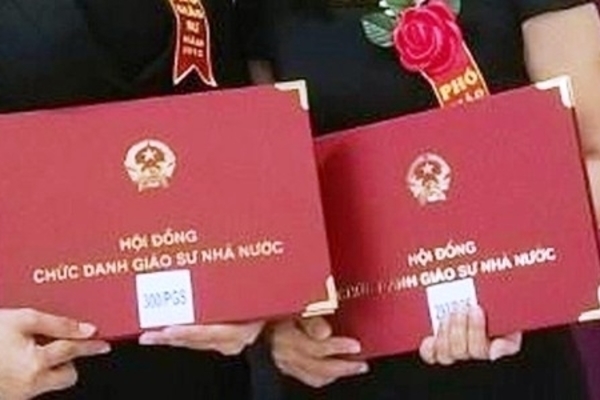 Professors and Associate Professors, in principle, are better than others in their disciplinary field. They have many years of scientific research and lecturing, and adhere to academic ethics.
Under the Prime Minister's Decision 37/2018, the criteria candidates must have to be granted the titles of Associate Professors and Professors are very clear.
Candidates must have 'internationally published scientific articles', not just 'scientific articles or scientific research' as stipulated in the old regulation.
Candidates for professor must be the first author of at least five scientific articles, while candidates for associate professor title must have at least three articles published internationally in ISI/Scopus journals or other journals stipulated by the State Professorship Council.
Though the regulation is very clear, scandals about disciplinary integrity arise every professorship title granting season. Many candidates are denounced for publishing scientific articles in disreputable journals, or 'predators' (a person pays money to be able to have articles published), not the journals in the list set by The State Professorship Council.
A group of scientists has sent a letter of denunciation to the council, naming five candidates for associate professor and professor titles in economics who published articles in so-called predators. They claim that the candidates cannot satisfy the requirements to be granted the titles.
N.L.M, a candidate, said that he has 43 scientific articles published I Vietnamese and international journals, of which eight articles were internationally published in prestigious journals.
However, in the letter of denunciation sent to the local press, all the eight articles cannot meet the requirements as there are problems in disciplinary integrity. The author of the articles 'plagiarized' himself: the articles published in international journals have content the same as the articles in Vietnamese language published in domestic journals.
The author has also been found using articles of foreign authors, changing some words, re-drawing charts and then publishing in international journals.
The letter of denunciation pointed out that N.L.M cannot meet the requirement on having three internationally published articles to be granted the title of associate professor.
Prof Nguyen Viet Anh, Chairman of the Professorship Council in Construction – Architecture, said he has received the denouncement against N.L.M four times over the last two years.
Another example of the violation of scientific integrity is N.M.T, a candidate for the professor title in philosophy-politics-sociology.
According to Ngo Viet Trung, a member of the Professorship Council in Mathematics, the candidate published articles in dubious international journals.
T has an article, 'Preventing and Combating Political Opportunists in Vietnam Today' published in the Turkish Journal of Computer and Mathematics Education, a journal with very low quality.
The editorial board of the journal has four people, headed by Dr Dinh Tran Ngoc Huy, who introduces himself as Professor in banking and finance in HCM City. The three other members have expertise I engineering or finance, which have no relation with mathematics education and computing. They do not work in Turkey.
Meanwhile, Associate Prof Nguyen Duc Trung, Vice Rector of the Banking University of HCMC, affirmed that Dinh Tran Ngoc Huy is now a postgraduate of the school and is never a lecturer of the school. The man set up a website and invited people to publish articles on the website with the price of VND12-14 million.
N.M.T also has other articles published in other journals with no clear origin, or journals with no editorial board.
For example, one of the articles was published on PalArch about Archeology in Egypt and Egyptology, and editor-in-chief and deputy editor-in-chief are Thai people who don't have deep knowledge about archeology.
The question is why these candidates, who are scientists with high qualifications, did not realize that these were fake or low-quality journals but let other people like Huy cheat them.
Scientific integrity
For a long time, scientific integrity has been a pressing concern in the academic world and public opinion. Plagiarism, impersonation, and counterfeit degrees are all burning issues in society.
The words 'tien si dom' (fake PhD), 'giao su rom' (fake professor) and 'lo ap tien si' (doctor incubator) have become popular.
The Vietnam Academy of Social Sciences in 2015 and 2016 produced 700 doctors and 2,811 masters, which means that the 'incubator' produced one doctor and four masters. At the academy, a professor acted as advisor to 12 postgraduates and there was a PhD of economics who gave advice in education management.
Plagiarism, fake diplomas, fake PhDs and fake professors need to be considered a form of academic corruption. This type of corruption pushes back the country's scientific development.
In recent years, the Party and State have clearly shown strong determination to strictly punish corruption and wrongdoing in the country. Hundreds of officials and generals have been facing criminal proceedings.
However, no case of academic corruption has been dealt with strictly and properly. The case of Dong Do University selling degrees was brought into light, but only the seller was published, while hundreds of degree buyers and the accomplices have not been sanctioned.
Nguyen Nguyen
A group of scientists has sent a letter of denunciation to the State Professorship Council, naming some candidates who published articles in so-called predators.
Some candidates for the titles of professor and associate professor in mathematics have been weeded out. The surprise that the figure was nearly 60 percent of the total.