Home appliance distributors have had a tough year 2021 because of Covid-19.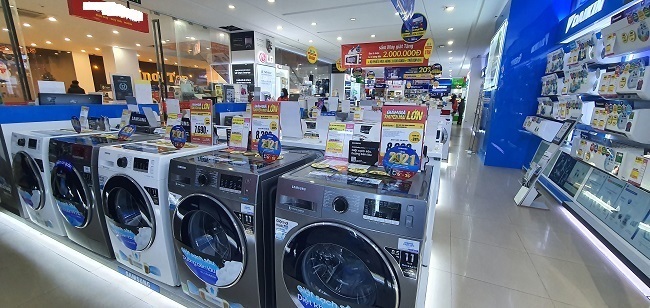 The home appliance market was bustling in January 2020. The sales were high as Tet holiday neared.
Sales then went slowly from after the Tet holiday to the end of March. The demand began recovering in late April when the fourth Covid wave broke out.
The months from May to September were the most difficult period for home appliance retailers as the pandemic broke out on a large scale which prompted people to restrict their purchases.
From July to September, when many cities/provinces nationwide imposed lockdowns, home appliance distributors had to close their stores as these products were not considered essential goods.
While products went unsold, the inventory level surged, and the distributors had to pay workers, bank loan interest and rent. As a result, many distribution chains incurred big losses.
The market turned warmer in Q4, but demand was still very low. The sector is expected to see a minus growth rate in 2021 compared with the year before.
The Gioi Di Dong, a well known smartphone retail chain, reported that it had to close 400 sale points in Hanoi and HCM City for one month, which caused a loss of VND1.6 trillion.
Meanwhile, the policies to support businesses, such as value added tax (VAT) and corporate income tax (CIT) reductions, don't have much significance as they either have very low revenue or incurred losses.
Some commercial banks have eased their lending interest rates by 0.3-1 percent and extended debt payment deadlines. However, businesses cannot access the loans with preferential loans of zero percent to pay their workers. Meanwhile, input costs all have increased, from anti-pandemic measures to logistics and retail premise rents.
In an effort to boost sales, distributors have had to cut the selling prices, but sales are still going very slowly. TV prices have decreased by 30-82 percent, washing machines 20-50 percent, air conditioners 15 percent, refrigerators 10-45 percent, audio equipment 20 percent and cameras 35-41 percent.
According to JFK, as of the end of Q3 2021, TVs had seen the 16.9 percent decrease in number of products sold and 9.4 percent in value. The figures were 10.4 percent and 12.2 percent, respectively, 9.1 percent and 3.9 percent for refrigerators, 8.3 percent and 5.4 percent in comparison with the same period of 2020.
Home appliances bargained away
With just VND20-35 million, one can buy branded TVs. A Smart TV 4K 70 inch manufactured by LG has quoted prices falling from VND36.4 million to VND18.4 million.
Smart TV Sharp 4K 70 inch LC price has fallen by 80 percent from VND125 million to VND24.99 million; Samsung 65-inch 4k curved screen TV 60 percent to VND15.9 million; Smart TV 4k 78 inch plummeted 69 percent to VND27.9 million; and Smart TV QLED Samsung 4K 75 inch is selling for VND34.9 million instead of VND34.9 million.
Refrigerators with high capacity and new technology have also seen prices drop. 626L Sharp, for example, is selling at VND17.9 million instead of VND30 million. LG side by side 613L Inverter Linear is selling at VND18.49 million instead of VND24.5 million, while LG side by side refrigerator 626L Inverter Linear from VND34.9 million VND19.9 million; and Hitachi 584L by 37 percent, from VND93.9 million to VND59.9 million.
As for washing machines, one just needs to have VND4-8 million to obtain a good product. Samsung Inverter washing machine, for example, is selling at VND7.99 million, a decrease of 41 percent.
At a home appliance supermarket in Quang Trung Street in Ha Dong, there were tens of workers seen sitting idle as there were no visitors. At the TV stall, there were not many new products on display. Only a few TV sets were on, while the others were off. This was done to save electricity as explained by the workers.
Struggling to survive the pandemic, some home appliance centers now sell foodstuff products as well, from fruits to milk and fish sauce.
Many sale promotion campaigns are running these days. Pico chain has slashed the retail prices by up to 50 percent. It has also negotiated with financiers to extend installment periods and warranty time.
Nguyen Kim chain launched a program under which refrigerators and water filters had starting prices of VND200,000-600,000 only. Other retailers offer preferential prices for thousands of dong to clear their stock.
Tran Thuy
Sales have fallen sharply despite attractive price discounts and inventories have soared as home appliance distributors experience their toughest days ever.
Today, June 1, is the last day that South Korean conglomerate LG produces smartphones in Vietnam before it focuses on making home appliances only.