Gardeners in Hoi An are concerned as buyers have not turned up and few orders have come this year.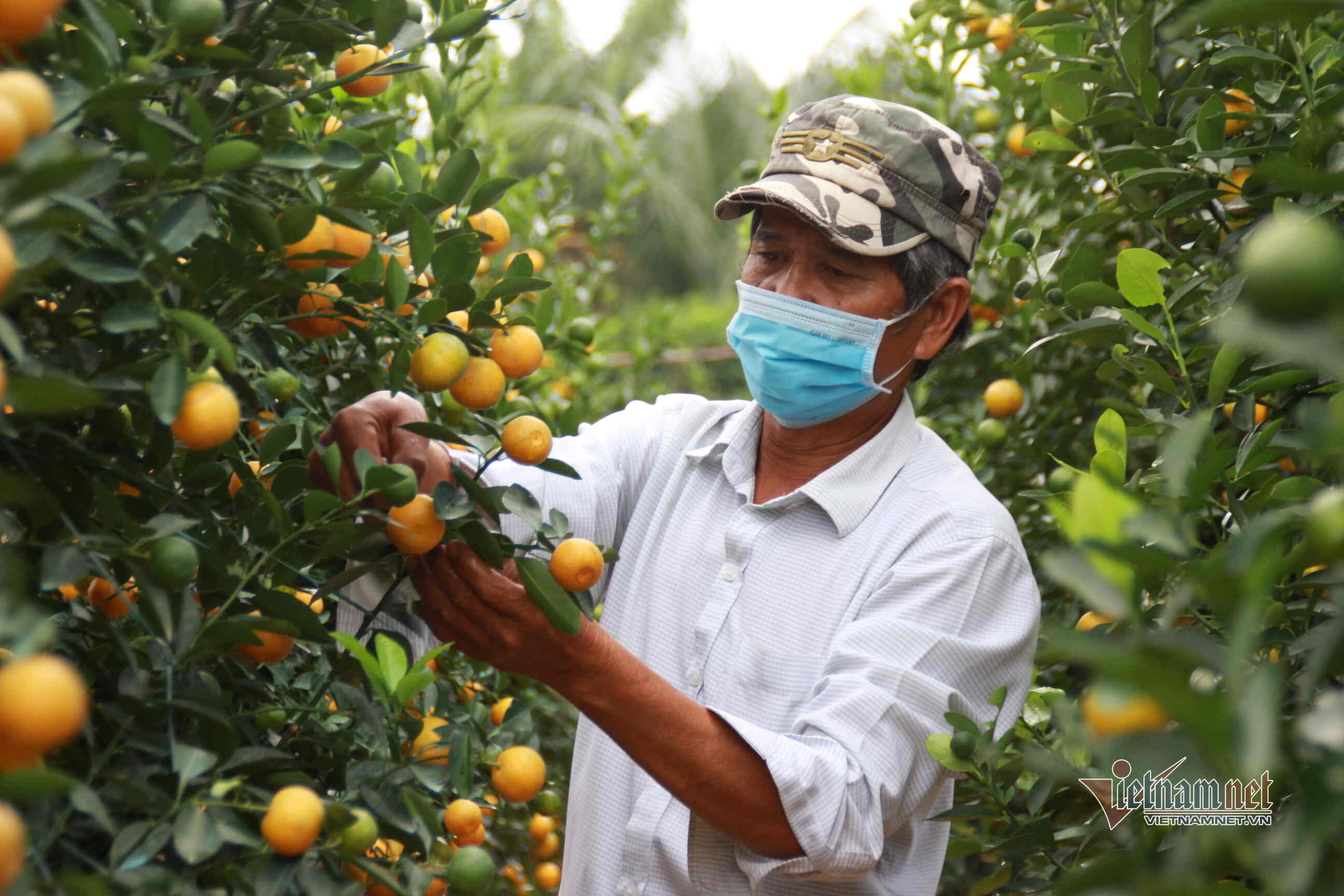 Tilling the soil around a kumquat tree that was re-planted two months ago, Nguyen Thi Lan in Cam Ha commune sighed. She planted 600 kumquat trees this year, but 500 trees were damaged by floods and she has not received orders for the remaining 100.
Ornamental kumquat tree prices this year are the same price as the previous year, VND300,000-400,000 for a small tree and VND1.1-1.5 million for a larger one.
While the production costs increased because of higher input material prices, the kumquat selling prices remain unchanged. Fertilizer price, for example, has increased by twofold.
Lan said she has spent VND300 million on her kumquat garden. Anticipating low demand this year, she just wants to recover the investment capital.
As most of her trees died during the floods, she decided to grow 200 kumquat. One kilogram of kumquat fruit sells for VND20,000.
Just tens of meters away is the garden of Nguyen Luyen, 58. The man grew 700 trees this year, but 200 died after the floods. The remaining trees are priced between VND500,000 and VND3 million.
Luyen has orders from some merchants but he is not sure if the kumquat trees can be sold.
"Merchants have paid a deposit of 40 percent of kumquat tree value. However, they said if a lockdown is imposed in the second half of the 12th month of the Lunar Year, they won't take the trees and they will get the deposit back," he explained.
Farmers also worry about the changeable weather. In cold water, kumquat trees are susceptible to pests. Gardeners have to use more pesticides and keep close watch over the trees.
Luyen, who has grown kumquat trees for 15 years, said a big rain, typhoon or frost will cause kumquat fruits to fall.
"Gardeners are worried stiff as they have heard about a typhoon," he said.
Nguyen Duc Thanh, 47, said he has 150 kumquat trees this year, just half of that of the previous year.
"The pandemic developments also remain complicated," he explained.
Covid-19 has forced people to fasten their belt, so Thanh mostly grows small trees for reasonable prices. A small tree is priced at VND500,000 and a medium one VND700,000.
He began receiving orders for 150 trees from merchants one month ago.
"The merchants are from Quang Tri and Quang Ngai. Each of them paid a deposit of VND10 million, promising to come back to get trees 15 days before Tet," he said.
Nguyen Thanh Duoc, Deputy Chair of CamHa Commune, said there are 400 kumquat growers in the locality with 45,000 trees available this year.
Cong Sang
A "Mam Ngu Qua" or five-fruit tray is indispensable for each Vietnamese family among the numerous offerings required to decorate ancestral altars during the traditional Lunar New Year (Tet) festival.
Peach blossom and kumquat gardeners and traders have high expectation for sales as the Tet holiday approaches.