A corner of Mai Châu Hideaway Resort. VNA/VNS Photo Trọng Đạt
HÒA BÌNH — With a favourable geographical position and as a cradle of Mường culture, the northern mountainous province of Hòa Bình is an interesting destination for a short vacation and an attractive investment destination for investors.
A favourite destination in the province is Thung Nai, which has a poetic and lyrical landscape but is also full of majestic wild beauty with fresh air and serene natural space.
Visitors to Thung Nai can rest, relax and explore the wonderful scenery. Sitting on a boat and watching the world go by around the Đà River is a fantastic experience.
Daily stress and fatigue will disappear when you immerse yourself in the beautiful natural scenery of the Đà River.
Hòa Bình is also famous for the Mai Châu tourism area, a frequent destination for young people.
Mai Châu is an idyllic land, without smog or high-rise buildings. There are romantic flower forests, yellow rice fields and unique stilt houses.
From October to December, when going to Mai Châu, you will see the the charming pink colour of peach blossoms.
From March to April, Mai Châu is overwhelmed with plum blossoms and hoa ban, the popular spring flowers of the northwestern region of Việt Nam.
In June, Mai Châu is covered with the yellow colour of ripe rice.
Hòa Bình is also famous for Đá Trắng Pass, also known as Thung Khe Pass. This is the favourite check-in place for young people, especially backpackers.
What makes Đá Trắng Pass special is its rocks covered with white limestone patches.
The spectacular beauty of Đá Trắng Pass has made tourists flock to the province.
Hòa Bình is also famous for its huge hydroelectric power plant. When coming here, you can witness its wonderful architecture and admire the ability of people to block rivers and build dams to create a hydroelectric power plant with monumental scale.
Built on the Đà River in 1979 and inaugurated in 1994, Hòa Bình Hydroelectric Plant is the largest hydroelectric power plant in Việt Nam with an electricity output of nearly 10 billion kWh per year.
In addition, Hòa Bình is also a place of many attractive festivals and cultural events such as Lễ hội xuống đồng (New Rice Crop Ceremony) Lễ hội sắc bùa (Gong Festival) and Lễ hội cầu mù (Praying Ceremony for Bumper Crops).
The province is also home to many interesting caves such as Thiên Long Cave and Thác Bờ Cave.
A corner of Hòa Bình hydroelectric lake with majestic and poetic landscape. — VNA/VNS Photo Trọng Đạt
Destination for tourism investors
With nature and unique landscape, over the years Hòa Bình has attracted many investors in tourism.
The province currently has 72 investment projects in tourism, accounting for 12.2 per cent of the total number of investment projects in the province, with a total registered investment capital of about VNĐ20,594 billion (nearly US$893 million).
The quality of tourism products had also improved. The province has formed new eco-tourism zones such as Mai Châu Hideaway, Mai Châu Ecolodge, Ba Khan Village Resort, Serena Resort, An Lạc Ecofarm and Hot Springs, Hilltop Valley Golf Club.
Many community tourism places have also been invested in and built such as Đá Bia, Suối Hoa, Mó Hém and Ké.
Hòa Bình is also continuing to exploit the waterway tourism route from Tuần Châu tourism port in Quảng Ninh Province to Hòa Bình City as well as the waterway tourism route on Đà River, from Hòa Bình lake tourism area to Tà Hộc Port (Sơn La Province) to Điện Biên and Lai Châu Provinces.
According to the general plan to 2035, Hòa Bình Province will build Hòa Bình Lake National Tourism Area over about 52,200ha. This is a key national-level tourism area of the northern midland and mountainous region.
The tourism area has ethnic cultures and the ecosystem of Hòa Bình Lake.
The development space of Hòa Bình lake tourism area has hilly landscape spaces, natural ecosystems, as well as cultural and spiritual values.
This project is attracting a large number of investors in tourism and promises to create a vibrant tourism and labour market, contributing to the socio-economic development of the province.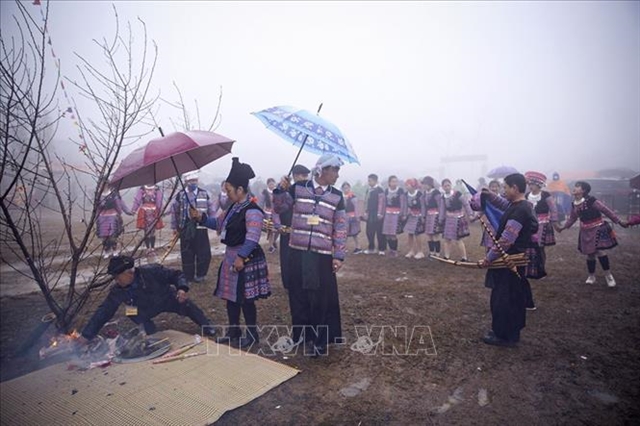 People take part in Gầu Tào Festival in Mai Châu District. — VNA/VNS Photo Trọng Đạt
Sustainable tourism development
Identifying tourism as a key economic sector, over the years, Hòa Bình Province has focused on implementing solutions to attract attention and investment in tourism development.
Specifically, the provincial People's Committee has invested in building and upgrading the road traffic infrastructure system, wharves, parking lots and rest stops for tourists.
The Hòa Lạc – Hòa Bình City route has recently been completed and put into operation.
The province is also implementing the expansion Hòa Bình hydropower plant in ​​Ba Cấp Port, upgrading the route to Ba Cấp Port, and expanding and upgrading provincial road 435. This is a solid foundation and favourable factor for sustainable and long-term tourism development.
Along with that, the province is gradually focusing on tourism development investment promotion, creating favourable conditions for businesses.
So far, Hòa Bình has attracted over VNĐ4.1 trillion to invest in tourism. Tourism accommodation establishments have over 4,000 rooms, creating about 14,000 jobs. VNS