High-speed railways in countries around the world currently run at a speed of 200-250km/hour. Vietnam plans to have a high-speed railway system in the next 10 years, but so far it has not yet been able to choose technology and train speed.
In the draft railway planning to 2030 with a vision to 2050, the Ministry of Transport proposed a new investment plan for the North-South high-speed railway from now to 2040. Accordingly, trains will run at a design speed of 350km/h, carrying only passengers. The existing railway system will be upgraded to transport goods.
In phase 1, from now to 2032, Vietnam will invest in the Hanoi – Vinh and Nha Trang – Ho Chi Minh City sections to put into operation in 2030. Total investment capital for these segments only is more than VND561.5 trillion ($24.4 billion).
However, the Ministry of Planning and Investment recently proposed that the Ministry of Transport consider upgrading the existing railway system to operate both freight and passenger trains, with train speeds below 200km/h, and a total investment of $26 billion.
Relevant agencies are considering the two plans to submit to the Government for consideration before presenting to the National Assembly for approval.
However, the most popular train speed globally is still around 200-250 km/h. Some countries like Japan, China, France are researching to increase train speed to 400-500 km/h.
Popular high-speed railway systems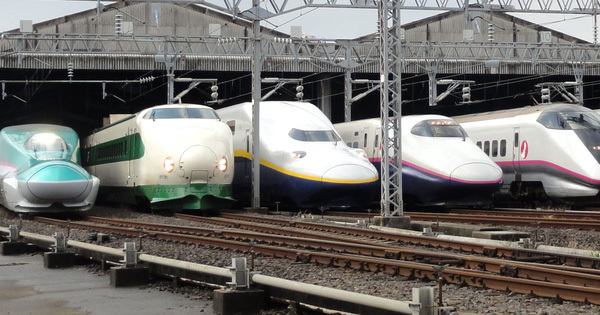 Japan's Shinkansen system
Japan's Shinkansen system: In 1964, the first high-speed railway route in the world connected Tokyo to Osaka (Japan) with a length of 515 km. At first, trains ran at a maximum speed of 210 km/h but the speed increased to 285 km/h. The Shinkansen system stretches from Kagoshima in Kyushu to Shin Hakodate-Hokuto in Hokkaido, with some segments designed to operate at 320 km/h. The common speed throughout the Shinkansen system is 200 km/h.
The Japan Railway Technical Research Institute (RTRI) believes that the Shinkansen not only has had a great impact on Japan's economy and society, but has also paved the way for a series of technical innovations.
Within more than 50 years of operation, serving more than 10 billion passengers, the Shinkansen high-speed rail network has never had an accident that caused death or injury. This is considered the safest and busiest railway system in the world.
In 2019, Japan tested trains running at 360 km/h – a record for Shinkansen trains. The high-speed railway is one of Japan's national proudest achievements. It not only has a strong impact on the Japanese people but also the whole world, creating opportunities for railways in the world to innovate.
France's hi-speed railway system: the country started construction of the 409km route from Paris – Sud-Est to Lyon in 1977. The first segment opened in 1981 with a maximum train speed of 260 km/h. In 1989, France opened phase 1 of the Atlantique expressway. This is the first route designed for trains to run at 300 km/h. Since 2007, TGV trains have run at 320 km/h on new railway routes.
China has the longest high-speed rail system in the world with 29,000 km stretching across the country. Chinese railways account for two-thirds of the total global commercial high-speed rail length.
China's high-speed trains usually run at 300-350 km/h. When they carry both passengers and cargo, the maximum speed is 200-250 km/h. This country plans to increase the speed to 600 km/h after the electromagnetic train system is successfully trialed this year.
France's TGV 4402 train.
Vietnam's choice
Vietnam currently has an outdated railway system. The construction of a modern high-speed railway is an inevitable requirement. Deputy Transport Minister Nguyen Ngoc Dong said that when choosing the plan to build a railway system worth US$58.7 billion instead of US$26 billion with a speed of 200 km/h as suggested by the Ministry of Planning and Investment, the Ministry of Transport considered a long-term project to increase the speed to 350 km/h.
Upgrading the existing railway to double track, gauge 1435mm, will face many difficulties because it is almost all new construction. The cost of land clearance is large, because the existing railways running through many urban areas. In addition, transporting both passengers and cargo has a potential risk of accidents, is inefficient, and is not in line with world trends. The Ministry of Transport cited the report of the consultant, which says that upgrading the current railway system as suggested by the Ministry of Planning and Investment would need about $40 billion.
Dang Quyet Tien, Director of the Department of Corporate Finance of the Ministry of Finance, said that the construction of a high-speed railway system will create an impetus for the development of many industries such as construction and high-tech development.
Vu Anh Minh, Chairman of the Board of Directors of the Vietnam Railways Corporation, acknowledged that the importance of high-speed rail investment is not the value of the investment capital but the effectiveness of the project to decide on whether to invest. If the investment efficiency is high, then $100 billion is worthy.
Vu Diep
Many provinces have proposed building their own airports, but if there are high-speed rail routes, many people will not choose to fly a 300-500km distance.
The Tokyo-Tshukoba urban railway line was funded by converting land in 18 projects along the route. The land price in these areas soared from $1 per square meter to $5,000.