The classification of COVID-19 patients need to prioritise high-risk groups, particularly those over 50 years old, have underlying conditions or are unvaccinated or partly vaccinated, said deputy minister of health Nguyen Truong Son.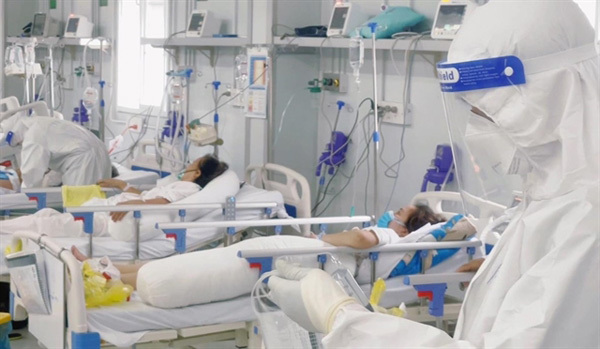 Treating critical COVID-19 patients in HCM City. — VNA/VNS Photo
Coronavirus patients over 50-years-old account for 84 per cent of COVID-related deaths, according to the Department of Medical Examination and Treatment.
This requires strong measures to protect this high-risk group, said Deputy Head of the Department Luong Ngoc Khue.
Vietnam has recorded nearly 1.7 million COVID-19 cases, including nearly 32,000 deaths, mostly in HCM City and southern localities.
Of all COVID-19 patients, only six per cent are in critical condition, while the rate of patients with mild or no symptoms is 85.7 per cent.
The localities with a high number of clinical COVID-19 patients are Dong Nai (3,246), HCM City (2,315), Can Tho (420), Long An (416), An Giang (399), Binh Duong (361), Ben Tre (336), Vinh Long (324), Hanoi (315) and Dong Thap (277).
The 10 provinces and cities that have the highest rate of fatality are HCM City, Binh Duong, Dong Nai, An Giang, Tien Giang, Long An, Tay Ninh, Can Tho, Dong Thap and Kien Giang.
Explaining the high fatality rate in Vietnam, Khue said that the rapid and sudden increase of new cases caused overload of the hospital system. The Delta variant caused rapid spreading, leading to a higher rate of critical patients.
When the fourth wave of COVID-19 started in April, the vaccination rate for people over 50 was low. Meanwhile, many people ignored COVID-19 prevention and control regulations, failing to make health declarations and undergoing self-treatment at home, making it hard for medical intervention when their health conditions worsened.
Improper preparation for medical materials, medicine and equipment was another reason, according to Khue.
Also, classification and management of patients at the community was ineffective while many localities failed to ensure resources, particularly medical workers, to meet COVID-19 treatment requirements.
Better protection for high risk groups
Deputy minister of health Son said that the country had moved to live safely and flexibly with COVID-19, meaning medical facilities would face an increase in the number of new cases, particularly with the appearance of the new Omicron variant.
It is important to fully observe the classification of those at high risks of getting SARS-CoV-2, to have proper isolation and treatment from medical stations and community-based COVID-19 prevention teams and facilities.
"Medical stations need to make lists of COVID-19 patients treating at home, and classify the patients for better management. Treatment facilities need to classify patients right after they are hospitalised and assess their health conditions for proper treatment," he said at a conference on reducing fatalities held by the Ministry of Health on Wednesday.
He said that initial health monitoring was needed to detect signs of critical conditions early for proper treatment. Coordination between treatment tiers must be ensured to prevent the transfer of patients for treatment when it is too late, he said.
Son noted that the number of new cases of COVID-19 had kept increasing in some localities, with many patients being discovered when undergoing health examination and treatment at hospitals, urging for supervision over high-risk areas to detect COVID-19 patients for isolation and treatment early, thus helping reduce fatalities.
In order to reduce the fatality rate, he pointed out the need for enhanced treatment capacity, early use of treatment drugs and ensuring enough oxygen supply for patients across all units.
He urged the whole treatment system to review the capacity of COVID-19 treatment facilities, continue improving treatment quality and supply enough drugs, medical materials and personal protective equipment to improve treatment.
He also asked for continued investment in intensive care capacity, mobilising both public and private medical establishments to join COVID-19 treatment and strengthening the emergency system to transport patients to hospitals when needed.
The deputy minister stressed the need to continue mobilising the community and volunteers to take part in the fight against the pandemic, such as by providing consultancy, treatment, care and monitoring patients at home.
Localities are also required to boost vaccination for high-risk groups.
Vietnam has so far administered more than 148 million doses of COVID-19 vaccines.
The Ministry of Health earlier this month sent an urgent message to guide localities to manage and protect high-risk groups, amid the complicated development of the pandemic with the appearance of highly transmissible and dangerous variants such as Delta and Omicron.
It requires medical supervision and management for early detection and treatment to mitigate the fatality rate, particularly while the country is implementing safe and flexible adaptation and effective control of the pandemic.
The management of high-risk groups should focus on factors such as their underlying diseases; health conditions (ability to walk and take care of themselves); their living situation (living alone or with family); and assistance demand (care, treatment for underlying diseases, medicine and other needs).
Source: Vietnam News
As the number of Covid-19 cases is increasing day by day in Hanoi, the municipal authorities need to create another scenario.
HCM City has seen positive signs in the fight against pandemic with a drop in the number of daily cases to under 1,000 and deaths falling to under 50, according to its Steering Committee for Pandemic Prevention and Control.