The Ministry of Health has asked the ministries of foreign affairs, national defence, public security and transport, and local governments to create favourable conditions for entrants to Vietnam ahead of the Lunar New Year (Tet) holiday.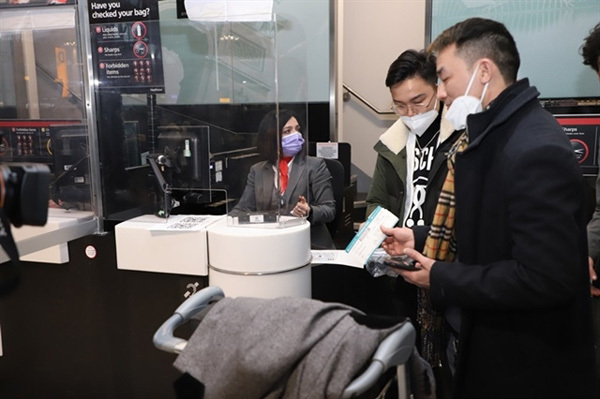 Vietnamese citizens prepare to board a flight from London to Hanoi on January 25, 2022. — VNA/VNS Photo Dinh Thu
The health ministry said nearly 100 per cent of people aged above 18 in cities and provinces in the country had received at least one dose of COVID-19 vaccines, 95.6 per cent the second shot, and 18.6 per cent the third shot.
The rate of children aged 12-17 being given the first and second shots reached 94.1 per cent and 82.2 per cent, respectively.
The health minister asked ministries, people's committees of centrally-run cities and provinces to continue the regulations of Dispatch No.10688/BYT-MT dated December 16, 2021 on COVID-19 prevention and control for entrants.
They are required to give instructions on 5K regulations to entrants before entry and after they arrive in residences, as well as enhance inspection and testing during their quarantine.
Those wishing to enter Vietnam must test negative to SARS-CoV-2 72 hours before their arrival, except children aged under 2, and install the PC-Covid app for health declarations.
Vietnamese citizens, overseas Vietnamese and their relatives (including spouses, children) who are unvaccinated or partially vaccinated, could be given vaccines for free during their quarantine in the country if they wish.
They must cover all costs related to testing, quarantine, health check-ups and treatment in line with the Government's Resolution No.16/NQ-CP dated February 8, 2021.
The health ministry has also issued requirements for entrants who are fully vaccinated, recovered from COVID-19, and unvaccinated or partially vaccinated.
Entrants into Vietnam must comply with Vietnam's COVID-19 prevention and control measures, including masks, sanitation and avoiding large gatherings.
If one develops suspect symptoms like coughing, breathing difficulties or fever, they should limit their movements and notify the local health authorities for further instructions and COVID-19 testing.
According to the foreign ministry, there are about 140,000 Vietnamese people overseas who wish to return to Vietnam for the Tet holiday, as the country has started to gradually resume international flights on the back of a high vaccination rate.
Source: Vietnam News
Permanent Deputy Prime Minister Pham Binh Minh has given in-principle approval that favourable entry procedures will be created for foreigners, and overseas Vietnamese and their relatives.