The Ministry of Health has proposed to temporarily stop announcing new COVID-19 cases on a daily basis to the public amid case spike.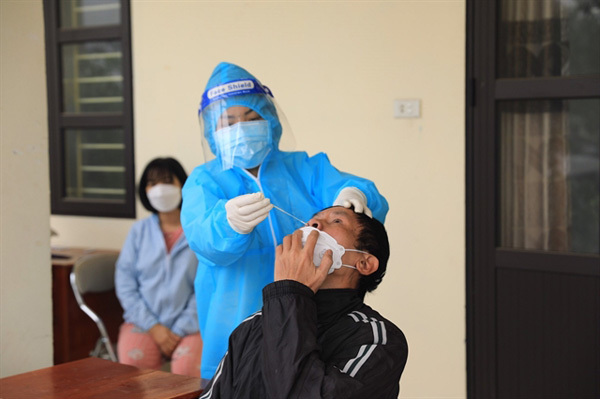 A medical worker takes a test sample from a resident in Thanh Tri District, Hanoi.
Currently, the ministry is releasing a daily COVID-19 update at around 6pm, with the primary focus being on new COVID-19 cases detected in the country with breakdown in localities as well as recoveries, vaccination situation, and death figures.
The proposal halt of the public announcements of the new cases is awaiting the final decision from the National Steering Committee for COVID-19 Prevention and Control.
As the number of new cases is only one among eight criteria to assess pandemic risk levels – which include criteria like the rate of vaccination coverage, ICU bed capacity, the number of COVID-19 patients requiring oxygen support per 100,000 residents etc. – it does not accurately reflect the actual outbreak situation and could cause public unease, the ministry said.
While new cases have been surging to record-breaking levels in most cities and provinces in the past month, new infections have mostly increased among the unvaccinated, especially those under 12 years old.
Patients in critical condition have also risen 37.6 per cent compared to a month before.
However, COVID-related fatalities remain at approximately 100 cases per day and are still below the healthcare system's capacity.
The ministry's report also said the Omicron variant had been spreading rapidly, especially in Hà Nội and HCM City, and was overtaking the Delta variant.
Hanoi has recorded Omicron cases in 20 out of 30 districts, with the sub-variant BA.2 accounts for 87 per cent of total patients infected with Omicron.
Meanwhile, in HCM City, Omicron infections take up 76 per cent of total samples undergoing genomic sequencing.
However, high vaccination coverage and special care for at-risk groups have contributed to a significant drop in the fatality rate.
The number of deaths over the total infections in the past month stands at 0.2 per cent, 1 per cent lower than the previous month.
Cases detected within the community have risen by 197.9 per cent in the past month. However, deaths have decreased by 47.1 per cent, hospitalisations by 24.5 per cent, and critical cases by 43.1 per cent.
In February, 54.3 per cent of infections were recorded in the 18-49 age group, 10.8 per cent in the 50-65 age group, and 4.5 per cent in people aged 65 and over.
Medical facilities will continue following the instructions of the health ministry in terms of dividing up the patient flow for treatment.
The health ministry also said that all 63 cities and provinces now use the new COVID-19 risk level assessment to apply safety measures.
According to the latest criteria, the country has 2,150 wards and communes at Level 3 (high risk), while 401 wards and communes in 22 cities and provinces are at Level 4 (very high risk).
The health ministry aims to collaborate with other ministries and departments to raise awareness on pandemic prevention measures, follow guidance on for home treatment of COVID patients and avoid unverified instructions.
Another area of focus is to increase the vaccination rate and administer booster shots.
Source: Vietnam News
The Ministry of Health has reported to the Prime Minister and the National Steering Committee for Covid-19 Prevention and Control on several issues related to epidemic prevention and control measures.