The health ministry has asked localities to prepare to carry out the inoculation of children aged 5-11 years old against COVID-19 as soon as the vaccines are distributed, likely to be in early April.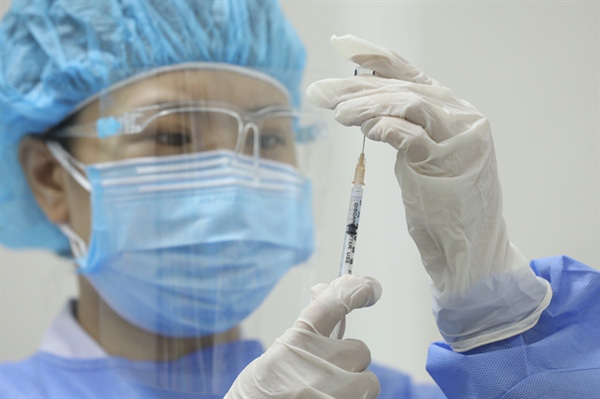 A health worker prepares a COVID-19 vaccine shot. — VNA/VNS Photo
In the latest dispatch addressed to provincial/municipal health departments, the ministry asked them to continue to ensure the goal of completing administration of additional/booster COVID-19 shots within this month.
Health departments have been told to work with education authorities to review and draft the list of eligible children currently in schools from grade one to six.
Local governments must also compile a list of any children in this age range who are currently not attending school.
Vaccination will be carried out as 'campaigns' and are completely free of charge at fixed vaccination sites, mobile vaccination sites, as well as schools (for localities where in-person learning is still being carried out with outbreak situation under control).
Vaccines will be the ones approved for use in this age group by the health ministry (which so far only has Pfizer/BioNTech shots), and the dosage and the schedule will follow the instructions from the manufacturer and the National Institute for Hygiene and Epidemiology.
Parents, or guardians, of the children will need to give their consent before jabs are administered.
The National Institute for Hygiene and Epidemiology is tasked with developing instructions and guidelines for the COVID-19 inoculation for young children, and holding training sessions for vaccination sites.
Earlier, the National Expanded Programme on Immunisation of Việt Nam announced that the first batch of vaccines for children aged 5-11 will arrive in the country within the first week of April, and then the vaccination could start right in the second week of April once quality controls are done.
There will be about 9.7 million doses of COVID-19 vaccine doses in the first delivery as aid from Australia – 700,000 doses of Pfizer and 9 million of Moderna (with expiry date of July 2022) – which are already in stock in Australia and could be transported to Vietnam in early April after procedures are completed.
The second delivery comprising about 4 million doses of Pfizer vaccines donated by the Australian Government via UNICEF, will also arrive in April.
The two biggest cities in the country, Hanoi and HCM City, have about 1,900,000 in this age group.
HCM City has 898,537 children from 5 to under 12 years, including 885,730 school-going children (according to the city's education department) and 12,807 under the care of social protection facilities.
According to a survey by the city's authorities on parental vaccination willingness, only 60.49 per cent of parents with children in kindergarten agree to the inoculation, 81.19 per cent of parents with children in primary schools agree, and up to 87.68 per cent of parents with children in secondary high schools (grade 6) agree.
The capital city of Hanoi has about 1 million children in this age group, with surveying results indicating that 60-70 per cent of parents are willing to let their children have the vaccines.
The remaining are parents who downright disagree with vaccinations or whose children have had just contracted COVID-19 and/or recovered.
Source: Vietnam News
The foreign investors' positive sentiment towards the business environment in Vietnam is largely thanks to the country's high vaccination rate.
The Ministry of Health has proposed the Government purchase 21.9 million doses of the Pfizer vaccine for children aged between 5 and 11.