The health minister, Hanoi chairman, and other senior officials at the ministries of health and science and technology, must bear responsibilities related to the fraud COVID-19 test kit case at Viet A company.
The Inspection Commission of the Party Central Committee has proposed disciplining Hanoi Mayor Chu Ngoc Anh, Health Minister Nguyen Thanh Long and other ranking officials for their accountability linked to wrongdoings at the COVID-19 test kit case at Viet A Company.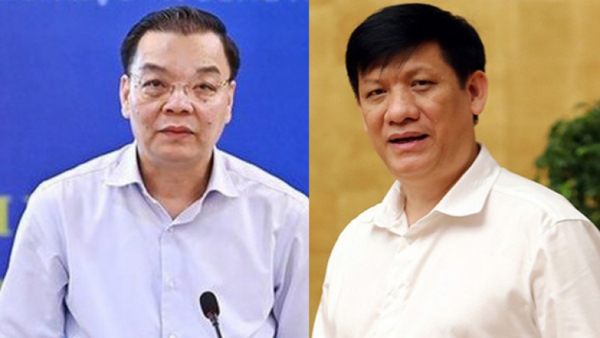 Hanoi Mayor Chu Ngoc Anh (L) and Health Minister Nguyen Thanh Long, who are both Party Central Committee members, are said to be held accountable for wrongdoings linked to the Viet A test kit scandal.
During a review meeting from March 28-31, the commission concluded that the leaders of the Ministry of Science and Technology (MoST) and Ministry of Health (MoH) had shown a lack of responsibility and lax management, leading to wrongdoings at Viet A Company.
The commission named several officials who must bear shared responsibility for those wrongdoings and violations as well as individual responsibility for their mistakes in performing assigned duties and tasks. They included Party Central Committee membe and Hanoi Mayor Chu Ngoc Anh, who was former MoST Minister; Party Central Committee member and Health Nguyen Thanh Long, MoST Deputy Minister Pham Cong Tac, and MoH Deputy Minister Nguyen Truong Son.
The commission said that those wrongdoings and violations have had serious consequences, causing a great material loss to the State, fuelling public anger, and damaging the reputation of the Party organizations and the two ministries. It held that these officials involved must be disciplined.
The commission also decided on disciplinary measures on a number of officials of the Vietnam Military Medical University in connection with the Viet A case.
Last December, the police arrested and initiated legal proceedings against Phan Quoc Viet, general director of Viet A Technologies, for raising the price of RT-PCR COVID-19 test kits and giving bribery to health officials to sell their test kits.
The initial investigation showed that Viet and key leaders of the company had admitted to colluding with leaders of hospitals and provincial Centre for Diseases Control (CDC) to supply COVID-19 test kits to hospitals and CDCs these units at prices set by the company, which were much higher than the production price.
The Ministry of Public Security had also found signs of wrongdoings in the management, research and transfer of the scientific project on COVID-19 test kits at the MoST and in licensing the circulation of the test kits and the negotiation of COVID-19 test kit price with Viet A Company at the MoH.
Source: VOV
The police have recovered, distrained and frozen properties of people involving in the COVID-19 test kit overcharging at Viet A Technologies JSC, Lt. Gen. To An Xo, Chief of Office and spokesperson of the Ministry of Public Security told reporters.
The Ministry of Science and Technology has apologized for incorrectly announcing that Viet A Technology Corporation's Covid-19 test kit was approved by the World Health Organization (WHO).