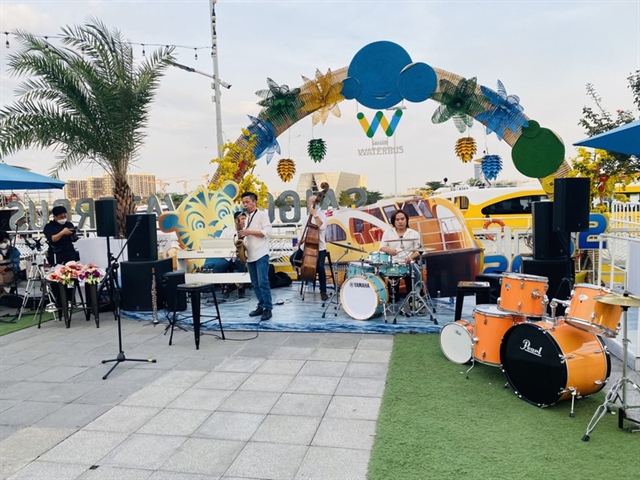 HCM City has launched a programme of street performances called Có Hẹn Với Sài Gòn (Meet in Saigon), at the Bạch Đằng Wharf Park in District 1. — Photo courtesy of organisers
HCM CITY — A special programme of Vietnamese music and dance street performances will be held at the Bạch Đằng Wharf Park in HCM City's District 1.
Called Có Hẹn Với Sài Gòn (Meet in Saigon), the programme will feature young singers, dancers and musicians from art troupes and schools, including the HCM City Music Conservatory.
Each show will be differently themed to "give new experiences to audiences", organisers said.
"Our programme is part of the city's strategic investment plan to develop its cultural industry," said Nguyễn Tấn Lộc, composer and music lecturer of HCM City Music Conservatory.
"We want to create an open air space where young artists can introduce their art to audiences in the city. We also want to honour Vietnamese music and the artists who have worked and faced challenges to keep their art alive.
"We also hope locals and visitors will learn more about the country's culture and lifestyle through our performances."
The programme's first 60-minute show featured Vietnamese rock music by artists from the bands UNLOCK and SAIGON WAVE. Singers Tyna Nguyệt Thu and Bella Vu are among the performers.
"Bạch Đằng Wharf Park is a favourite place for Saigonese to walk and enjoy its fresh atmosphere at weekends after a week of hard work. It is good that street performances are organised to entertain them," said Nguyễn Quang Phú, a resident of Phú Nhuận District.
The total cost of the programme, estimated at VNĐ68 billion (US$2.9 million), will be sourced from the private sector.
The free street shows will be held at 5.30pm every Saturday at the Bạch Đằng Wharf Park on Tôn Đức Thắng Street.
The Bạch Đằng Wharf Park covers a 4,000sq.m memorial area and a 2,750sq.m community area after its renovation was completed by the Department of Planning and Architecture in January.
A 5,150sq.m tourism promotion area includes rest areas and river transport services. — VNS