Many HCM City residents are suffering the double whammy of rising living costs and stagnant or falling incomes that is making it very difficult for them to make ends meet.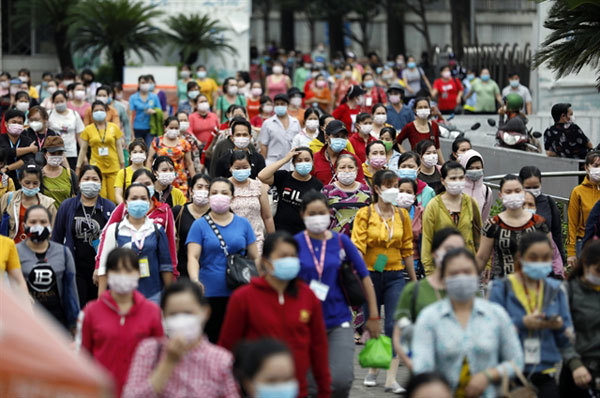 Monthly salaries of below VND7 million have made it difficult for many HCM City residents to make ends meet, especially in the face of a "price storm". — Photo courtesy of thanhnien.vn
Nguyen Thi Luu, who works for a fashion store in Tan Binh District, earns VND7.5 million per month, inclusive of lunch allowance, but she often returns home to eat with her daughter instead of eating out.
"The VND7.5 million is spent on rent, food, school fees and clothes, among other things. If I were to buy lunch elsewhere, it would cost us VND60,000 for two boxes of rice." Luu said, adding that the price of each box of rice has gone up by VND10,000 since the pandemic.
After deducting other necessary monthly expenses, Luu's family is left with nearly VND3 million for food per month.
"I used to get VND50,000 worth of gasoline for four days on the street. Now the same amount gets me three days. We can no longer buy some fancy food some mornings the way we could before. Even though we have tried to stay within a budget, it is not easy to make ends meet."
Office workers also say that they are being buffeted by the "price storm."
Thuy Dung, 25, who is from Binh Phuoc Province and currently stays in HCM City's Binh Thanh District, told the Thanh Niên (Young People) newspaper that she has been in shock after being fired a week ago.
Dung's company was operating normally during the pandemic's peak last year. After the 2022 Lunar New Year holiday, her company asked employees to divide shifts and work from home.
In February, while Dung was working from home, her direct manager called and told her that her labour contract was being ended as the company has changed its development direction. Each dismissed employee will be supported with VND1 million to find a new job, she was told.
"I am in shock considering that I just came back to Sai Gon to stabilise the job situation," Dung said, adding that unemployment amidst the pandemic has made her life extremely difficult.
"I was able to earn VND8-9 million per month and used VND3 million for rent, electricity and water bills; VND500,000 for gasoline and phone bills and VND4 million for food. Low income and high accommodation costs have made me very careful with spending, especially when there is a friend's wedding or some motorbike upkeep."
From the same province as Dung, Mai Huong, 25, is also struggling.
Hương decided to go to HCM City to work after three years of working in Binh Phuoc. The pandemic hit when she had just settled in and secured a good job. Then she was asked to "temporarily stay at home and wait for the company's call for work.
After five months of unemployment in HCM City, what Huong had saved over the three years in Binh Phuoc had gone.
Fortunately, when she returned to her hometown to find a job, Huong received a job opportunity with an export company with a monthly salary of VND10 million.
Unstable incomes, escalating living costs including expensive accommodation and food have made life an uphill struggle for people with salaries of less than VND7 million per month.
Many have decided to quit their jobs and return to their hometowns.
Le Thi Thu Ngan, who worked for a law office in District 1, returned to Phu Yen at the end of February since she could not make ends meet with a monthly salary of VND5.5 million.
"I am waiting to get a better job with a slightly higher salary," Ngan said.
With many people deciding to leave HCM City, like Ngan, many businesses are having a hard time recruiting workers.
Nguyen Binh, general director of the Nguyen Binh Production, Trade and Service Joint Stock Company, said that she has been looking for delivery drivers and factory workers since Tet. It was difficult as most interviewees have no experience and complain that the salary offered is not enough to live on, she said.
"The monthly salary of workers working from afternoon to evening is from VND7 to 8 million, but after working for less than one month, some tend to ask for leave due to rising accommodation and travel expenses. If they are told they can stay in the facility, some refuse because they like to live elsewhere and then complain about the expensive cost of living…" Binh said.
According to her, it has been tough to find delivery drivers, to work from 8PM to 6AM the next morning for salaries of VND9 to 11 million per month.
"If I pay more, I will indeed become my workers' worker. In fact, the price escalation makes it extremely difficult for workers and small businesses to carry on with the business," she said.
Many large enterprises are offering social benefits for employees, in addition to a monthly salary of VND8.5 – 11 million in an effort to attract new workers and retain them.
A representative of the Furukawa Automotive Parts Viet Nam Company in District 7's Tan Thuan Export Processing Zone said that the company has been seeking more than 500 workers without experience. They will be provided with vocational training, accommodation support, shuttle bus to work, 13th month bonus and vacation during the year.
The company's chairman, Hoang Xuan Thai, said quality remuneration policies are crucial to attract new and loyal workers. This is a tactic for employees to understand that the company would like to be with them for a long time, he said.
Source: Vietnam News
Real estate developers are spending more time preparing documents for investment and many projects are under legal examination or inspection, contributing to a housing shortage.
Do GDP calculations take into account the fact that a taxi driver gets poorer by 10 times more as he has to spend VND100,000 on nCoV testing a day, and informal workers have no access to cheap meals in HCM City?