HCM City's economy is recovering strongly after Covid-19, but while investment demand is huge, the budget is limited.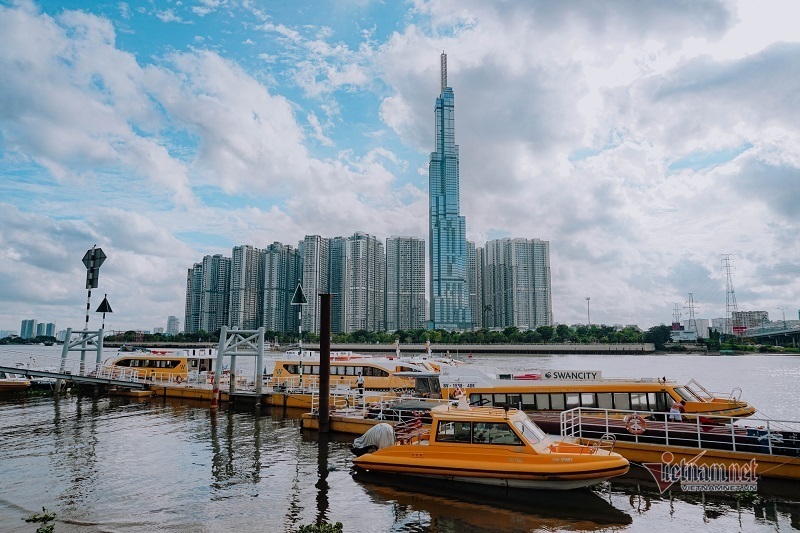 Foreign representative offices
VND500 billion worth of revenue is the target InterLOG has set for 2022. InterLOG's CEO Nguyen Duy Minh set this goal because he could see positive signs of the HCM City's economy since the reopening, especially since Q4 2021. Enterprises have begun speeding up their production and business, while foreign invested enterprises (FIEs) and industrial production have increased significantly. These are the major clients of InterLOG.
The General Statistics Office (GSO) reported that in January 2022, IIP increased by 2.4 percent in January, while total registered FDI (foreign direct investment ) capital had reached $2.1 billion as of January 20, which means an increase of 4.2 percent over the same period last year.
These factors have helped the company's logistics services prosper. Its revenue last January soared by 30 percent compared with January 2021.
Ho Thi Thu Uyen from Intel believes that investment in Vietnam in general and in HCM City in particular still have a competitive edge compared with other regional countries. The success in vaccinating the entire population is a big advantage. Also, plans to respond and control the pandemic when reopening make foreign business community feel more secure.
Deputy Director of the HCM City Department of Industry and Trade Le Huynh Minh Tu said HCM City remains the No 1 choice of foreign companies when setting up representative offices in Vietnam.
There are 1,879 representative offices of enterprises from 79 countries and territories, mostly from Japan, South Korea, European countries, the US, Singapore and Hong Kong.
The representative offices carry out market survey and trade promotion in many fields, including import-export, freight forwarding, consultancy and construction design. Foreign enterprises can create healthy competition in the market.
Capital
Deputy Director of the HCM City Department of Investment and Development Tran Anh Tuan said HCM City is using money from the budget as 'bait' capital to attract investments from the society. One dong of the budget can attract 10 dong worth of investment from the society.
However, the city still seriously lacks capital. Under the medium-term public investment in 2021-2025, HCM City needs VND800 trillion worth of capital, but it has only VND142 trillion from the state budget. The figure could rise to VND260 trillion if it is able to mobilize capital from many other sources.
HCM City will use every possible method to seek capital, from equitization and land auctions to attracting resources in society to cover investment needs in 2021-2025.
"We need big resources, but the capital we have is modest. Therefore, we need to put projects in priority order. The projects that help stimulate the aggregate demand and have a strong effect will be a higher priority," Tuan said.
According to Burkhard Schrage from RMIT University, HCM City plays a very important role in Vietnam and the region in both the short and long term. About 25 percent of economic activities of the country take place in the city. Its average income per capita is $6,900, nearly twice as much as the country's average level. About 10 percent of the country's population lives here.
This is the time for the city's leaders, private enterprises and NGOs to consider the development orientation of the next period amid competition in attracting investment and labor sources in the region.
According to the expert, the major factor that determines competitive edges of cities is the capability of creating industry clusters. For example, it would be better if medical research and development is placed near pharmacy firms and medicine distribution firms. These companies can cooperate closely with a medicine school nearby. HCM City is doing this well.
The challenge is how to maintain the momentum of building industrial clusters. For example, hi-tech parks are seen by policymakers and the private sector as a cluster to increase competitiveness through the development of software and high added-value production. However, HCM City needs to consider developing other clusters to increase the attractiveness of the city to foreign investors.
The expert said that HCM City should be developed into a financial center of the region. However, this may face challenges in the medium term.
He said the city can consider building a tourism cluster which not only comprises hotels but also parties that provide services to the industry, such as business consultancy, architecture, training and development, or even enterprises that make toiletries used at hotels. This field has been stagnant for two years, but tourism is expected to see a strong recovery in the second quarter of 2022 and bring benefits to the entire tourism value chain.
Tran Chung
To become an international financial center, Ho Chi Minh City will need to propose amendments to many regulations and laws, which is a long process.
HCM City is currently Vietnam's financial center and a secondary global financial center. However, to become an international financial center, the city needs a legal corridor to expand the operating space for the financial-banking market.