HCM City locals rent bicycles from the new public bike rental service in District 1. —VNS Photo Việt Dũng
HCM CITY — HCM City has launched a public bicycle rental service in the District 1 to encourage an alternative, greener method of transportation in the southern metropolis.
The Trí Nam Group, investor in the project, has set up 43 bike rental spots in District 1 near areas of interest such as tourist sites, parks and bus stops. Around 400 bikes are available.
To rent a bike, locals download the TNGO mobile application and set up accounts. The app can be used to unlock a bike at any rental spot by scanning the QR code.
Locals can freely use the bikes to travel around the city, and lock and unlock them with the app. Bikes can also be returned at any rental spot in the district.
Rentals can be paid through bank transfer, credit card or direct deposit via the app.
Prices start at VNĐ5,000 for 30 minutes, with an hour costing VNĐ10,000 (US$0.44). Rides are free for the first 15 minutes.
The app, in addition to helping users find the nearest bike rental spot, also keeps track of data such as kilometres travelled, calories burned, and the amount of carbon emissions a user has cut down by not using other vehicles.
Many locals were excited to try out the city's new public service recently. Lương Uyển Ân, a resident in District 11, told Việt Nam News that "the bike is great for exercising, and the app is easy to use".
Lê Thị Mỹ Trang, a Thủ Đức City resident, is interested because it is a convenient way to get around and is eco-friendly.
"Air pollution is a big problem in large cities. I think this can act as a stepping stone for other regions to adopt this model."
Many locals said they plan to use this service more in the future.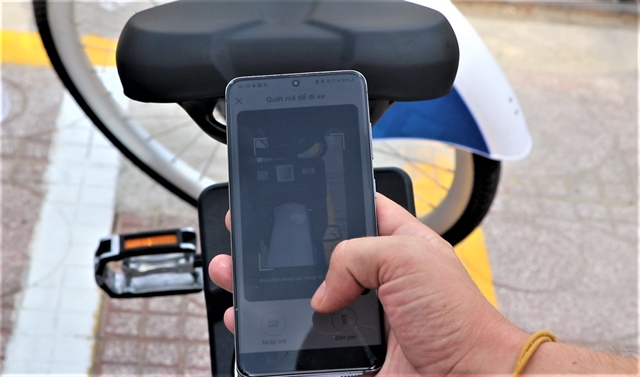 Bicycles can be rented by using the TNGO mobile app and scanning the QR code. — VNS Photo Việt Dũng
Prior to the launch, the project went through a three-day trial run, in which 941 new accounts were registered and around 320 trips were made, according to Đỗ Bá Dân, chairman of Trí Nam Group.
He told Việt Nam News that he hoped the service could be launched in all districts in HCM City.
"Our dream is to have cities around Việt Nam be more green and clean, and reduce pollution. We hope locals will gradually adopt this as a daily means of transport."
The project was officially launched on December 16 and will be piloted for a year.
Trần Quang Lâm, director of the city's Department of Transport, said that after the pilot ends the model would be evaluated and then expanded to other districts and new urban areas.
The city is also considering setting up bike-only lanes in HCM City.
"We aim towards a city centre with more locals travelling on bicycles and public transport. We want to limit private vehicles in the centre."
HCM City has been making an effort to reduce traffic congestion and harmful carbon emissions, which mostly come from motorbikes, especially old models that are not eco-friendly. — VNS
A public bicycle rental site is one of 43 rental spots in District 1. — VNS Photo Xuân Đăng