Tran Thi Hoa in My Phuc commune in My Loc district of Nam Dinh province has celebrated her 108th Tet. She has 114 grandchildren and great-grandchildren, and lives in an old house.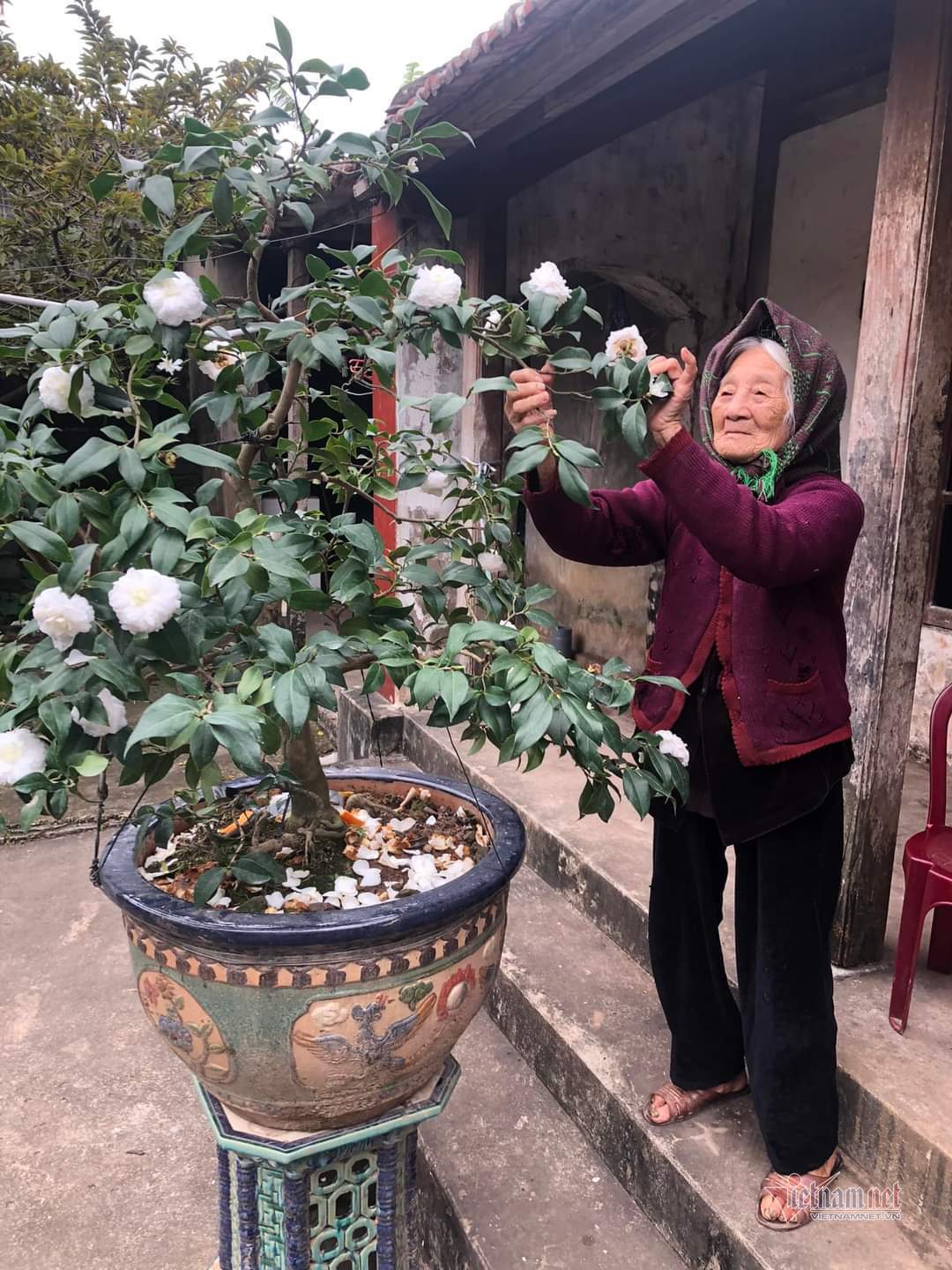 Chair of the Vietnam Association of the Elderly (VAE) Pham Thi Hai Chuyen recently signed a document congratulating Tran Thi Hoa on her longevity, who was born in 1914 in Nam Dinh province.
Hoa is the oldest person in My Phuc commune. She leads a peaceful and happy life. Despite her old age, she still has a sound mind.
Tran Huu Son, born in 1961, one of her children, said his mother has seven children. The eldest is 81 years old, while the youngest is 58. All of them have. grandchildren
Hoa's eldest grandchild was born in 1970. Hoa's husband was born in 1912 and passed away at the age of 83.
Son said sometimes she picks pomelo and bananas in her garden and brings them to sell at the market.
"We don't prevent our mother from doing this work because it helps keep her active and healthy," Son said.
"Some buyers pay more than the value of bananas and pomelos when they discover my mother is 108 years old, because they love an old woman who lives long," he said.
Having many children and grandchildren, Hoa lives alone with her dog in a 3-room old house with a tiled roof.
Her children and grandchildren all live in the same village adjacent to the "100-year-old treasure" of the family. They often go back and forth to take care of their mother and grandmother.
Tran Huu Thuy, the youngest son, told reporters that his mother lost all her teeth nearly 40 years ago and has to use dentures.
"As she has been using dentures for many years, the dentures are like real teeth. My mother does not feel uncomfortable about the artificial teeth."
Born and growing up in an agricultural area, Hoa was attached to farming all her life. Every day, she visits neighbors and goes to the garment workshop, where she helps do some errands.
"There is no special food regimen for my mother. She likes eating vegetables. At the age of 108, she still can walk and doesn't need to lean against a stick," Thuy said.
The only thing that his family still has not done is take pictures of all family members.
"We need a space large enough for our great family," he said, adding that they will plan to do this in the near future.
Thai Binh
According to a study by the United Nations Population Fund, 80% of the population after retirement want to find jobs.