All routes leading to St Joseph's Cathedral in Hanoi's Nha Tho Street will face limits to the number of people and vehicles entering and leaving this area on Christmas Eve, local police have announced.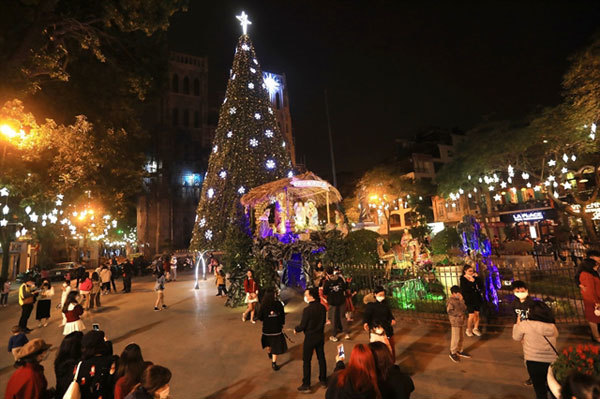 People gather at St Joseph's Cathedral in Hanoi's Nha Tho Street. —VNA/VNS Photo
Police in Hang Trong Ward on Thursday said that the police would close the streets of Au Trieu, Nha Chung, Nha Tho from 5pm on Friday (December 24, 2021).
Checkpoints will be set up in the area. Only residents in the area, guests who received an invitation from the cathedral and permits from security forces will be allowed in.
The move is part of local authority efforts to ensure safety for the public as the capital city is witnessing over 1,000 COVID-19 cases daily, a level unseen since the beginning of the pandemic, despite high vaccination rates.
Local police recommend that people take travel routes to avoid traffic congestion at checkpoints.
The checkpoints will be lifted after Christmas Eve.
Hoan Kiem District People's Committee issued the dispatch on strengthening measures to prevent and control the COVID-19 pandemic, ensuring security and order during the Christmas and New Year holidays.
The district's People's Committee has requested the district's health department to regularly update the classification of pandemic levels in the city and district, as well as proactively advise and propose requirements and safety conditions for the prevention and control of the pandemic during holidays at religious establishments in the area.
The People's Committees of wards in Hoan Kiem District are required to regularly assess the pandemic level in the area to promptly stop unnecessary gathering of people, and entertainment activities. Local authorities at wards will be in charge of issuing documents minimising crowded activities based on the level of pandemic in the area.
The district's People's Committee has organised an assessment of pandemic levels over 14 days (December 3 to December 17) and determined that the five wards of Cua Dong, Dong Xuan, Hang Bac, Hang Buom, and Hang Gai are at level 3.
Therefore, the local People's Committee has requested the five wards to suspend non-essential activities and services and limit activities and events with large gatherings.
Restaurants and food services are only allowed to offer takeaway services from 12pm on December 19, until further notice.
Source: Vietnam News
Since Christmas is just a few days away, the festive atmosphere has overwhelmed every corner of downtown Hanoi.
Churches in Hanoi are being covered with decorations to prepare for the Christmas holiday.