Vice-Chairman of Hanoi People's Committee Duong Duc Tuan has just approved a plan on renovating and rebuilding old apartment buildings in the capital.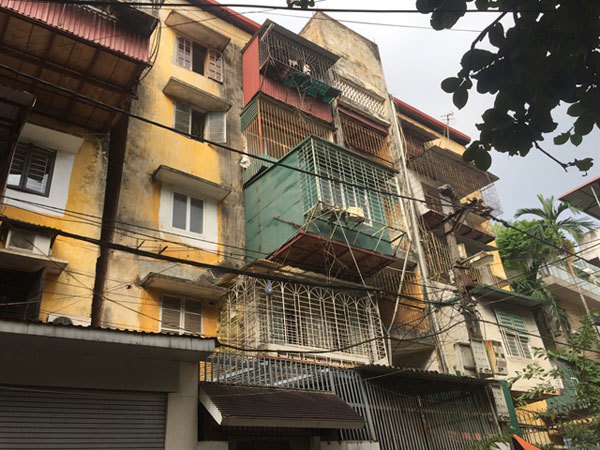 A degraded apartment block in the Ministry of Justice residential complex in Hanoi. — VNA/VNS Photo Minh Nghia
Plan no. 335/KH-UBND also sets up a temporary housing reservoir for house owners during the renovation and reconstruction process.
Following the inspection, several apartment blocks in Ba Dinh District will be demolished due to unsafe conditions (Grade D buildings): Block C8 of Giang Vo apartment complex; Block G6A of Thanh Cong complex; Block A of Ngoc Khanh complex; two front blocks of the Ministry of Justice complex; and the old building at No. 148-150 Son Tay Street.
No. 51 Huynh Thuc Khang Street (Dong Da District) is also classified as a Grade D building.
The households at these locations are expected to be relocated during the first quarter of 2022.
Demolition of Grade-D buildings is expected to take place in Q3 of 2023, while for building at No. 148-150 Son Tay Street, it will be Q3 of 2022.
Ba Dinh District People's Committee is tasked with relocating the households during the first quarter of 2022.
Funding will be mobilised from three sources: social capital, public investment capital, and loans from the city's Development Investment Fund.
In the case where the State directly implements the renovation projects, public funding is expected to include VND60.5 trillion (US$2.6 billion) for the reconstruction of four Grade-D apartment complexes (Thanh Cong, Giang Vo, Ngoc Khanh, and that of the Ministry of Justice), plus over VND4.8 trillion for five temporary housing projects.
Hanoi Department of Construction will also coordinate with the local authorities to review the assessment result and continue the inspection for the remaining buildings, according to the approved plan.
The capital city will also evaluate the current renovation projects at eight other locations: No. 22 and No. 26 Lieu Giai Street (Ba Dinh District); No. 3A Quang Trung Street and No. 23 Hang Bai Street (Hoan Kiem District); No. 225 Thuy Khue (Tay Ho District); Block A and B of Nghia Do Apartment Complex (Cau Giay District); Blocks L1 and L2 at No. 93 Lang Ha Street (Dong Da District); Nguyen Cong Tru Apartment Complex on Pho Hue Street; and the complex of the Railway Transport Service at No. 1 Dinh Cong Street (Hoang Mai District).
The list of apartment complexes to be demolished and reconstructed will be reviewed every six months, based on the assessment and proposal of the ward-level People's Committees (where the buildings are located), under the supervision of the city Department of Construction.
Source: Vietnam News
The plan is considered a breakthrough in improving people's living standard in the capital city.