Parents in Hanoi are applauding a decision by the municipal People's Committee to reopen schools for grades 7 to 12 from February 8.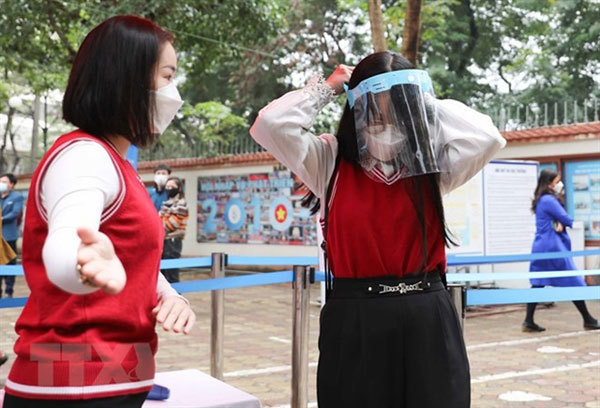 A school re-opening drill at Giang Vo Secondary School in Hanoi's Ba Dinh District on January 22. As part of the drill, a student with a high body temperature is instructed to the school's isolation area for further health monitoring. — VNA/VNS Photo Thanh Tung
Students have been studying online for more than eight months due to the pandemic.
Bui Tien Dung, a father in Long Bien District, said that the city had taken cautious steps in reopening schools.
"Caution was necessary when students were not fully vaccinated against the COVID-19. However, it's different now," he said.
"After the Tet holidays is the right time for children to go back to school," he said, adding that adults have returned to work and can go to public places, so children should too.
"Children also need to adapt and live safely with the pandemic," Dung said.
Pham Huy Quan from Ba Dinh District said that he agreed with the decision, though he thinks that it would be better if parents had options to choose from.
"If parents agree, they will let their children go to school. Some parents will still be concerned and they should be able to let their children continue to study online at home," he said.
"Children 12 and older have been fully vaccinated and have had enough time to achieve high levels of antibodies. Moreover, the Department of Health and Department of Education and Training also have detailed instructions on the prevention and control of COVID-19 at schools, with solutions to handle arising situations. Localities and schools have also organised pandemic prevention drills. It's time to reopen schools – children can't stay at home forever", Quan shared.
Nguyen Minh Lien, a mother in Hoang Mai District, said that she was also in favour of letting students back to school.
However, she thinks it is necessary to change the criteria for assessing COVID-19 risk levels.
"Students living in areas with low risk of COVID-19 infection (labelled yellow) are allowed to back to school. When their areas turn orange, or high risk, they must move back to online studying. This lack of stability affects both schools and families. The psychology of the children will be affected too", Lien said.
Le Phan from Ha Dong District said that it was not reasonable to decide to reopen schools based on risk level assessments.
"If we rely on the risk level assessment, I have to wait to see what colour my district is – which is announced on weekends – to arrange my family activities," he said.
"The shift between in-person learning and online learning sounds flexible and smooth, but in fact, the gap in quality of these two learning forms is still large," he said.
According to the director of Hanoi Department of Education and Training, Tran The Cuong, the department completed the rehearsal to be ready to welcome students back to school after Tet.
"In-person learning will help boost the interaction between teachers and students and help students to absorb lessons more smoothly," he said, calling for co-operation from parents and students to ensure the "5K" message of the Ministry of Health and other disease preventive measures are followed.
Tran Nguyen Thai An, a student of Nghia Tan Secondary School in Cau Giay District, said that she was a little bit worried after hearing schools would return after Tet.
"Returning to school means that I will have to get up earlier, have breakfast earlier and wear a uniform. I haven't had to do those things for a long time," she said.
"I am looking forward to going to school to meet friends and teachers, but I don't know what to talk about. It may take time for me to get used to in-person learning and testing as we have studied and taken online tests three terms," said Thai An.
According to Doctor of Psychology Nguyen Thi Kim Quy from Vietnam Association of Psychological Science and Education, secondary school/ high school students are the ages for forming and developing, affirming their personality.
As their movement and communication were limited, they will face many risks, she said, adding that staying at home and being exposed to computers and smartphones for too long would make the students gradually "lose" their emotions.
Other mental and physical health consequences were anxiety, depression, emotional disturbances, vulnerability, or irritability. Many students are at risk of diseases such as myopia, obesity, scoliosis and calcium deficiency, Quy said.
Pham Thi Huong, a teacher of Nghia Tan Secondary School, said that after one semester of online learning, she found many of her students to be less talkative.
"In online classes, we – teachers and students – mostly talk about the content of lessons as we hardly have time for other issues," Huong said.
"Observing students' facial expressions through the camera, it is impossible to know what they are thinking, what they want or whether they understand the lesson or not. Teachers also do not understand the changes in students' thoughts and feelings. Moreover, with 45 minutes for a lesson, teachers can't just "catch mistakes" when students are distracted and lack focus. If we are in a physical class, teachers could do more for students." said Huong.
"Depending on students ages, parents need to make different preparations for the return to school. The most important thing is to create 'positive thinking' about returning to school.
With a positive attitude, it will be easier to adjust and help children into new habits, and it will be easier to learn and adapt to new daily routines", said Dao Hong, a teacher at Nghia Tan Secondary School.
Kindergarten and first-sixth-grade students in HCM City to return to schools on February 14
The HCM City People's Committee has decided that students in kindergarten and from first to sixth grades can return to school from February 14.
Kindergarten students can return to school on February 14, the HCM City administration has decided. VNA/VNS Photo by Thu Hoai
But schools need to get the consent of students' parents and caregivers.
Those who do not attend school can continue to study online.
Schools must prepare carefully for the reopening, offer training in pandemic safety to their teachers and other staff and hold discussions with parents about safety measures by February 13.
Local pandemic prevention and control steering committees are responsible for monitoring the implementation of safety measures by schools.
Nguyen Minh Tuan, owner of Ngoi Lang Vui Ve Kindergarten in Binh Thanh District, was quoted by Người Lao Động (Labourer) newspaper as saying his school did a survey and found 70 per cent of parents agreeing to send their children to school.
The rest want to send their children in March after assessing the situation post-Tet, according to Tuan.
Tuan said 20 per cent of his staff returned to their hometowns and found stable jobs, and so his school had to hire replacements before reopening.
Luong Thi Hong Diep, head of the city Department of Education and Training's preschool education division, said many schools, particularly in outlying districts, faced a shortage of teachers.
It had suggested that district authorities should encourage retired teachers to return to work and helped pre-school teachers who lost their jobs to move to private preschools that were looking to hire.
According to data from the department, some 12,000 teachers and officials lost their jobs due to the pandemic, including 10,000 at the preschool level.
More than 150 private preschools have shut down or are in the process of doing so.
Source: Vietnam News
Minister of Education and Training Nguyen Kim Son said that gradual reopening of schools is a necessity as Vietnam's vaccination rate is high, drugs for Covid-19 have been improved, and anti-pandemic conditions and people's awareness have improved.
The Ministry of Education and Training (MoET), Ministry of Health (MoH) together with municipal and provincial authorities are determined to re-open schools no later than February 14.