Deputy Prime Minister Pham Binh Minh has requested relevant ministries and agencies to complete laying down consistent, detailed guidelines regarding the reopening of international commercial flights.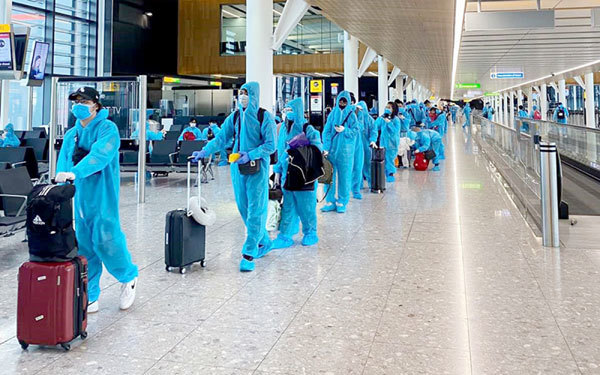 Vietnam is scheduled to reopen international commercial flights on January 1, 2021. (Photo: nhandan.vn)
The Government on December 10 gave the green-light to restoring international air routes to a number of safe destinations, starting on January 1, 2022.
For the time being, Vietnamese airlines will resume routes to Beijing/Guangzhou (China), Tokyo (Japan), Seoul (Republic of Korea), Taipei (Taiwan – China), Bangkok (Thailand), Singapore, Vientiane (Laos), Phnom Penh (Cambodia), San Francisco/Los Angeles (USA).
The government assigned five ministries (Ministry of Public Security, Ministry of Transport, Ministry of Health, Ministry of Foreign Affairs and Ministry of Information and Communications) to jointly carry out the task.
However, the ministries have yet to issue detailed instructions.
The government asked the Ministry of Health to urgently issue guidelines for people entering Vietnam on regular international commercial flights, after consulting experts, businesses and the public.
It asked the Ministry of Foreign Affairs to continue coordinating with the Ministry of Health in negotiations to reach an agreement on mutual recognition of 'vaccine passports' with countries and territories.
As of December 8, Vietnam had temporarily recognized vaccination certificates/vaccine passports from 78 countries and territories. Meanwhile, Japan, the United States, the United Kingdom, Australia and Belarus had recognized Vietnam's vaccine passport.
Three Ministries of Health, Public Security, Information and Communications were requested to immediately publish a medical declaration software that is generally applicable to air travel.
The Ministry of Transport was requested to direct and guide aviation firms to restore regular international flights in line with the approved plan.
According to the Health Ministry's latest instructions, fully vaccinated passengers, except for children under 2 years old, must have a negative PCR test result within 72 hours, make health declaration and install the PC-COVID app for health monitoring upon their arrival.
They will self-quarantine at home or other places of residence for three days, and do a RT-PCR COVID-19 test on the third day. If the result is negative, they will self-monitor their health until the end of the 14th day.
Those who are yet to be vaccinated or injected with insufficient doses of vaccine will self-quarantine at their places of residence for seven days, and be subject to PCR tests twice on the third and seventh days.
Source: VOV
Airlines are ready to resume routine international flights from January 1, 2022 after two years of interruption. However, they are concerned as regulations have not been released. Meanwhile, some problems still exist.