A series of big gold and US dollar smuggling cases with a high number of involved subjects are under investigation.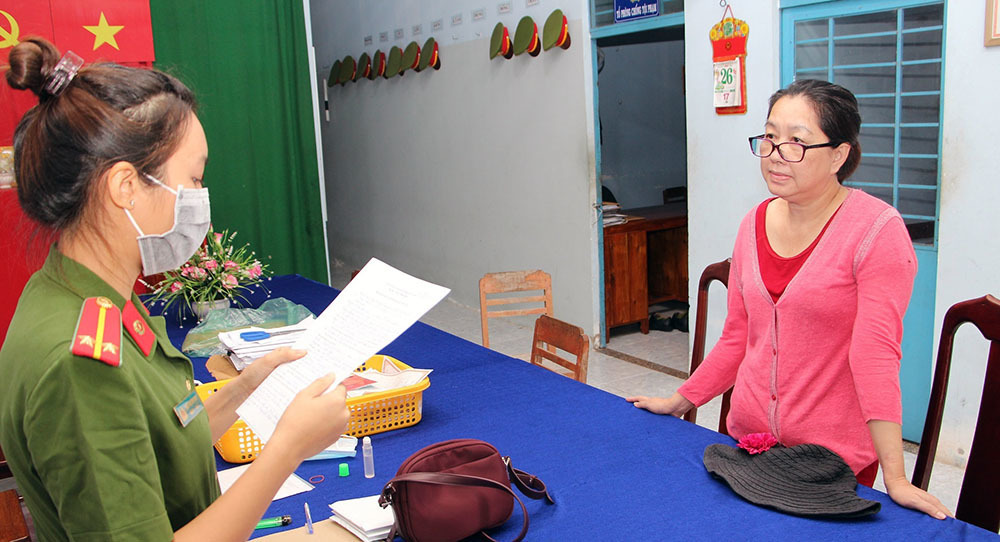 Muoi Tuong (right).
The southern province of An Giang has a 100 kilometer border with Cambodia, two international border gates, and many trails which can be exploited by criminals, especially smugglers.
Smuggling gold and US dollars is the choice of many, since they are easy to hide and transport, and can bring huge profits.
Gold, US dollars pile up
An Giang Police Agency, under the command of Colonel Dinh Van Noi, caught Nguyen Thanh Binh, 57, in Long Xuyen City and Trang Kien Tuong, 46, in Chau Doc City trading smuggled gold.
This is a result of a campaign of fighting against gold smuggling across the border with Cambodia.
On the evening of the same day, the police executed an emergency search warrant at Phuoc Quang Gold Shop on Nguyen Trai Street in Long Xuyen City, and two other locations which have relations with Binh and Cuong. They seized about 15 kilograms of gold jewelry, more than US$2.1 million, other foreign currencies, VND25 billion, documents and mobile phones.
An Giang Police Agency are conducting criminal detention of Binh and Cuong, and calling on involved individuals to quickly surrender to the police.
Earlier, An Giang Police Agency arrested Nguyen Thi Kim Hang, or Muoi Tuong, 52, a major smuggler, and her accomplices.
Investigations found that the leaders of gold smuggling have many years of experiences

and use sophisticated tricks to hide the police's eyes. They are very cautious, only using family members and relatives, which makes it difficult for the police to discover them.
The 'exploits' of Muoi Tuong
In the latest news, An Giang Police Agency have filed charges against Nguyen Van Sang, 51, in Long Thanh Ward in Tan Chau Commune and arrested him for laundering money.
Sang was a policeman, a Lieutenant Colonel. He once held the post of deputy head of security team and then was head of traffic police division of Tan Chau Commune Police. In late 2020, he worked at the department for legal assistance at An Giang Police Agency. He retired early.
Sang was arrested as the local police expanded its investigation of the money laundering case related to Muoi Tuong.
According to police, Sang got directly involved in banking transactions to hide the illegal origin of the VND1.3 billion gained from Muoi Tuong's smuggling.
Prior to that, An Giang Police filed charges against Nguyen Van Vo, 53, in Chau Phu district and arrested him for money laundering. Vo was also a policeman and was involved in transactions with banks to help conceal the illegal origin of VND3 billion that Muoi Tuong earned from smuggling.
Muoi Tuong led the carrying of 51 kilograms of gold, 470,000 dollars and 200,000 dollars, and smuggling of 1,000 tons of sugar from Cambodia.
Regarding gold smuggling, in July 2021, more than 150 policemen at the same time searched 15 gold shops and homes of some subjects related to the Muoi Tuong's smuggling ring in Chau Doc City and An Phu district.
At the locations, the police seized 36kg of gold, and 1.27 million dollars; more than 1.7 billion dong; electronic devices and documents and evidence related to cross-border transactions of money and gold.
Regarding the 470,000 dollars, in June 2019, Muoi Tuong instructed her accomplices to go to Cambodia to receive foreign currency and bring them to Vietnam. When the accomplices carried the money to Vinh Nguon Ward in Chau Doc City, they were discovered and arrested by the An iang Border Guard. Later, the case was transferred to An Giang Police.
The accomplices declared that each of them received VND3-5 million from Muoi Tuong for each trip.
MuoiTuong has also been prosecuted for illegal transport of 200,000 dollars.
According to the investigation agency, from 2010 to 2020, Tuong set up a lot of businesses and business households under the names of relatives in order to legalize the smuggling of sugar and other products.
To escape the police's watch, Tuong opened dozens of bank accounts under the names of relatives and workers. Her accomplices used accounts to collect money from sugar sales from 33 of her agents in Tra Vinh, Ben Tre and CanTho, totaling VND4.105 trillion.
Thien Chi
A number of agencies have recently discovered multiple smuggling and drug trafficking cases that were handling large quantities.
Six tonnes of smuggled ivory tusks and pangolin scales have been discovered in a container at Tien Sa Port in the central city of Da Nang.