Despite difficulties caused by the pandemic, tens of trillions of dong have been injected into gambling rings.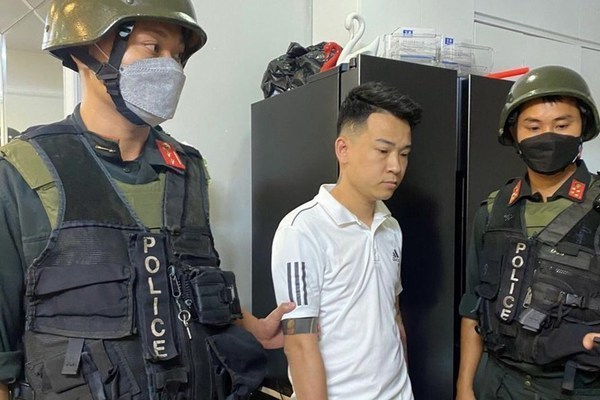 Do Ngoc Ha (white T-shirt), or Ha Mien
VND30 trillion ring
On November 13, 2021 the Criminal Police Department filed charges against Do Ngoc Ha, 37, residing in Long Bien District in Hanoi, Bui Hoang Son, 33, and detained them for allegedly organizing gambling. There were 12 other suspects in the case.
In December 2020, Ha and Son learned about organized gambling and gambling online via Baccarat card game, using USDT cryptocurrency converted into Euros.
The ring leaders advertised the game on social networks and organized amevents to introduce the websites. Ha also created a closed groups on Telegram and Facebook for members to exchange information in chat rooms.
When joining the ring, gamblers use smartphones or computers to listen to guidance on how to gamble. After that, gamblers deposit USDT to be able to bet in Evol's casino game.
During the time of operating the ring, Ha and Son induced many people to cooperate to organize gambling at different levels. They organized events and posted clips on social networks to invite people to join the ring under the form of financial investments. They even offered insurance policy packages with attractive promises 'if you win, you will get money, if you lose, we will compensate you'.
The police found that from April 19 to the day the ring was uncovered, more than 3,000 accounts joined the gambling ring and the total money they had deposited reached VND30 trillion.
The police on October 28 summoned and searched the homes of Do Ngoc Ha and tens of related people. They seized a lot of cars, 104 taels of gold and exhibits.
Indian man leads VND87 trillion ring
In early December 2021, the HCM City Police issued a decision to file charges against 39 suspects in the gambling ring worth VND87 trillion and detained them.
The suspects have been prosecuted for organizing gambling and gambling. The four leaders of the ring are Pham Thi Mai Ngan, born in 1985, in Phu Nhuan district; Huynh Long Nhu, born in 1993, in Tan Binh; Huynh Long Bach, born in 1991; and Nguyen Dac Quy, born in 1994, both in Go Vap, HCM City.
An Indian citizen was an organizer in the biggest gambling ring. He left the country before the gambling ring was uncovered. He has a Vietnamese wife..
This is the biggest ever gambling ring uncovered so far with the huge transaction value of $3.8 billion, or VND87 trillion.
The gambling is organized via two websites which changed frequency to avoid the police's detection. They also acted as intermediaries connecting gamblers with international websites to get commissions.
Players were required to register virtual wallets on Remitano exchange so as to buy cryptocurrencies (USDT or Ethereum). They create accounts on gambling websites and bet with cryptocurrencies.
The ring gamblers ran a lot of ad campaigns on social networks, attracting people to join the ring. When the number of players reached a certain level, they would collapse the ring themselves and appropriate players' money.
Money squandered on luxury cars
In October 2021, Nam Tu Liem Police uncovered a gambling ring led by Nguyen Minh Thanh, born in 1989, in Ba Dinh district. Though operating the gambling ring worth VND1.5 trillion, Thanh said he had no expertise in technology.
In 2020, the gambling ring comprised six members only. Two of them were in charge of platform management, two others managing a server and one managed juniors. Meanwhile, Thanh was general operator.
Gamblers had to create accounts and paid for cryptocurrencies (with no limitation) to play with others. The ring leaders received commissions based on the number of times of playing. As much as 45 percent of profit went to Thanh's pocket, while 15 percent to other groups and 10 percent to an ad group.
According to Thanh, they could intervene in the results of each game, but they did not do this. Winners would contact agents listed in the game to get their money.
All the money Thanh got from operating the ring was used to buy luxury cars. Thanh once paid VND12 billion to acquire a Mercedes-Benz AMG G63. He became famous on social networks after giving a super car to his wife as a gift.
In early November 2021, Gia Lam district Police joined forces with the Criminal Police Department and uncovered the online gambling ring, detaining 14 suspects, four luxury cars, many computers, bank cards and documents related to gambling organization.
The ring was led by Pham Cong Anh (1979), Hoang Manh Lam (1987), and Dinh Van Hoang (1985) from Lang Son, who managed 42 agents at lower levels. From July 2020 to the day of discovery, the amount of money going through the system was estimated at VND14 trillion.
A. Phuong
The state investigation agency has found that an Indian citizen has been an organizer in the biggest gambling ring ever uncovered by HCM City Police.
The Vietnamese police have broken up an online gambling ring in Hanoi with transactions worth more than EUR1.1 billion.