More foreign banks are engaging in the organisation of investment promotion events, facilitating Vietnam to attract more investors to the country.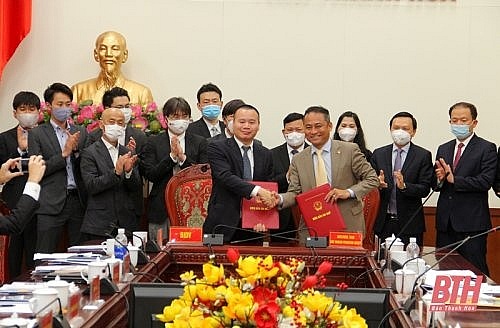 The Japan Desk in Thanh Hoa (Japan Desk Thanh Hoa) of the Provincial Center for Investment Promotion, Trade and Tourism and BIDV signed a cooperation agreement. photo: investinthanhhoa.gov.vn
BIDV and Japan Desk Thanh Hoa, which is managed by the local Investment Trade and Tourism Promotion Agency, have signed an MoU to promote investment capital inflows from Japan to the north-central province of Thanh Hoa.
Hoang Si Tuan, head of Japan Desk Thanh Hoa, said, "The two parties will take advantage of each other to promote investment and trading activities in industrial zones and economic zones in the province."
"We will create convenient conditions for BIDV to approach Japanese enterprises operating in the province to offer banking and consultant services with numerous incentives, which will encourage them to continue to expand the operation here," Tuan added.
The co-operation between BIDV and Japan Desk is an example of the participation of foreign banks in promoting investment capital to Vietnam as the way that MUFG Bank, Mizuho, UOB, and others are doing.
According to statistics from the Ministry of Planning and Investment's Foreign Investment Agency (FIA), these investment promotion activities often receive the attention of hundreds of foreign investors and dozens of business associations from each country with an interest in studying the investment environment.
Besides their foreign direct investment (FDI), advisory teams provide companies from across the banks' network with local insights, market entry support and customised financial solutions, and connect them to regional business opportunities. Meanwhile, Vietnamese authorities will provide advisory services on investment policies and dedicated support in investment procedures and applications.
One of the outstanding cooperation models is the MoU signed between these foreign-invested banks and the FIA to pave the way for new and expanded activities into Vietnam.
UOB, for example, expects to facilitate a pipeline for additional billions of US dollars in FDI to Vietnam, following $2.24 billion secured from the first MoU signed in 2015, and extended in 2020.
Wee Ee Cheong, deputy chairman and CEO of UOB, said, "The expanded MoU with the FIA has reaffirmed our close and collaborative relationship in helping regional companies tap the Vietnamese vibrant economy, driving their sustainable advancement and boosting trade flows and job creation across ASEAN."
UOB has helped more than 200 companies from Singapore, Malaysia, and China seize opportunities in Vietnam and aims to double that number with the latest MoU.
Sembcorp is one of the companies with whom UOB has been working closely in Vietnam to support its industrial park projects. Kelvin Teo, CEO of Sembcorp Development, said, "Vietnam is a key market for us. Thanks to UOB's support, we operate 10 integrated townships and industrial parks in Vietnam under our VSIP joint ventures, of which three were launched in the last couple of years."
In the framework of investment promotion events organised in the state leadership's business trips overseas, dozens of MoU worth billions of US dollars have been signed by foreign investors and Vietnamese parties in recent times. For example, during the Vietnam-Singapore Business Dialogue organised in February, Vietnamese and Singaporean businesses signed cooperation deals worth nearly $11 billion. One of them is a cooperation agreement worth $1.5 billion in developing sustainable energy and urbanisation solutions between SOVICO Group and Keppel Group and their subsidiaries.
Besides that, SOVICO and Keppel Energy Ventures also exchanged documents for a $1.5 billion deal on developing comprehensive and sustainable energy solutions for the transition to a green economy and reduction of carbon emissions.
Source: VIR
The prospects of strategic deals and ease in foreign ownership rules might provide commercial banks with more firepower.