Forbes Vietnam on February 24 announced that it had removed Ngo Hoang Anh from its Under 30 2022 list, following allegations from others who have charged Anh with sexual harassment.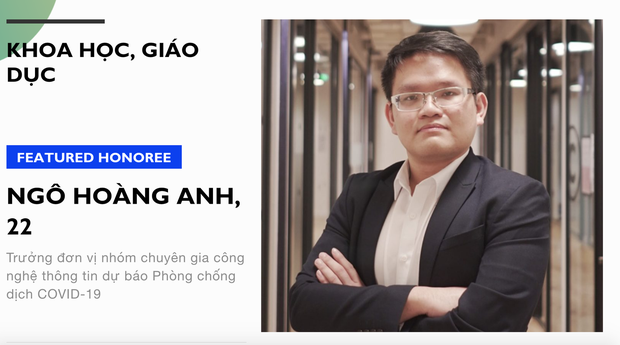 Ngo Hoang Anh
Forbes Vietnam said after thoroughly considering all aspects of the matter, including the inspirational spirit of the list and Ngo Hoang Anh's wish shown in his email, the organization decided to remove Anh from the list.
Forbes Vietnam released its Under 30 2022 list which includes 25 members. Forbes said Ngo Hoang Anh was listed to honor his personal contribution and achievements in scientific research.
The information has stirred up the public. Netizens expressed their surprise about a man accused of sexual harassment. The public even got more indignant after the high school where Anh studied published the listing on its fanpage.
Amid protest from the public, Forbes Vietnam promised to collect information and talk to relevant parties. It said that the information Forbes Vietnam accessed was different and not the same as information reported on social networks. Forbes said it needed more time to clarify the information.
The organization said it condemns sexual harassment. The listing has an effect on the careers and future of youth, and Forbes said it needed to analyze the situation and information thoroughly.
While Forbes Vietnam was working to clarify the information, young people continued to show their disagreement with the decision of Forbes Vietnam to add Anh on the Under 30 list.
Hoang Anh Duc, the founder and manager of EdLab Asia, who was named in Forbes Vietnam's 30 Under 30 List in 2020, stated that he would leave the list if Forbes still honored Anh.
Duc said the messages that Anh sent to many girls does not show positive influences that Anh could bring to the community.
Tran Nam Dung, Deputy Headmaster of the High School for the Gifted under Vietnam National University, HCM City, where Anh studied before, has apologized for his mistake of posting the information about Anh.
He said carelessness and a mistake in providing information was enough to cause heartache, resentment and distrust. He affirmed that sexual harassment must be condemned.
Phuong Chi
Psychological protection for students still has not been given much importance by schools, experts say.