Among FLC-family shares, ROS shares saw the stock assets of FLC Chair Trinh Van Quyet climb to a peak and then fall.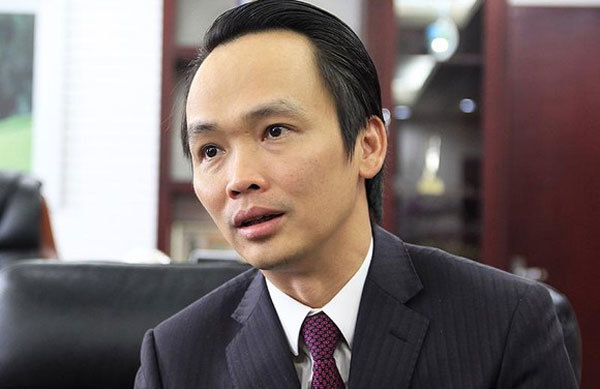 FLC Chair Trinh Van Quyet
After two sessions of hitting floor prices, ROS shares of FLC Faros dropped to VND8,000 per share. If compared with the peak price of VND160,000, the ROS price plunged by 20 times.
This, plus the sharp fall of other shares related to FLC, such as FLC, AMD, HAI and KLF, caused Quyet's stock asset value to decrease sharply to VND4.4 trillion.
ROS was the share that helped Quyet become the richest stock billionaire in 2017, if calculating assets based on the quantity and the prices of shares that Quyet was holding at that moment.
Over the last four years since the day it appeared on the bourse, the share swayed the market when it was put into a VN 30 'basket', and saw continued increases in prices, thus helping Quyet's stock assets rise rapidly. He became the richest businessman in the stock market in late 2016 and early 2017.
The predecessor of ROS was Vinh Ha Infrastructure Construction and Investment, which was established in 2011 with charter capital of VND1.5 billion. After many times of increasing capital, ROS had capital of trillions of dong and it put 430 million shares into transactions on HOSE (HCM City Stock Exchange) in September 2016.
When the ROS price increased, Quyet bought shares to increase his ownership ratio. At the end of 2016, Quyet unexpectedly surpassed Pham Nhat Vuong, chair of Vingroup, to become the richest stock billionaire. At that moment, Quyet had VND34 trillion worth of stock assets, mostly thanks to ROS which saw prices increase surprisingly.
In 2017, ROS continued to increase in price, which helped Quyet's assets rise to VND50 trillion in price and add Quyet to the list of dollar billionaires. However, Quyet was not recognized by Forbes as a dollar billionaire.
ROS shares saw prices decrease by10 times within one year. In 2020, ROS fell to the VND2,000 per share threshold. Analysts commented that the ROS price's ups and downs could not be explained by normal economic rules based on the enterprise's operation.
In terms of liquidity, this stock also recorded unusual movements. In late 2019, the trading volume of ROS surged to trillions of dong, but after that, the share nearly disappeared from the market and the liquidity was in 'dribs and drabs'.
M. Ha
High-profile FLC Group chairman Trinh Van Quyet would have enjoyed illicit perks worth over VND530 billion if his sale of 74.8 million FLC shares had not been cancelled in January for his failure to disclose information prior to the transaction.
Property developer FLC Group announced on March 31 that Dang Tat Thang will be chairman of the group and Bamboo Airways until a new decision from shareholders' meeting and the board of directors.