A number of high-ranking officials have been put behind bars amid a 'blazing furnace' campaign initiated by Party Secretary General Nguyen Phu Trong.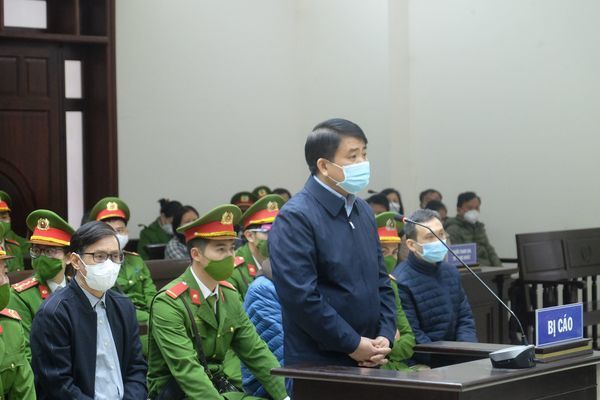 Former Hanoi Mayor Nguyen Duc Chung
On the last days of 2021, the Hanoi and HCM City People's Courts brought former leaders of Hanoi and HCM City to trial.
Hanoi People's Court on December 13, 2021 sentenced former Hanoi Mayor Nguyen Duc Chung to eight years in prison on the charge of 'abusing position and power when performing duties'.
According to the jury, with a 'green light' from Chung, Arktic Company got an exclusive right to import Redoxy-3C products. Chung then instructed Vo Tien Hung, former chief executive officer of Hanoi Water Drainage Company, to buy the products from Arktic with a bad intention to violate the law, causing a loss of VND36 billion to the State.
On the last day of 2021, Chung was sentenced to another 3-year imprisonment.
The first-instance judgment said that Chung, taking advantage of his position as Chairman of the Hanoi People's Committee, made three calls to the Director of the Hanoi Department of Planning and Investment, telling him to stop the implementation of the 2016 digitization bidding package.
After that, Chung asked the department to choose business database digitization technology compatible with the commonly used system in the city. He also told the department to work with Nhat Cuong Software to implement digitization of business registration data before continuing to implement the 2016 digitization package.
He was charged with abusing his position and power while performing duties.
The other five attendants were prosecuted for 'violating bidding regulations causing serious consequences'.
Also in December 2021, HCM City People's Court sentenced former HCM City Vice Mayor Tran Vinh Tuyen to six years in prison for "violating regulations on management and use of state assets, causing loss and waste".
According to the jury, Tuyen, as Vice Mayor of HCM City, knew that the housing project in Phuoc Long B ward in district 9 must strictly comply with the law on managing and using State capital to invest in production and business at enterprises, and that a price appraisal must be conducted, and the transfer value must be determined by market prices, among other relevant regulations.
He knew that SAGRI did not build up the divestment and business restructuring project to submit to the municipal authorities for approval; and did not implement additional financial duties related to land-use rights. Besides, he knew that, when SAGRI asked for permission to transfer the property, the transfer of the contributed capital was outside a 100 percent state owned enterprise.
Nevertheless, Tuyen still signed a document allowing SAGRI to transfer the property to Phong Phu Corporation, which was a violation of the law.
On December 27, 2021, HCM City People's Court opened a hearing against former HCM City Party Committee's Vice Secretary Tat Thanh Cang and 19 accomplices.
Cang and accomplices have been charged with 'violating regulations on managing and using state's properties, causing losses and waste', and 'embezzlement of property' related to wrongdoings occurring at Tan Thuan Industrial Promotion Company Limited (IPC, 100 percent state owned) and Sadeco (a subsidiary of IPC).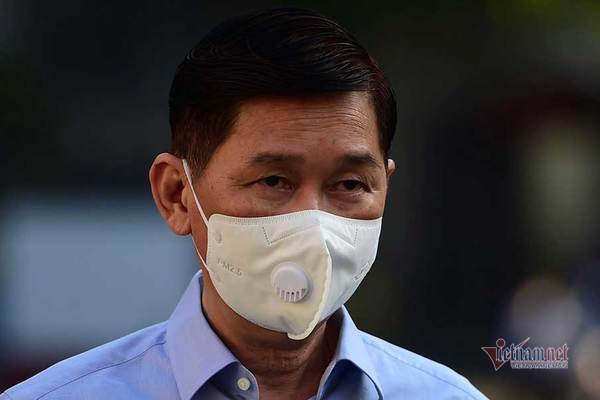 Former HCM City Vice Mayor Tran Vinh Tuyen
Cang also approved the issuance of 9 million shares of Sadeco to Nguyen Kim Company, skipping the share auctions. The decision caused a loss of VND1.103 trillion to Sadeco.
The hearing is continuing.
Hot cases
Not only leaders of Hanoi and HCM City, but leaders of ministries had to appear in court last year.
On April 29, 2021, Hanoi People's Committee sentenced Vu Huy Hoang, former Minister of Industry and Trade, to 11 years in prison for 'violating regulations on managing and using State's property, causing waste and losses'.
The first-instance judgment states that defendants in the case all held important positions in the Ministry of Industry and Trade (MOIT) and localities and had deep knowledge about their fields of expertise, but committed criminal acts for a long time. The transfer of the land plot at 2-4-6 Hai Ba Trung Street, a state property, caused a big loss of VND2.713 trillion to the state.
On December 6, 2021, Nguyen Manh Hung and Le Quang Hao received a judgment of 7-year and 6-year prison sentences, respectively.
Hung and Hao, when organizing the execution of the Da Nang Highway project, did not properly perform their duties and did not have solutions to examine the quality of the construction work, leading to low quality of the work.
Despite the low quality, the two defendants still signed documents on official acceptance of the work, behavior which caused a loss of VND422 billion.
On December 24, Hanoi People's Court sentenced Duong Van Hoa, former Rector of Dong Do University, to 12 years in prison, for 'forging at work'.
In this case, the leader, Tran Khac Hung, Chair of the Board of Directors, is on the run. The rector, vice rector and many school officials have received prison sentences for being accomplices of Hung.
According to the first-instance judgment, Hung, after finding that many people had demand for obtaining a bachelor's degree in English linguistics (a requirement to be eligible to study for a doctorate, attend civil service exams and rank promotion exams, etc), instructed the divisions of the school to sell degrees to those who have demand.
From April 2018 to March 2019, Tran Khac Hung and his accomplices made and issued fake degrees and certificates in 431 cases, illegally collecting VND7.1 billion.
T. Nhung
The Government, in its report on the COVID-19 prevention and control submitted to the National Assembly (NA) on January 4, affirmed that the Viet A Technologies JSC had took advantage of the COVID-19 pandemic to seek illegal profit.
Criminal proceedings has been launched against Phan Manh Cuong, Secretary of the Thai Nguyen city Party Committee and former head of the management board of the provincial industrial parks.