After an 11-hour flight, an aircraft carrying 287 Vietnamese citizens in Ukraine landed in NoiBai Airport in Hanoi on March 8 amid joy and happinessfrom the returnees and those who met them at the airport.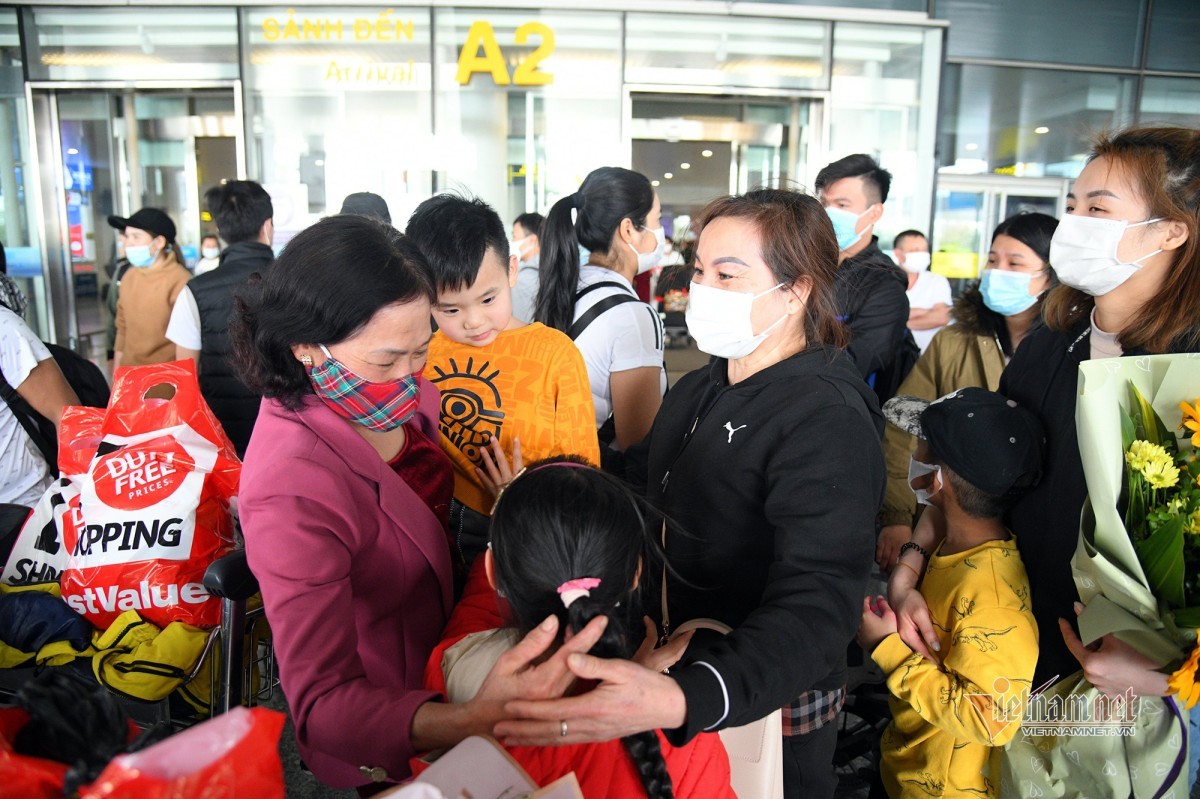 In midday, the sun began shining after a cloudy and foggy morning, exactly at the moment when the Vietnam Airlines' aircraft landed safely. The passengers were special: they were Vietnamese citizens living and working in Ukraine, which they consider a second homeland. However, they had no other choice than to leave the country because of the war.
Arriving in the airport and welcomed by agency leaders and relatives, Nguyen Thi Phuong, 31, from Odessa, Ukraine could not hide her emotions after a hard journey.
Phuong had lived in Ukraine for 20 years until the day of repatriation. During that time, she sometimes returned to Vietnam to visit relatives.
On the first days of the war, she was stunned when Odessa incurred bombardment and explosions. At 3-5am, bombs dropped several kilometers from her home, enough to shake the houswhere her family lived. . At that time , they hid themselves in the shelter and prayed.
Realising that the war would last a long time and hearing calls from local authorities as well as the Vietnamese Embassy in Ukraine, Phuong's big family of 40 members gathered and decided to drive cars to Moldova to seek refuge.
After arriving in Moldova, the war became more tense. After a notice from the Ministry of Foreign Affairs about rescue flights, Phuong and her family decided to leave for Romania. However, the difficulties still existed as thousands of people were flocking from Ukraine to border gates.
"There was a long line of people queuing up to cross the border gates. It was raining and snowing. As we could not use personal cars, we left the cars behind and went on foot to Romania. After four hours of queuing, they finally crossed the border gates. In Romania, we were received by officers of the Vietnamese Embassy and volunteers," Phuong said. .
Phuong said she remembered the exact words of the officers of the Vietnamese Embassy: "We are here to pick you up. It's our responsibility to bring all of you to the homeland.
"I was really touched when hearing the words. I felt as if I had already returned to my homeland, and was not in another country," Phuong said.
During the seven days in Romania, Phuong and other people were taken care of by the embassy. . They had enough food and drink, and received healthcare..
Nguyen Thi Huong, 23, and her six-month-old daughter, were some of the first people stepping out from the aircraftand were greeted with flowers from Deputy Minister of Foreign Affairs Pham Quang Hieu.
Huong, who is Phuong's sister in law, said: "I feel happy and lucky. We have lived in fear since the day the war broke out."
"After the war broke out, Odessa became deserted as no one dared to go out. We just stayed at home and listened to the news. We moved from Odessa to Moldova and then to Romania. We did not know where to go. But we luckily received support from the embassy and I am really happy as we have returned to the homeland," Huong said.
As the last person stepping out from the check-out hall, Do Manh Dung expressed his sincere thanks to the Ministry of Foreign Affairs, the embassies, , Vietnamese associations and the air carrier which helped Vietnamesein Ukraine to evacuate in a timely manner .
Dung, his wife and their two children had lived in Ukraine for 14 years. They considered Ukraine as their second homeland. But as the war broke out, they had to leave houses and properties, and return to Vietnam.
"On February 24-25, rockets flew over my house. All of us had to stay in the shelter for 4-5 days. The city where I lived was just 40 kilometersfrom Moldova. However, because of the severe weather and traffic jam, we had to go on foot for 15 kilometers before reaching the border gate. My family was nearly the last family leaving the area," he recalled.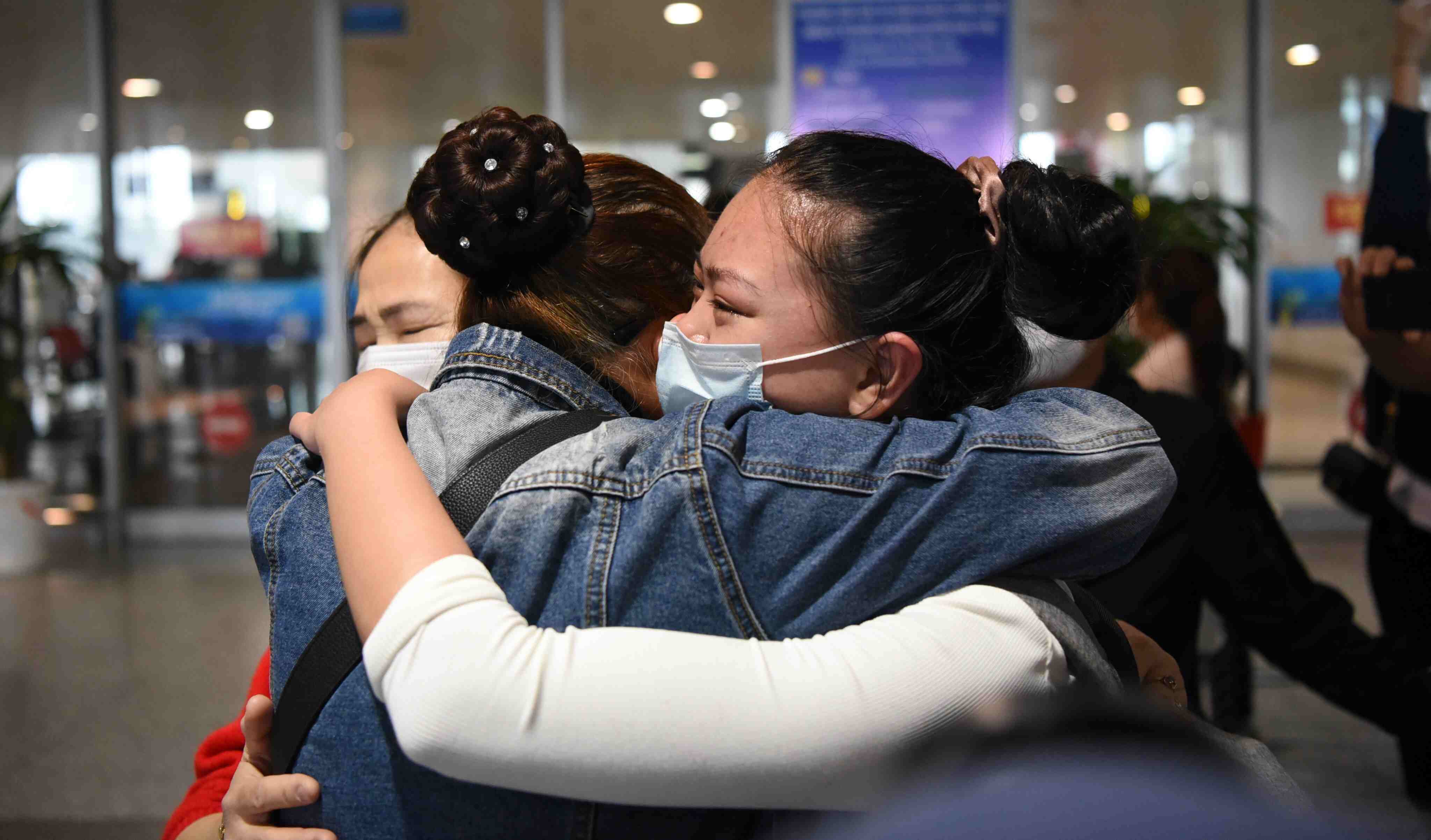 "Luckily, we received support from the embassy and the Vietnamese community," he said.
Asked about plans for the future, Dung said the kids will study in Vietnam, while he and his wife will look for jobs in Vietnam. They will return to NamDinh and hope that Ukraine will be peaceful again one day.
Pham Quang Hieu, Deputy Minister of Foreign Affairs, and Chair of the Committee for Overseas Vietnamese, said the campaign of protecting and evacuating Vietnamese was special .
"This is notthe first time we have organized rescue flights on a large scale. When the crisis occurred in Libya, we also organized such flights. But this campaign was different," he explained.
"Most of them have lived in Ukraine for a long time and they have a strong attachment to the country. When the war broke out, they did not think the situation would be so serious. However, MOFA and the embassy have beenproviding information for them to make decisions," Hieu said, adding that many evacuation decisions were made at the last minute.
"As the war is fierce, transport was disrupted, and we had to make every effort to discuss with local authorities in Russia and Ukraine to create a safe corridor for people to move. Some people stayed in Ukraine to take care of their properties. We keep in contact with them to give support if necessary," he said.
"In general, people have left from the fiercest war zone. We will continue working with relevant agencies to figure out reasonable solutions," he said.
Tran Thuong
A Vietnam Airlines flight carrying 287 Vietnamese people leaving Ukraine arrived at Hanoi's Noi Bai International Airport at noon on March 8.
A flight to evacuate Vietnamese people in Ukraine departed from Hanoi to Bucharest with a flight time of more than 12 hours.