The Russia-Ukraine conflict is tormenting agricultural exporters who have managed to seek out solutions to shun and limit risks caused by disruptions resulting from the escalating situation.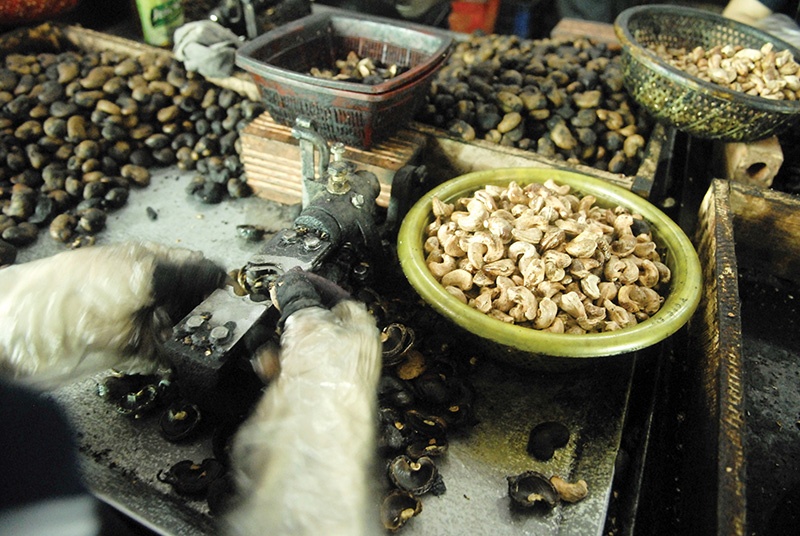 Several of Vietnam's popular exports will be rocked with the cutting-off of some markets, photo Le Toan
Over the last week, the Ministry of Agriculture and Rural Development (MARD) has held several meetings with relevant ministries and agencies, exporters, and experts in order to seek solutions for agricultural exporters suffering from disruptions including shipment and payment due to the Russia-Ukraine crisis.
The MARD reported that last year Vietnam earned an export turnover of $550 million from exporting to Russia agro-forestry-aquatic products, including aquatic products ($164 million), coffee ($173 million), and peppers and cashews ($61.8 million).
The Vietnam Cashew Association (Vinacas) more than a week ago sent a proposal to the MARD asking to reduce the target of cashew export turnover in 2022 from the initial $3.8 billion to $3.2 billion due to geopolitical uncertainties.
"All of our partners in Russia and Ukraine have stopped inking new orders though they earlier promised new orders. Meanwhile, we also do not dare to ink such orders with them due to too many risks," said Nguyen Ngoc Van, vice director of a cashew processing and exporting enterprise in the southern province of Binh Phuoc.
No shipping lines will transport cargo to those countries, while enterprises' payment with partners in these markets via the SWIFT international payment system has been stopped due to Russia being removed from it, Van added. "We are temporarily keeping our exported products under the old contracts at several European nations' ports. If there are no changes in the situation, we will have to draw goods back and accept additional costs, worth several hundreds of thousands of US dollars."
Vinacas general secretary Dang Hoang Giang said that all freights that have already left Vietnam for Russia and Ukraine are now unable to enter these nations directly, but instead have to wait at ports in Germany or the Netherlands.
"This has increased costs for enterprises at the ports," Giang said. "Though Vietnam's cashew export turnover from Russia last year was valued at $61.8 million, which is far smaller than that of other exports to Russia, it will cause spillover effects to other markets and affect the purchasing prices of cashew materials in Vietnam as this month is entering the main harvest season."
Weathering difficulties
Meanwhile, other groups such as the Vietnam Pepper Association and the Association of Vietnam Timber and Forest Products have also worked with their member companies that export products to the two markets, asking them to report the situation so that discussions for solutions can be conducted.
Phan Minh Thong, chairman and general director of agricultural product exporter Phuc Sinh Corporation, told VIR that the company annually fetches $30 million from exporting to Russia, including $3 million directly from this country and the remaining $27 million from third nations. The current situation has stopped all transactions of many companies like Phuc Sinh with partners in these two markets.
"To reduce risks and losses, we have had to draw back export batches and dismantle goods at the transiting ports. We can sell the goods yet to be delivered to Russia to other markets where prices of goods have increased strongly due to growing demand," Thong said. "We are also seeking solutions for goods getting stuck due to difficulties in payment."
In addition to agricultural products, Vietnam's exports of mobile phones, electronic products, and spare parts of automobiles to Russia and Ukraine have been affected by the conflict. The Korea Chamber of Business in Vietnam said that it is working with companies and authorised agencies to help facilitate exports to these two foreign markets.
The Vietnamese Embassy in Russia more than a week ago met with Vietnamese businesses in the country to seek measures to cope with the impact of the crisis. Some suggested that Vietnamese enterprises should scale down their business and watch the developments of the situation, while others proposed limitations in the use of foreign currencies. Many also said that the Vietnamese government should apply convenient payment methods with Russia so as to help firms shun risks and maintain their stable operations in the nation.
The State Bank of Vietnam (SBV) has asked commercial banks in Vietnam to inform on the state of cooperation with Russian entities. According to the SBV, the commercial banking system is facing negative impacts in the wake of the conflict, especially banks currently associated with or directly cooperating with Russian financial institutions.
The SBV urges banks to promptly report on their cooperation with the Russian market, covering agency interactions, payment methods, financial transactions, contract projects, major challenges, and arising issues.
"An in-depth analysis of how Russian sanctions may affect customers' transactions, particularly existing loans, is to be provided as well," the SBV highlighted. "At the same time, banks must prepare their strategic plans to remove current and foreseeable obstacles in money transfer payment operations with Russian partners."
Crisis aftermath
At a recent cabinet meeting, Prime Minister Pham Minh Chinh directed a special team to respond to any knock-on effects posed by the Russia-Ukraine conflict.
The Ministry of Industry and Trade (MoT) reported that last year, total export-import turnover between Vietnam and Russia reached $7.3 billion, including $4.5 billion earned by Vietnam's exports, or only 1.33 per cent of the Southeast Asian nation's total export value of $336.31 billion.
In the first two months of 2022, Vietnam raked in a trade surplus of $109.1 million from Russia, including export turnover of $555.3 million or only 1.3 per cent of the Southeast Asian economy's total export turnover of $53.79 billion – up 10.2 per cent on-year. Vietnam also used $446.2 million for importing goods from Russia or only 0.8 per cent of its total 2-month import turnover of $54.73 billion – up 15.9 per cent on-year.
As for Ukraine, in 2021, trade turnover between the two countries reached $720.5 million, an increase of 51 per cent from 2020. Main exports to Ukraine are computers and shoes, among others. In the first two months of this year, Vietnam's export turnover from Ukraine reached $57.5 million and import turnover of $8.4 million to this market, meaning a trade surplus of $49.1 million.
According to the MoT, Vietnam would experience impacts on production, trade, logistics, and payments during the crisis. Enterprises' cooperation with Russia, Ukraine, Belarus, and other relevant markets would also be affected.
All shipping companies have refused to deliver goods from Vietnam to Russia and Ukraine, while transportation fees rise with further delays in transportation.
The sanctions on air transportation have also forced airlines to choose alternative flight routes, increasing costs and burdens on global logistics systems as well as product prices. Several businesses have stated increased transportation costs may leave them without profit.
Do Xuan Lap – Chairman Association of Vietnam Timber and Forest Products
The Vietnamese wood industry and thousands of related enterprises are expected to face massive woes as annually they import a large volume of important wood materials – including birch, oak, and plywood – from Russia for their production in Vietnam.
Russia's oak accounts for more than 85 per cent of Vietnam's total sawn wood imported from Russia. Vietnam's birch imports from Russia increased from 1,000 cubic metres in 2018 to about 103,000 cu.m last year.
Many customers in the US and Europe, which are among Vietnam's biggest importers of wooden products, may pay attention to products whose materials are sourced from Russia. At present, they have yet to boycott these products and we are closely watching how the situation will happen.
It is thought that it is now time for the wood industry in Vietnam to have more solutions to replace the wood material source in Russia with those of other markets. Enterprises need to talk with their foreign importers about this potential replacement. For example, we can boost import of materials from European markets such as the Netherlands but will have to face higher prices.
What is more, the Vietnamese government needs to have a bigger programme on increasing forest plantations in the long term so that domestic supplies can become bigger in the future. Besides that, policies and mechanisms also need to be more favourable for enterprises to invest in forest plantations in the country.
Another risk that is seriously hurting the wood industry is the strong escalation of global fuel prices, which are sabotaging businesses and exporters. Thus Vietnam's wood exports to overseas markets will be heavily affected because, unlike other types of goods, wood products are of large size but low value and must be transported in many containers.
Source: VIR