Hoàng Lan
Phục Linh cakes are an ancient tradition of Huế, itself the ancient royal capital city of Việt Nam. My aunt brought me a couple of packages of the special treat from the Huế Imperial Palace during her Hà Nội visit last week.
The cake is sometimes made of green beans or sticky rice, but my aunt said bakers often used arrowroot flour, as this root has a naturally fragrant and characteristic flavour.
I've heard the name of the cake a long time ago, but this was the first time we got to enjoy the cake, which is square and a pure white colour.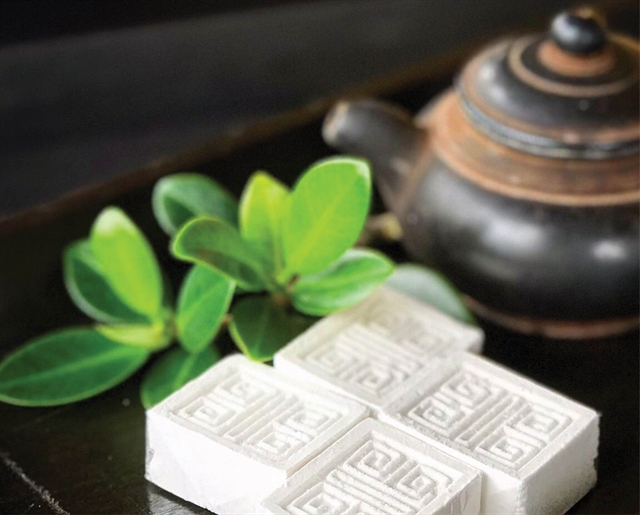 Phục Linh cakes are traditionally white and square. Photo amthuchue.info
"The cake is much more enjoyable when eaten with a cup of tea. It is suitable for all eaters, but particularly the elderly because it's cool and good for the digestive system," my aunt Vương Thị Hòa said.
Huế housewives are well known for their skill in making Phục Linh cakes to worship their ancestors during important anniversaries such as Tết (Lunar New Year festival) or wedding ceremonies, she said.
In the past, the cake was a speciality to offer to the kings of the Nguyễn dynasty between 1802-1945, she said, though one knows when the cake came into being or why it was called Phục Linh, a haughty and noble name.
These days, the cakes can be found in all sorts of colours. Photo bepmonngon.vn
Each cake is craved designs of the Huế imperial palace, imbued with ancient culture and traditional style of the Việt (now majority Kinh) people, Hòa told Việt Nam News. The process of baking the cake requires careful preparation and crafting. The traditional cake is made of arrowroot which is well-ground with yellow sugar, pandan leaves and fresh coconut juice.
The arrowroot flour should be roasted over a wooden fire with a regular stir. "It needs skilled hands to have a mix fragrant of the flour and characteristic of the fire. The cake must be pressed in a bronze frame to create the most beautiful and delicate form," Hòa said.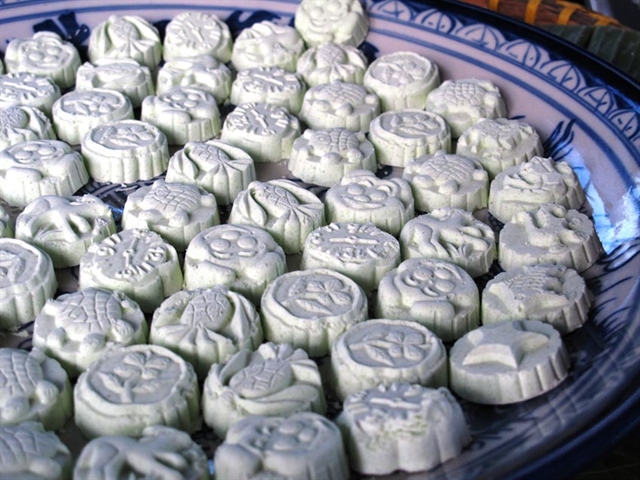 Some modern makers buck tradition in favour of different shaped cakes. Photo doanhnhanPlus.vn
The Phục Linh cake is not as available as it was in the past though Hòa is trying to preserve recipes to teach her children and grandchildren, so it can live on.
She said while she prefers to produce a white cake, modern bakers like to make colourful cakes of red, yellow, blue, brown and violet to meet increasing demands.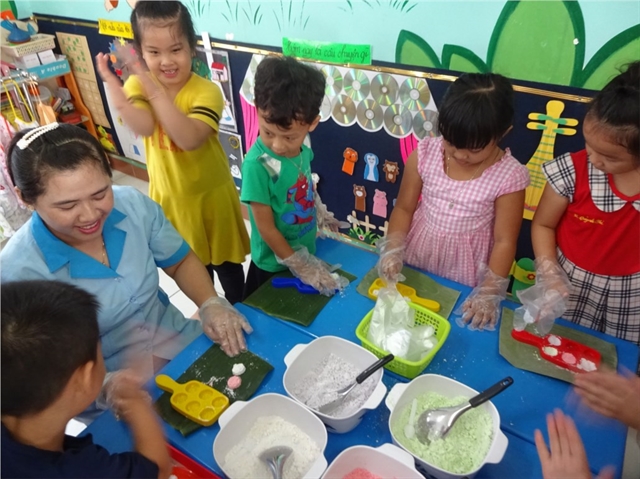 To help preserve the tradition, a kindergarten teacher teaches pupils how to make Phục Linh cakes. Photo mnhoalandq9.hcm.edu.vn
Overseas Vietnamese Dương Lệ Tĩnh from Los Angeles, a native of Huế, said she missed the cake so much. "I often ask my relatives to send me the cake. It gives me a feeling of closeness with our motherland and my birthplace that I could never forget."
She said each time she enjoyed the cake a feeling of subtlety and remembrance of her happy childhood rushes back.
"I still remembered my childhood, when my mother would come back from the market. She would give me a cake that was sweet and cool with a slightly burnt smell of wooden fire. I love it so much." VNS