Developing energy is a strategic task to realise the goal of industrialisation and modernisation.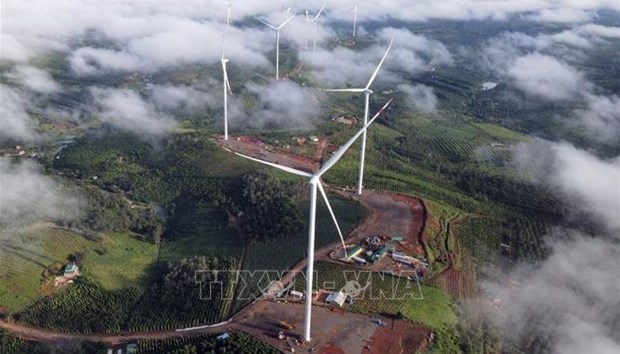 Over the past years, the energy industry has developed strongly in all stages, from exploration and exploitation to production, transmission, distribution and use. However, with the demand for energy expanding 10.5 percent yearly, Vietnam has to import 1-2 percent of the total capacity of the entire power system.
It is forecast that Vietnam will face a shortage of energy in the future. Therefore, the development of other energy sources apart from fossil fuels is becoming more and more important in Vietnam's energy structure.
Renewable energy will contribute to addressing the energy shortage, diversifying energy sources, easing risks, enhancing and ensuring national energy security, reducing greenhouse gas emissions and preventing global climate change.
Addressing the recent Vietnam Energy and Technology Forum 2021, Deputy Minister of Science and Technology Tran Van Tung said Vietnam has consolidated a legal corridor to promote investment in green technology and renewable energy development.
The State and the Government have adopted various strategies, resolutions, mechanisms and policies to facilitate renewable energy development, he said, adding that by the end of September 2021, renewable energy, excluding hydropower, has reached 22.68 billion KWh, accounting for 11.8 percent of the total electricity output.
In a draft science and technology development strategy for the 2021-2030 period, to be submitted to the Government and the Prime Minister for approval, attention has been paid to the restructuring of national science and technology programmes, he noted.
Hoang Tien Dung, Director of the Ministry of Industry and Trade (MoIT)'s Electricity and Renewable Energy Authority, said the National Power Development Plan VIII (PDP8) for the 2021 – 2030 period has placed focus on the renewables, such as wind power, offshore wind power and solar energy.
Provided with supporting policies, green energy generation is expected to account for about 70 percent of the total output, Dung said, adding that Vietnam is in the early stage of shifting from fossil fuels to renewables.
Smart grids and integrated energy storage technologies are the future of Vietnam's energy sector, he said, adding that Vietnam should start thinking about producing hydro and hydro storage technology in the coming time when it is able to maintain large-scale renewable power generation.
According to the updated report of 'non-hydro' renewable energy sources of Vietnam Energy Magazine – VER (August 2020), Vietnam's total onshore wind power potential is estimated at about 217 GW, and its offshore wind power potential is around 160 GW.
Meanwhile, the potential of solar power nationwide stays at some 386 GW, mainly in the South, the South-central region and the Central Highlands.
Ben Backwell, CEO of the Global Wind Energy Council (GWEC), said wind energy installed in Vietnam has surpassed the mark of 4 GW, noting that the energy will play an important role for Vietnam to gradually phase out coal power.
Source: VNA
Vietnam's commitment to increasing its energy capacity using renewable sources will lead to increasing recruitment demand, especially in the next few years, but its human resources are not sufficient.