While Vietnam's pharmaceutical and healthcare industries are waiting for a big push to shine, foreign enterprises continue to seek more adjustments of legal barriers.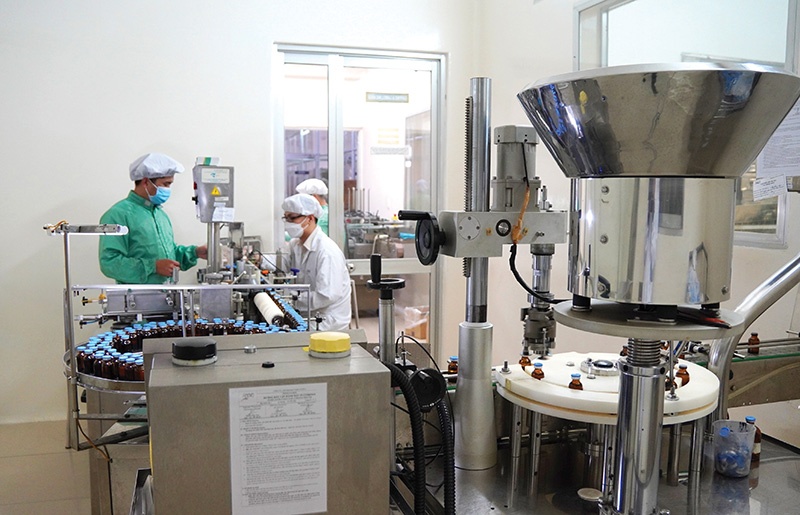 Suitable recommendations, if enacted, could push Vietnam's health sector ahead in innovations and easier access, photo Le Toan
At the Vietnam Business Forum on February 21, pharmacy and healthcare were one of the hottest topics of discussion among the European Chamber of Commerce in Vietnam (EuroCham), its US counterpart (AmCham), and others who represent thousands of businesses and investors in Vietnam.
Among the top recommendations were adjustments to marketing authorisations (MA), the Law on Pharmacy, Decree No.54/2017/ND-CP, Circular No.32/2018/TT-BYT on drug registration, digital healthcare, and the Certificate of Pharmaceutical Products.
EuroCham chairman Alain Cany said that the European business community highly values the issuance of a December resolution that enables the continued use of MAs scheduled to expire before the end of 2022.
"This measure should be implemented without the need for companies to wait for guiding regulations and without the need to carry out burdensome administrative procedures, which would go against the urgent spirit of this resolution. We seek the National Assembly and the government's support in directing a shared understanding among relevant agencies for this measure to be implemented urgently and to be applicable to all medicine," he recommended.
"We look forward to the revision of relevant regulations, including the Law on Pharmacy, with the aim of implementing the removal of the MA renewal procedure entirely in 2022," he added.
Like EuroCham, AmCham members are seeking streamlined registration processes and harmonisation with regional and global standards to ensure continued access to life-saving and top-quality healthcare products, including innovative pharmaceuticals, medical devices, and consumer nutrition products.
AmCham Hanoi chairman John Rockhold said, "We encourage extending coverage to licensed retail pharmacies to dispense medicines subsidised by social health insurance to enhance patient access and advance the goal of universal health coverage here."
Members also encourage the revision of Decree 54 to allow foreign-invested companies to continue participating in warehousing and transportation of pharmaceutical products, providing much-needed assistance in meeting the increasing demands of hospitals and patients during the pandemic.
Potential flows
Since the enforcement of the Law on Pharmacy, Decree 54, and others, foreign-invested enterprises have been able to expand their business activities in Vietnam when they are allowed to directly export and import drugs and vaccines into the country.
On February 15, the two Indian giants of Sri Avantika Contractor Ltd. and SMS Pharmaceuticals Ltd. signed a cooperation agreement with Dai An Urban-Industrial Zone Development Corporation JSC to develop a pharma park worth about $10-12 billion in the northern province of Hai Duong.
SMS and Sri Avantika Contractor are aware of the huge growth prospects of the local market. The potential of Vietnam's healthcare in general and digital healthcare, in particular, is shown in the sector's growth value, with the country's healthcare expenditure reaching approximately $17 billion, equivalent to 6.6 per cent of its GDP, according to Fitch Solutions.
The firm expects that healthcare spending will reach $23 billion in 2022 at a compound annual growth rate of 10.7 per cent.
In November last year, Vietnam saw a number of multinational corporations make commitments to pour more investment into the country. In particular, AstraZeneca announced investing $87 million to develop manufacturing capabilities in Vietnam and expand access to high-quality, locally-made medicines.
Meanwhile, Sanofi plans to add investment in domestic production and expand the scale of production plants for export. The group envisions a multi-year investment plan of around $5.77 million to support the expansion of its manufacturing plant in Vietnam, along with localisation through technology transfer to Sanofi Vietnam.
Sanofi is the only multinational in the pharmaceutical industry operating three factories of WHO-GMP standards in Vietnam, supplying 80 per cent of Sanofi's volume in the country. In 2018, Sanofi Vietnam led the market with 4 per cent of the market share.
Also late last year, Britain's Raphael Labs signed an agreement with Vingroup to cooperate in developing, testing, and transferring tech to produce drugs preventing COVID-19 and other respiratory diseases.
Meanwhile, T&T Group and Hanoi Medical University clinched a deal with Spain's Hipra Human Health SLU to build a vaccine research centre in Vietnam and aid human resources training.
Asian players are also stepping up their presence in Vietnam, with Japanese pharmaceuticals among the most interested due to the rising demand driven by the ageing population and the global health crisis. They include Taisho, Nipro Pharma, Daiichi Sankyo, Rohto, and many others.
Industry insiders said that the moves will enable investors to increase benefits in the promising local pharmaceutical market, which boasts incentive policies to encourage manufacturing to increase the rate of locally-made drugs to 70 per cent of total consumption, and 60 per cent of total market value in 2025; and the respective rates of 80 and 70 per cent in 2030 according to the programme on pharmaceutical industry development by 2025, with a vision towards 2030 approved by the government nearly a year ago.
Accordingly, manufacturers of homemade drugs will access incentives as much as high-tech firms, with brand-name and generic drugs with advanced dosage forms as well as vaccines treated as high-tech products. They also enjoy incentives in taxes, credit, and land use.
Future trends
According to experts, the business and investment trend in the pharmaceutical and health industries towards sustainable development will focus on remote medical examination and treatment; import and production of vaccines for pandemic prevention; technology transfer and drug processing ordering; and investment in renovation and modernisation of the entire hospital system and training schools under a public-private partnership (PPP) approach.
The prolonged pandemic with many new variants still requires Vietnam to have a large number of vaccines for its people, and now for children aged as young as five. Therefore, at least in the coming years, the demand for vaccines will still be high.
Currently, Vietnam's legal system allows enterprises to apply for licences to import vaccines. COVID-19 vaccines by AstraZeneca and Pfizer have also been imported through their Vietnamese subsidiaries.
Technology transfer and drug processing orders are expected to be more promising for the parties involved. For the technology transferors or the ordering parties, drugs made in Vietnam help save production and transportation costs, especially, investing in a GMP-certified drug factory requires a huge investment and a long time for initial construction and operation.
According to the provisions of Circular 32, legal drug business establishments (including drug import establishments) have the right to order drug processing. If a new draft circular on drug processing is indeed issued, allowing drug import establishments to order drug processing, this regulation will promote a great amount of drug processing activities in Vietnam the near future.
The government is being urged to apply the PPP method to many sectors such as health finance, medical workforce development, research and development, and healthcare service provision.
Ngo Thanh Hai, lawyer at LNT & Partners, noted, "The potential of Vietnam's infrastructure market is highly appreciated by various international investors and will bring them even more opportunities when barriers are removed thanks to the law on PPP investment and various decrees, through which related projects are enforceable and also in line with international standards."
Source: VIR
Vietnamese pharmaceutical firms have seen share prices increasing sharply as Covid-19 cases spread with tens of thousands of new infections reported daily.
The pharmaceutical industry has become the next hot race in the retail sector as the big players are accelerating the expansion of pharmacy chains.