The eldest sons of Vietnam's richest businessmen such as Do Quang Hien, Vo Quoc Thang, Dang Le Nguyen Vu have recently appeared in public, but the son of billionaire Pham Nhat Vuong is still a mystery figure.
Son of billionaire Pham Nhat Vuong
Mr. Pham Nhat Vuong and his wife – Pham Thu Huong.
Pham Nhat Quan Anh, the first son of billionaire Pham Nhat Vuong, owns 0.5% of shares in VinFast.
According to the National Business Registration Portal, on March 15, 2021, VinFast increased its capital by nearly 4,900 billion VND, from 37,616 billion VND to 42,497 billion VND. Thus, the new charter capital of VinFast is higher than that of Vingroup (33,824 billion VND) and Vinhomes (33,495 billion VND).
The two largest shareholders of VinFast are Vingroup with 51.5% and the Vietnam Investment Group Joint Stock Company with 41% (Vuong holds 92.88% of capital of the company).
The remaining shareholders include Pham Nhat Vuong with 5%, Vuong's wife, Mrs. Pham Thu Huong with 1%; Vuong's son Pham Nhat Quan Anh with 0.5%, and the sister of Vuong's wife, Pham Thuy Hang, with 1%.
Recently, Vuong's wife – Pham Thu Huong – appeared in front of the media for the first time. She is regularly named in the list of the richest people on the Vietnamese stock market.
Son of VietJet Air chair
Tommy Nguyen, the eldest son of billionaire Nguyen Thi Phuong Thao, appeared in public for the first time in August 2019 as the co-founder of the logistics startup Swift 247, which provides express delivery services via air. Swift 247 cooperates with GrabExpress and Vietjet.
Thao rarely talks about her family or children. In an interview with Tuoi Tre newspaper in January 2020, she mentioned her eldest son.
She said that she and her son are like friends and they often go to the movies and have coffee together. Thao let's her children develop naturally, according to their strengths and passion.
The eldest son of T&T Group's boss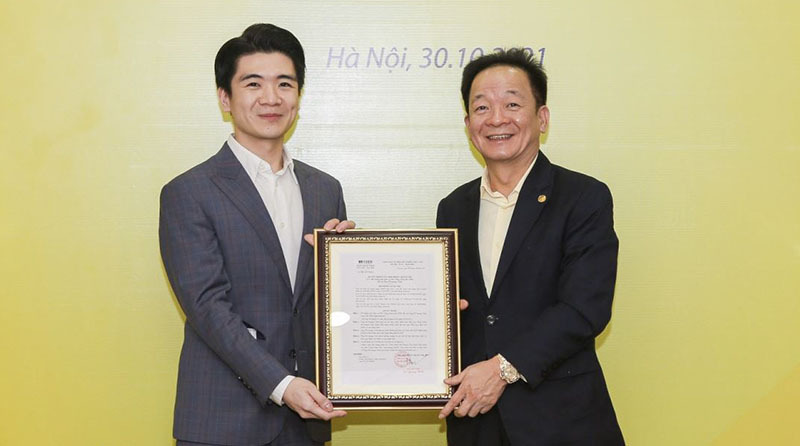 Mr. Do Quang Hien and his son – Do Quang Vinh.
On October 30, 2021, Saigon – Hanoi Bank (SHB) announced that it had officially appointed Mr. Do Quang Vinh as Deputy General Director.
Vinh, born in 1989, is the eldest son of Mr. Do Quang Hien, Chairman of SHB and T&T Group. Hien also has another son, Do Vinh Quang, born in 1995. Hien's eldest son studied in Singapore at the age of 15. While studying abroad, Vinh also worked part-time in restaurants as a waiter.
At the age of 32, Vinh became the youngest Deputy General Director of SHB who plays an important role in many digital transformation and modernization projects of the bank.
Before holding this position, Vinh was Deputy Director of Retail Banking, CRM Project Manager at SHB and Chairman of SHB Finance. He currently holds 500,000 shares of SHB.
Eldest son of Trung Nguyen coffee's boss
Two sons of Dang Le Nguyen Vu, founder and Chairman of Trung Nguyen Group – Dang Le Trung Nguyen and Dang Le Binh Nguyen – appeared at coffee-related events recently. This was the first time they appeared publicly after their parent's controversial divorce hearings.
Mrs. Le Hoang Diep Thao says her eldest son is 22. During the time of his parents' divorce, Trung Nguyen was studying abroad. After the controversial divorce, all four children – two sons and two daughters – have been raised by Mrs. Thao.
Eldest son of Dong Tam Group's Chairman Vo Quoc Thang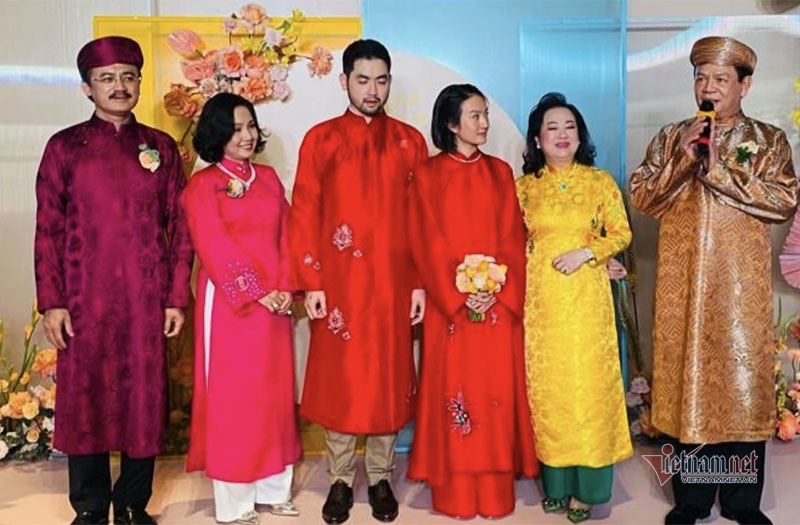 Mr. Vo Quoc Thang (left) and Mr. Dao Hong Tuyen (right) at their children's wedding ceremony.
The Board of Directors of Kien Long Commercial Joint Stock Bank (Kienlongbank) appointed Mr. Vo Quoc Loi, the eldest son of Mr. Vo Quoc Thang to the position of deputy general director. Loi has recently received attention from the public after his wedding with the daughter of Mr. Dao Hong Tuyen, who is dubbed the "Lord of Tuan Chau Island".
Loi, born in 1988, holds a Master of Business Administration from London Business School (UK). He has nine years of experience in finance and banking.
Loi owns 15.1 million shares, equivalent to 4.7% of Kienlongbank's charter capital. In the shareholder structure of this bank, Dong Tam Group's affiliated companies also hold 15.3 million shares, equivalent to 4.7% of the bank's capital. Thus, Loi and Dong Tam Group hold a total of 9.4% shares of Kienlongbank.
Bao Anh
Many young entrepreneurs are managing assets worth billions of dollars, taking daring steps and gaining outstanding achievements.