Many well-known businesspeople have ended up in prison.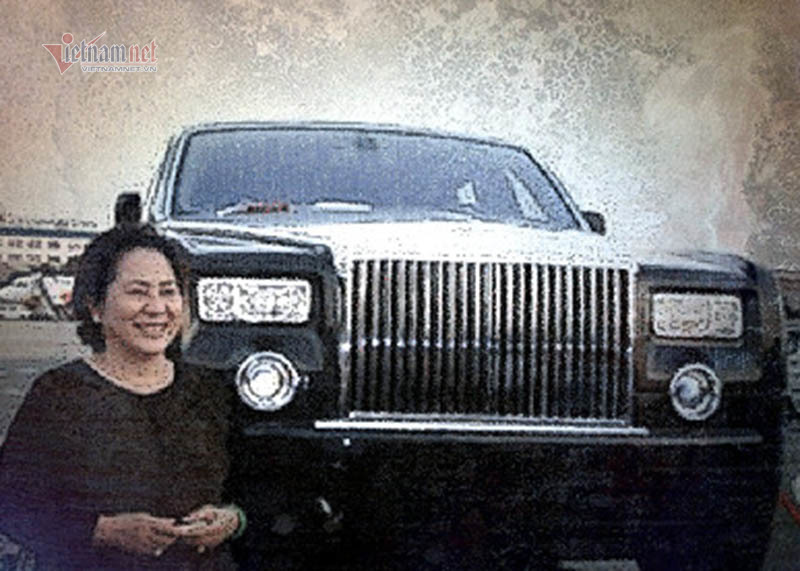 Duong Thi Bach Diep
Life sentence for Rolls-Royce businesswoman
HCM City People's Court has announced the penalties for 10 defendants in the case of exchanging private property, house at No 57 Cao Thang street, for state property at No 185 Hai Ba Trung street in district 3.
The jury came to the conclusion that the behavior of Duong Thi Bach Diep, called 'Rolls Royce woman' was extremely serious, causing the State to lose ownership of the property at No 185 HaI Ba Trung, unable to define the right over the property at No 57 Cao Thang, thus causing a loss of VND186 billion to the state. Therefore, she deserved a heavy sanction.
Diep received life sentence for 'swindling to appropriate properties'.
Diep is called the 'Rolls Royce businesswoman' because she is the first person who owned a Rolls Royce in Vietnam. Her Rolls Royce Phantom was imported in January 2008 with total value of $1.3 million (VND26 billion according to 2008 dollar price).
Under the sun, the super car has a green color, corresponding to her name Bach Diep, which means 'green leaf'. It's also well known for the car plate with the lucky 77L 7777 numbers.
Doctor tries to commit suicide in courtroom
Soon after the court passed judgment, Vo Van Cuong, Director of LAND Ha Hai, stood up and claimed he was innocent. He also expressed frustration, complaining that the court was unfair during the hearing, ignoring important documents provided LAND Ha Hai.
In the courtroom, Cuong tried to commit suicide with a bottle of pesticide. His wife also tried to do the same, but her relatives prevented the act.
Cuong was later carried by police and relatives to hospital.
In August 2017, SUDICO wanted to transfer two land plots BA 645082 and BA 645083 in Hoa Hai 1-3 New Urban Area in Hoa Hai Ward in Ngu Hanh Son district in Da Nang with total area of 12.04 hectares through auctioning.
LAND Ha Hai needed to pay VND1 trillion and by December 29, 2017, the company had paid VND404 billion. The two sides signed a contract appendix on extension the payment deadline to February 13, 2018, under which LAND Ha Hai still had to pay VND1.4 trillion more.
Later, as LAND Ha Hai discovered problems in the legal status of the two land plots, refused to make payments as committed. On August 30, 2018, SUDICO decided to unilaterally stop the contracts, cancel the transaction and keep the deposit, because it believed that LAND HaHai broke the contract.
Viet A Technology CEO prosecuted
Phan Quoc Viet, President and CEO of Viet A, is facing the accusation of inflating Covid-19 test kit prices.
C03 Agency of the Ministry of Public Security (MPS) on December 18 filed charges against Viet and his subordinates, including Ho Thi Thanh Thao (cashier and head of Au Lac Store), Phan Ton Noel Thao (finance assistant), Tran Thi Hong (sales staff) on the suspicion of violating regulations on bidding, causing serious consequences.
C03 also filed against Pham Duy Tuyen, Director of CDC (Centers for Disease Control and Prevention) Hai Duong, and Nguyen Manh Cuong, Chief Accountant of CDC Hai Duong, for the same count. Prior to that, Tuyen's work had been suspended by the HaiDuong Healthcare Department to serve the investigation.
In April 2020, Viet A Technology JSC obtained Ministry of Health's (MOH) certificate for registering Covid-19 test kits. To date, the company has provided test kits to the CDC and other healthcare units in 62 cities and provinces with total revenue of VND4 trillion.
Drug trader, realtor arrested
The Hanoi Police have arrested and initiated legal proceedings against Nguyen Thi Loan, Chair of Vimedimex l, for violating regulations on auctioning properties.
Vimedimex's website showed that Loan was born in 1970 in Da Bac district in Hoa Binh province.
From April 2009 to the day of arrest, Loan held the post of Deputy Chair and then Chair of Vimedimex Board of Directors.
She was also President of Vimedimex 2, the shareholder with 45 percent of shares in Vimedimex. Vimedimex 2 has chartered capital of VND1.5 trillion.
She was also the legal representative of many other businesses, including Vimedimex Pharmaceutical Distribution Center – Co Ltd, Internation Fund Management JSC (IFMC), Vimedimex Hoa Binh Real Estate Co Ltd and Vime Sain Paul Pharmaceuticals Medical JSC.
Prior to that, she once was Deputy President of a commercial bank.
Two real estate company directors arrested
Nguyen Vu Bao Hoang, 46, CEO of Thu Duc House, has been detained by police for signs of swindling to appropriate assets stipulated in Article 174 of the 2015 Penal Code with amendment in 2017.
Da Nang Police have decided to initiate legal proceedings against Nguyen Quang Trung, 62, and detained him for four months, for violating the regulations on property management, causing waste and losses. By the time of arrest, Trung had been Deputy Chair and CEO of Da Nang Housing Development JSC.
The police found that Trung committed wrongdoings in the management of seven public assets in Da Nang.
Bao Anh
Twenty-nine Party members in Ho Chi Minh City have been expelled from the Party due to their wrongdoings in four cases subject to supervision by the Central Steering Committee on Anti-Corruption.
A number of high-ranking officials have been put behind bars amid a 'blazing furnace' campaign initiated by Party Secretary General Nguyen Phu Trong.