If Vietnamese only think about achievements and ignore the warnings about macroeconomic risks, they will just be 'resting on their laurels', Party Chief Nguyen Phu Trong has said.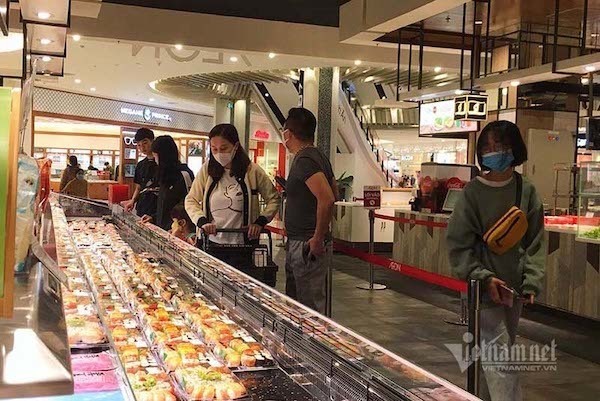 Official reports, including one by the General Statistics Office (GSO), show that macroeconomic conditions are stable, the inflation rate is low, and balances are ensured.
Maintaining macro-stability and curbing inflation at a low rate when 23 cities and provinces have imposed lockdowns during the entire third quarter is a great achievement for Vietnam, an economy that has a high degree of openness and thus affected by international events, according to analysts.
Trong said that Vietnam must not content themselves with achievements and victories, because the country is still facing difficulties and challenges.
His warning is right for this moment as well.
Low inflation rate
GSO reported that the CPI (consumer price index) rose by 1.84 percent in the first 11 months of 2021 compared with the same period last year, the lowest rate since 2016.
For economies with high openness like Vietnam, low inflation is not good news, especially when the CPI growth rate is at a 5-year low. The modest CPI increase of 1.84 percent, much lower than the ceiling of 4 percent set by the National Assembly, should be seen as a worry rather than a joy.
The low inflation rate is attributed to a sharp fall in both total demand and total supply in the economy. In other words, it is caused by a weakened economy.
Low inflation occurs in abnormal conditions: supply chains are disrupted, production and circulation become stagnant, and people's livelihoods are eroded by anti-pandemic measures, not in normal conditions.
Purchasing power decreased sharply in the last few months. It decreased by 19.5 percent in October and 12.2 percent in November compared with the same periods last year. Analysts stressed this is unprecedented, and purchasing power increased by 9-10 percent in normal conditions in the past.
They also pointed out that money circulation in the last months was unprecedentedly slow with the money supply cycle decreasing sharply. Meanwhile, public investments, private investments and FDI (foreign direct investment) all fell.
The large economies in the world with which Vietnam has trade relations are facing high inflation. The US, for example, witnessed a record-high inflation of 6.2 percent in October compared with the same period last year and the inflation rate has been high since June.
The inflation rate in the EU is expected to reach its peak of 2.6 percent this year before slightly falling in 2022.
Inflation, as well as input material price increases and logistics costs, are worrying for Vietnam as they will have a negative direct impact on domestic prices.
Unprecedented pressure
However, analysts warn that inflation in Vietnam may soar in the time to come, when the economy recovers, the total supply and demand increases and Vietnam imports inflation.
Meanwhile, the GDP growth rate in the third quarter is estimated to decrease by 6.17 percent compared with the same period last year, the sharpest decrease since Vietnam began calculating and publicizing GDP quarterly.
Economists have predicted that Vietnam's GDP this year would be just 1.5-2 percent only, lower than the 2.91 percent of the last year. Such low growth rate has never before seen in Vietnam.
As the GDP growth rate has been low in the last two years, Vietnam would have to obtain growth rates of over 7.5 percent in coming years to obtain an annual GDP growth rate of 6.5 percent for of the four remaining years of the tenure.
Meanwhile, most economists have predicted a 6.5 percent only in the growth rate for 2022. This puts unprecedented pressure on implementation of the tenure's goals in 2021-2025 and socio-economic development strategy in 2021-2030.
Since early this year, when the vaccination rate began increasing, other countries have been recovering their economies at different levels, while Vietnam's economy still has been in difficulty. How can Vietnam take full advantage of the opportunities brought by the recovery of the global economy?
If Vietnam is still slow in designing a program to recover and speed up growth for the next two years, it will fail to both maintain macro-stability and keep up with development trends in the world.
Tu Giang
The total new, adjusted capital and share purchases by foreign investors reached 31.15 billion USD as of December 20, up 9.2 percent annually, reported the Foreign Investment Agency (FIA).
Vietnam has fulfilled a number of economic targets this year despite impacts of the COVID-19 pandemic, becoming one of the top 20 economies in the world in terms of international trade.