Minister of Planning and Investment Nguyen Chi Dung said that Vietnamese enterprises' participation in the global value chain is very modest in both quantity and quality.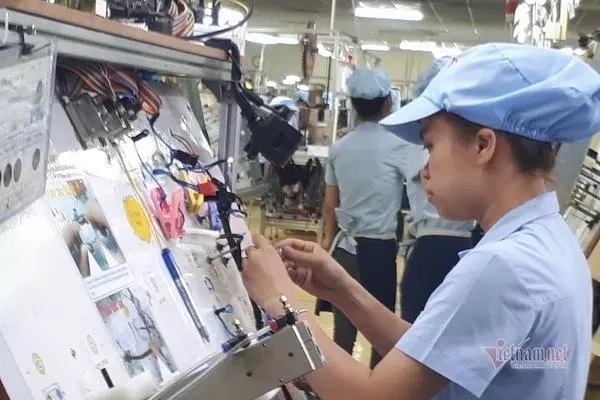 Vietnamese businesses are trying to break into the global supply chain. Photo: L. Bang
Dao Thi Thu Huyen, from Canon Vietnam Co., Ltd., said that out of hundreds of suppliers for Canon Vietnam, only 20 are Vietnamese enterprises. This number has not increased in recent years.
The localization rate of Canon Vietnam is quite high – 65%, but mainly comes from foreign-invested firms in Vietnam and Canon's own production.
A manager of Samsung Vietnam said that since 2015, Samsung has made efforts to develop its network of suppliers in Vietnam. Currently, Samsung has 679 suppliers, but this is still a modest number.
Most of the Vietnamese first-level suppliers for foreign-invested companies are those that make plastic products, packaging, and printing components, noted Dao Thi Thu Huyen of Canon Vietnam.
"Canon is always looking for Vietnamese suppliers. We have 59 groups of components that need localization but Vietnamese suppliers only make plastic products, packaging, printing components, among others, while a printer has nearly 400 components," Huyen said.
Vietnamese businesses only focus their attention on plastic components because "perhaps plastic components are the easiest to make," she said.
"Why don't they develop technology to make components that are not made by other suppliers," Huyen wondered. "We have 59 product groups that need localization, and each group combines many different products. A group of screws includes dozens of types of screws. Each group of precise plastic components includes dozens of plastic components," she added.
A representative of Panasonic Vietnam said that this group offers equal opportunities for both domestic and foreign firms. They set clear and specific conditions for suppliers. The representative of Panasonic Vietnam realized the difference in "attitude" between foreign-invested and Vietnamese enterprises.
"The attitude of foreign-invested enterprises is very positive. They are very serious and try to show buyers that they are able to meet the requirements or they will meet the conditions soon in the near future. Many Vietnamese firms can satisfy the requirements but they are afraid as they wonder whether they can compete with others," said a representative of Panasonic Vietnam.
The manager of a Vietnamese firm told VietNamNet that after years pursuing the goal to become a supplier for Panasonic Vietnam, he still did not have enough"determination and patience" to turn this goal into reality.
Leaders of this firm wondered whether they would get orders after investing a lot of money in the factory. "It is dangerous if we invest tens of billions dong in the factory but have no orders. If there is no investment, there will be no orders," the manager said. This is the common reason why Vietnamese firms hesitate in realizing the goal to become suppliers for foreign corporations.
Working with many Vietnamese businesses, Samsung Vietnam has many times received offers. "As long as Samsung commits to purchase our products, we are willing to borrow capital to invest in hi-technology to meet Samsung's standards."
A Samsung Vietnam representative said: "We are living in an open world, without distinction between Korean, Japanese or Vietnamese enterprises. Competitiveness is reflected in the cost of each small component purchased. If the product is of good quality, with reasonable price, and stable supply, there is no reason for Samsung not to buy them from Vietnamese businesses."
Minister of Planning and Investment Nguyen Chi Dung said that Vietnamese enterprises' participation in the global value chain is very modest in both quantity and quality.
The main reason is that foreign groups often have their own ecosystem and a ready supply chain, or they develop a closed chain on their own. On the other hand, Vietnamese enterprises are small, and often fail to meet the requirements of foreign buyers. Sometimes they are afraid and do not dare take risks to invest in upgrading standards, so they cannot enter the chain.
Luong Bang
Foreign investments in Vietnam have the ability to change the economics of many of the country's support industries, who are continually struggling to be part of the larger supply network.
Foreign media and international institutions say that Vietnam is an attractive choice for manufacturers and investors who are seeking to diversify supply chains in Asia.
Vietnam has recently received many large global groups, led by US technology firms, that have brought production chains with capital of up to billions of dollars.