The number of civil servants with doctoral and master's degrees in Vietnam in 2019 were 2,347 (0.8%) and 19,136 people (6.5%), respectively.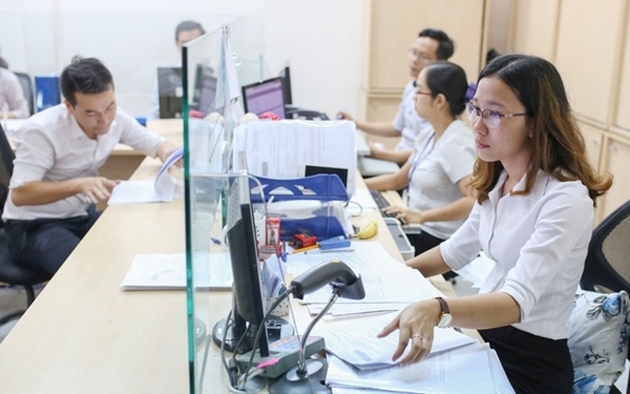 Illustrative image
After over 10 years doing the job of receiving incoming documents, sending dispatches and other archival work at a state agency, one day, Mrs. Thu applied for a master's course in business administration.
Upon receiving her agency's decision to grant 50% of the tuition fee, Thu burst into tears because all of her colleagues who applied for a master's degree course were granted 100% of the tuition from the budget. Thu complained that she was treated unfairly.
Over 21,000 Vietnamese civil servants hold master's and doctoral degrees
A 2019 study by the University of Torrens (Australia) showed that most of the ministers of Australia only had a bachelor's degree.
Of the 44 ministers of the ruling party and opposition party surveyed, only nine had a master's degree and one had a PhD degree. The most popular degrees belong to three fields: Social Science, Law and Economics.
According to the Australian Public Service Commission, of 148,736 federal government employees (as of December 31, 2020), 2,645 had a doctorate degree (1.78%) and 9,324 had a master's degree (6.27%).
In Vietnam, according to statistics in 2019, the number of civil servants with doctoral degrees was 2,347 people (0.8%), and master's degrees were held by 19,136 people (6.5%). The agencies with many PhDs were the Ministry of Natural Resources and Environment, the Ministry of Education and Training, the Ministry of Agriculture and Rural Development, and the Ministry of Finance.
Why do civil servants need master's, doctoral degrees?
At a meeting of the HCM City People's Committee in March, Director of the municipal Department of Science and Technology Nguyen Viet Dung said: "I don't know why our civil servants need to be PhDs because PhDs are committed to scientific research. We have too many public servants who hold doctoral degrees. For example, I know a civil servant at a ward-level agency who applied for a doctoral course in biotechnology, while the public system needs expertise in public governance, public finance, public investment, and public administration."
Dung's comments immediately caused a stir, although the question he posed was not new.
Why did Thu, who works as a clerk, want to get a master's degree of business administration? All employees at Thu's agency have a master's degree (except drivers and security staff), which were all paid by the state budget, or in other words, the people's tax money, but did their effectiveness at work improve after they got the degree? How does the degree match with the job they are doing?
In Vietnam, there are probably no specific statistics on this. But many people implicitly understand that for civil servants who hold a master's or doctoral degree the opportunity to be promoted is higher, and the degree brings "fame" for them.
A few years ago, public opinion was stirred up when some officials at an office of a ministry applied for the title of associate professor even though they had not spent time on teaching, writing books, giving instructions to students…
In fact, there are a number of civil servants who want to further study to improve their qualifications. In this case, the pursuit of master's and doctoral degrees is a self-need and is study for the sake of research, so it is a very good thing.
However, when budget resources are limited, it must be clearly analyzed why the state should grant funds for civil servants to pursue a master's or doctoral degree.
It is suggested that attending higher education levels such as master's and doctorate will improve civil servants' thinking and research capacity. After that, their advice for policy formulation is more effective.
"I don't know what their scientific thinking is like. But in order to make an effective, feasible and humane policy, there is no degree that can create this," said a Vietnamese-born official working at the Australian Federal Tax Service, adding that it is necessary to avoid turning knowledge into a wasteful race.
This is not unreasonable, when looking at some regulations set by the Ministry of Education and Training, one of the state agencies with the highest rate of employees holding master's and doctoral degrees.
In a circular issued by this Ministry in February on teacher recruitment and teacher ranking, the Ministry set different ethical criteria for each ranking of teachers. A few years ago, this Ministry caused a stir with the regulation that students who are involved in prostitution for four times will be expelled from school.
The South Australia government has recently tightened funding for staff members studying for master's and doctoral degrees. Many training programs are held for public servants, but most are short courses, from a few hours to a few days. The number of public servants who are granted full funding to study for a master's degree is 1-2 people/year, usually for managers or officials who are about to be appointed to important positions.
The reason is that master's and doctoral degree holders often do in-depth research on a particular subject, while a government employee's daily work requires someone with thinking experience and adaptive experience. So, if public servants want to get a master's or doctorate, they have to pay themselves.
Dr. Truong Nguyen Thanh, University of Utah (USA), said: "It is true that there are positions that require a doctorate. In the advisory policy research institutes, researchers have a very high level of expertise. And there are professors at universities working with these institutions that provide additional expertise. But why does one who is not in a position of research and advisory work need a PhD degree?"
Phu Sa
Before launching Project 89 that aimed to produce 7,300 more lecturers with a doctoral degree, the Ministry of Education and Training (MOET) ran two projects on preparing human resources with doctoral and master's degrees, worth trillions of VND.
Public servant management should not be focused on professional degrees but practical skills.