Unable to have commercial operation date (COD) prior to November 1, 2021, many wind power investors have fallen into dilemma.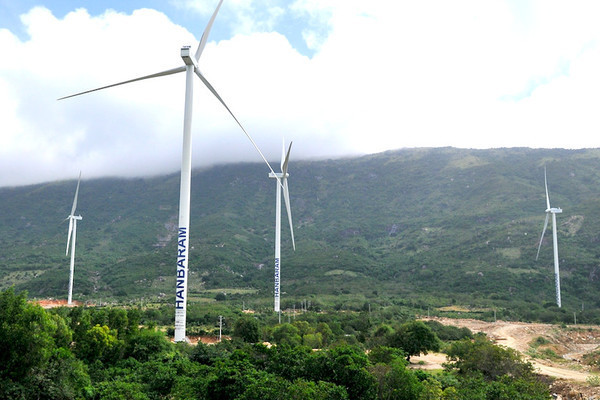 According to the Electricity of Vietnam (EVN), the total number of wind power projects which have signed electricity sale contracts is 146, with total capacity of 8,100 MW.
Meanwhile, 84 wind power plants with total capacity of 3,980.27 MW had their COD prior to November 1, 2021. The remaining failed to meet the deadline.
Investors poured trillions of dong into projects, but failed to meet the deadline to enjoy FIT (feed in tariff) mechanism. Meanwhile, it's still unclear about new pricing mechanism.
In the document to the National Assembly Standing Committee, Prime Minister and ministries, Gia Lai Wind Power Investment and Development JSC wrote that Covid-19 caused difficulties during project implementation. Because of this force majeure reason, only one out of 25 turbine poles, or four percent of the total capacity of the project, had COD prior to November 1, 2021 to enjoy FIT, while the remaining 96 percent had no COD recognized as the next pricing policy remains unclear.
Hanbaram Wind Power JSC in Ninh Thuan province is also facing the same problem. Hanbaram wind power plant, with the capacity of 117 MW with 29 turbines poles, kicked off in October 2020. As of October 31, 2021, the installation of 29/29 turbine poles, the transmission line and transformer station connecting with the national grid had been completed.
However, because of Covid-19, only six out of 29 poles, or 20 percent of the plant's capacity, had been recognized in COD prior to November 1, 2021.
According to investors, the tardiness in implementing procedures to have COD recognized is the result of the complicated developments of the pandemic. In March 2021, Ever Given Vessel was stuck at Suez Canal in Egypt, which blocked the global shipping process, including the shipping of wind power equipment to Vietnam.
The project investor managed to carry equipment to Cat Lai Port in HCM City in May 2021. However, because of the fourth pandemic wave, which broke out in May 2021 and the lockdown imposed by HCMC authorities, the company could only get customs clearance in September 2021.
It was hard work to carry equipment from HCM City to Ninh Thuan and Gia Lai and seek workers to install the equipment because of strict anti-pandemic measures applied by local authorities.
It was also difficult to invite foreign specialists to Vietnam because of the strict quarantine policies.
Trinh Duc Truong Son, director of Vien An Ca Mau Power, complained that the developer faced difficulties when implementing the project during the peak days of the fourth wave. It was very difficult to mobilize workers, equipment and machines to the construction sites.
He said turbine imports had to go through a lot of checkpoints before they were gathered at Da Son Port of Vung Tau City. It was also difficult to invite specialists to control equipment because of strict anti-pandemic measures.
There were also problems in compensation for site clearance. People believed that the compensation price for their land is not reasonable enough.
Nearly 40 other projects, including Hung Hai Gia Lai, Yang Trung, Hoa Dong 2 and Lac Hoa 2, are in the same situation.
The projects' investors said if the Government doesn't have a timely policy to ease difficulties, not only the investors but contractors, domestic and foreign, would be in danger of going bankrupt.
They have asked the Government to extend Decision 39 about FIT mechanism by 3-6 more months, so that power plants can complete the COD trial. If investors cannot fulfill this work, they will have nothing to complain about.
Nguyen Anh Tuan, former Director of the Renewable Energy Center, said at a workshop recently that in case of force majeure, the Government should share risks with investors by extending FIT mechanism.
Tuan said the investment rate in wind power is huge, and if wind power plants cannot be used, this will be a big waste to the economy and society.
Many proposals have been made about the new pricing mechanism for wind power, but no final decision has been made, leaving investors in constant anxiety.
H. Nam