The Tet holiday is no less special for Vietnamese citizens who, due to the COVID-19 pandemic, cannot travel back to their homeland for the most special time of year.
Instead, they have found creative and imaginative ways to celebrate in their adopted countries.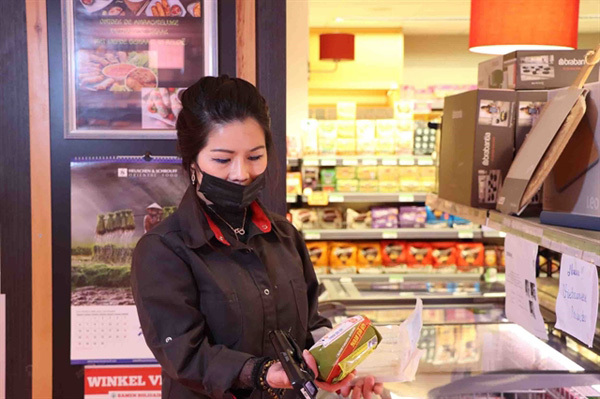 Nguyen Thi Minh Thu, owner of Spar supermarket in the Zonhoven region in Belgium, introduces lean pork paste, a traditional Tet food, to local people in her town. VNA/VNS Photo Huong Giang
Vietnamese businesswoman Nguyen Thi Minh Lien is one of those who cannot travel back to Vietnam this year.
She is the director of a private Vietnamese product import company in Brussels and is always busy with her job.
She spends most of her time studying European standards of imported goods and seeking ways to bring more Vietnamese agricultural products to Belgian markets. She has learnt how to operate the accounting and administrative system of Belgium and the spending habits of local consumers.
Lien works almost around the clock. However, no matter how busy she is, Tet is always an integral part of her life.
She and her family take a long holiday for the occasion, reuniting with family to remember their homeland, their country and their origin.
In the summer of 2021, Lien managed to bring Vietnamese lychee fruits to Brussels. Other fruits such as dracontomelon, dragon fruit, guava, and durian have been imported to serve both the Vietnamese community and local people.
Lien says she has been away from Vietnam for more than 20 years but her family always arrange to take leave for Tet.
On New Year's Eve, her family go to the Permanent Church of the Vietnamese Community in Brussels to get New Year's wishes from the parish priest, pick up early spring buds for luck and received lucky money with God's blessings.
On the morning of the first day, all Lien's family members get together and make phone calls to wish relatives and friends in Vietnam a happy New Year.
Lien considers Tet a way to educate her children about Vietnamese culture. Her two sons, 12 and 9 years old, can speak Vietnamese fluently.
On January 29, Lien and her friends, who were graduate students in Belgium, will gather to make chung cake at Louvain-La-Neuve, about 30 kilometres away from Brussels.
"People haven't met each other for the past two years due to COVID-19 pandemic. Making chung cake and breathing the scent of dong leaves, beans, rice, pepper – the typical smell of Tet – reminds us about love and family reunion," she says.
As for Nguyen Thi Minh Thu, owner of Spars supermarket in the Zonhoven region, a Dutch-speaking area which is nearly 200km from Brussels and very few Asians live, Tet is more sacred than ever.
Thu has a Belgian husband and four Belgian-Vietnamese daughters. Her family usually go back to Vietnam to celebrate Tet. However, the COVID-19 pandemic has changed that tradition.
Instead of returning to Vietnam for a family reunion, Thu has ordered chung cakes, will make traditional food and burn incense sticks in memory of her ancestors.
To make Tet more meaningful, Thu has put aside a large space in her supermarket to sell Vietnamese food for Tet such as spring rolls, dry vermicelli, fish sauce, and lean pork paste. She has also organised events to promote Vietnamese cuisine.
Thu has also imported Vietnamese handicrafts such as Bat Trang ceramics and shown customers how to display and decorate these items.
Dao Hong Hai, the owner of the Hanoi Station restaurant chain in Brussels, has another way of celebrating Tet.
On New Year's Eve, Hai will throw a party, in which her staff and their families will make chung cake and traditional food together. A warm year-end meal will bring everyone warmth and reminiscent of the family reunion.
Starting the business in 2016, Hai has opened four Hanoi Station restaurants in Brussels. Hanoi Station has become a street food brand in the Belgian capital.
"We wish the COVID-19 pandemic will be put under control so that we can fly back to Vietnam to meet my relatives and celebrate Tet together," she says.
Chung cakes to fight child poverty
A group of Vietnamese families in Sydney, Australia have decided to make their Tet more meaningful by making traditional Vietnamese food and raising funds to help child poverty in Vietnam.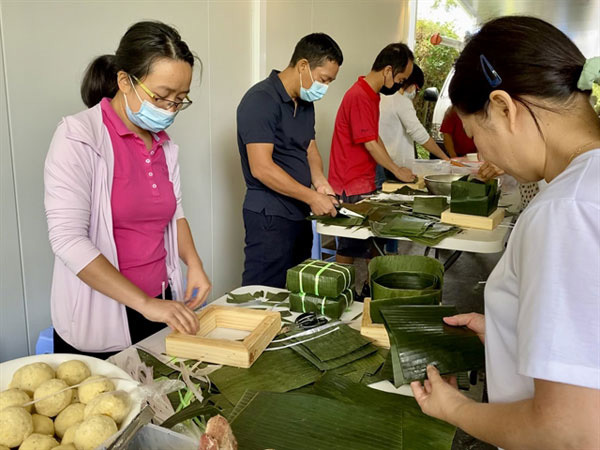 Members of the New Sunlight for Children charity group making chung cakes to raise funds to help disadvantaged children in Vietnam. VNA/VNS Photo Nguyen Minh
In the early morning of January 22, more than 30 people from New Sunlight for Children charity group gathered at North Turramurra to cook chung cakes.
Khanh Hoang, a member of the group, says it was not easy to hold an event for Vietnamese people as the COVID-19 pandemic has got complicated.
The members were in charge of different steps of the whole process. Some cleaned wrapping leaves, some prepared beans and meat while others wrapped cakes. They all worked together to produce delicious and beautiful chung cake.
Chau Phan, another member, says they tried to make chung cake as similar to Vietnam as possible as there were no leaves of dong available and they had to replace them with pre-boiled banana leaves and plastic strings.
Phuong Phan, a founding member of the group, says they made 144 boxes of spring rolls and 240 chung cakes. They earned about AUD6,000 (US$4,230), which would be sent to Vietnam to help disadvantaged children.
"Gathering together to make traditional food and helping poor children in the country is a great experience for Vietnamese families living far from our homeland. This is also a great opportunity to help children born and raised in Australia better understand Vietnamese culture," she says.
Last year, the group had organised many events to raise about AUD14,000 (US$10,018) to help 79 children in disadvantaged areas to go to school.
Source: Vietnam News
Millions of overseas Vietnamese want to fly to Vietnam to celebrate Tet but international commercial flights have not resumed and few "rescue" flights exist.
Due to the Covid-19 pandemic, many overseas Vietnamese students will not be able to return to Vietnam to celebrate the upcoming Lunar New Year holidays (Tet).