Despite being born with disabilities, Tran Thuy Nga and Sam Thi Giang overcame hardships to give back to the community.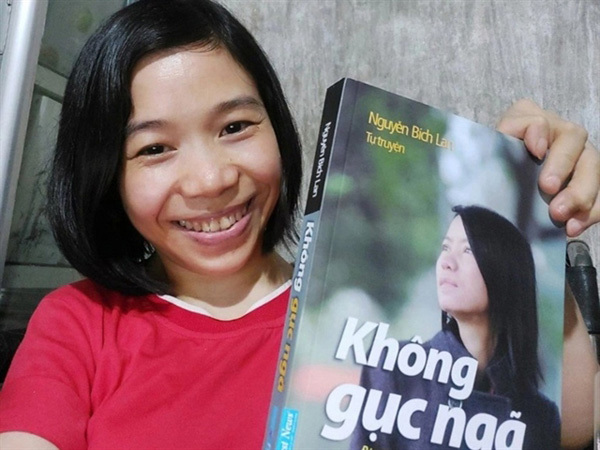 Tran Thuy Nga considers books her friends. — Photo dantri.com.vn
Nga and Giang are two young people recommended by the Nghe An Youth Union for the national programme "Tỏa sáng nghị lực Việt" (Vietnam's energy shines).
Not falling down
For the past 17 years, Tran Thuy Nga, 37, has read and collected more than 6,000 books.
She lives in Nghia Dong Commune, Tan Ky District in the central province of Nghe An. She told the Dân trí e-newspaper that in the summer of 1998, when she was 13 years old, she felt pain all over and found it increasingly difficult to move her limbs because of rheumatoid arthritis. After many months of treatment, the doctor said that she could not be cured completely and had to live with the pain.
Soon, Nga was unable to walk and had to use a wheelchair to get around.
During those painful and desperate days, she considered books as friends. Only books could help her forget the pain for a while.
In 2004, Nga opened a grocery store and used her savings to set up a bookcase. She took a small fee to lend the books, but gave away more meaningful ones for free.
When she read the autobiography "Không gục ngã" (Not falling down) by author Nguyen Bich Lan, Nga found a new purpose in life.
It was the book that helped the young girl regain a passion for life. She said: "The woman in the book walked through a dark tunnel through self-study and found light at the end. That story encouraged me to find a positive life. It helped me find my life's mission."
"In 2013, I decided to turn my bookcase into a completely free community library. That way everyone can read good books without having to think about renting or buying them," Nga said.
Since then, more and more students and residents came to Nga's library to borrow books.
Thousands of books about life skills, learning and self-development, as well as classic literary works and children's books have been accumulated over the years.
Every week, Nga buys more works to add to her free bookcase. This is a spiritual medicine to help her overcome physical pain.
"Now my house is old and narrow, I'm trying to find ways to build a larger library, which can accommodate more bookcases and have a comfortable space for people to sit and read," Nga said.
Vo Duy Hien, chairman of the Nghia Dong Commune People's Committee, said Nga was a good example for others to follow. Although she was disabled, her will and energy shone through, he said.
Earning money with her hands
Although she cannot walk, Sam Thi Giang, 34, has skilful hands. Living in Hoa Tien Village, Chau Tien Commune in Quy Chau District, she is well-known thanks to her abilities in embroidery.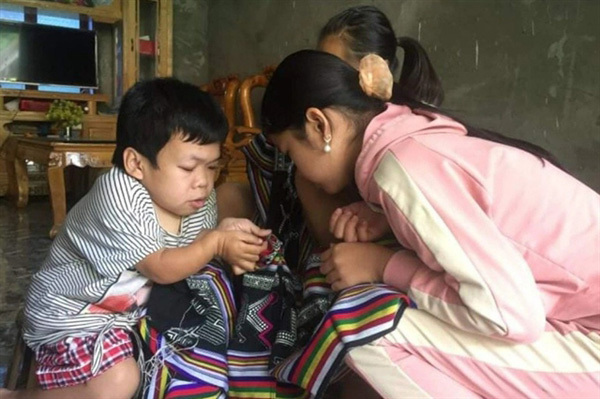 Sam Thi Giang (left) teaches children about embroidery. — Photo dantri.com.vn
Her products are highly appreciated, and orders are increasing day by day.
Although her health is declining, Giang still tries to pick up her needle and thread. On average, every three months, she can finish two or three products such as skirts, towels and tablecloths.
Sitting in the wheelchair, Giang recalled the difficulties she faced in the past.
"Since I was born, I suffered from polio. When I was younger, seeing my friends going to school, I had a strong desire to learn," she told Dân trí e-newspaper.
Every day Giang's mother got up very early and carried Giang on her back to school. After finishing primary school, Giang wanted to study further, but she felt sorry while seeing her mother's thin shoulders and father's grey hair, so she decided to drop out of school.
"Every day, I just stayed in bed, thinking about the dreams I would not be able to fulfil in the future. Looking at my disabled legs and weak hands, I felt helpless," Giang said.
The love of family and friends made Giang more optimistic. She thinks she is luckier than many other people as her hands are still working, although they are no longer flexible. And then she started with the village's traditional brocade embroidery.
Using the needles sometimes made her hands bleed. She felt a lot of pain but did not give up. She worked on the embroidery and then massaged her hands. The first products gave her strength, and later on, the products became more delicate and special.
Giang can sell each product for VND700,000-800,000 (US$30-35). She gives her parents all of the money to help them in raising her younger sister.
"I have can't move my legs but I can make money with my hands. With my own efforts, I am very happy," said Giang.
Sam Thanh Hoai, chairman of the Chau Tien Commune People's Committee, said: "Born with a disability and in a poor family, over a number of years, Giang has tried to overcome these challenges. She not only found a stable job, but also helps her family."
Source: Vietnam News