At Garment 10 Company, productivity increased exponentially after new technologies and digitalization of the production line were applied.
The time to make a product at Garment 10 fell from 1,980 seconds to 690 seconds. Each worker now controls two machines at the same time and labor productivity has increased by 52%, the defect rate fell to 8%, and workers' income rose by 10%.
Digital transformation has solved the biggest challenge of Vietnam's textile and garment industry, increased production costs, as the advantage of cheap labor no longer exists compared to other countries in the region. Many orders tend to move to neighboring countries such as Laos, Cambodia, and Bangladesh because wages are lower. On the other hand, when participating in the global supply chain, the challenge that cannot be ignored is the trend of Fast Fashion, when products are produced in a very short period, not by season but by week. Therefore, there is always a need for fast production progress and competitive prices. Only digital transformation and investment in modern technology can bring about comprehensive change to meet these requirements.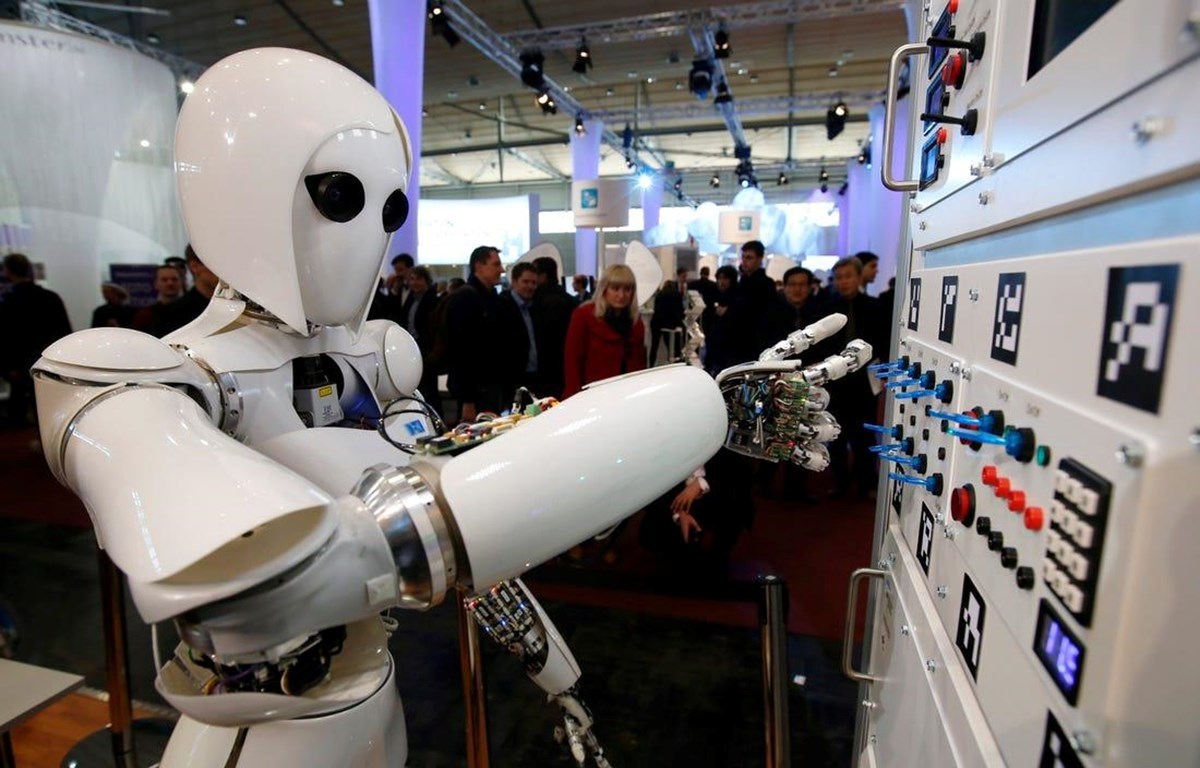 At the leading beverage company in Vietnam, its managers decided to invest in a totally automatic production line that helps reduce the number of workers from over 100 to 20 people, and in fact, each shift does not exceed five people to operate the line. Productivity has increased a hundred times, but more importantly, all human involvement has been cut. The closed cycle has upgraded the product standards to be able to enter the US market. Reducing labor costs and exporting at high prices, this firm has earned double profits, but more importantly, thanks to digital transformation, local brands have been up to the international level.
As for a long-standing enterprise with traditional products like Rang Dong, its leader of more than 70 years old has identified digital transformation as the key for the company's development. All new projects are based on the core criteria of digital transformation to increase productivity, improve quality, create new products and new solutions in order to compete with cheap products and Chinese goods.
After 30 years of Doi Moi (renovation), the traditional resource-based economic growth model has reached its limit and Vietnam is facing a middle-income trap due to a failure to increase productivity and efficiency in the economy.
Though having high labor productivity growth in the past 10 years (over 5% per year on average), Vietnam has not been able to close the gap with other countries in the region. According to the World Labor Organization (ILO), Vietnam's labor productivity is currently 7 times lower than that of Malaysia; 4 times lower than that of China; 3 times lower than Thailand; 2 times lower than the Philippines; and 26 times lower than Singapore. The Asian Productivity Organization (APO) 2020 Report shows that Vietnam's labor productivity lags behind Japan by 60 years, Malaysia by 40 years and Thailand by 10 years.
Vietnam has set a goal of striving to become a high-middle-income country by 2030, and a high-income developed country by 2045. To realize this aspiration, its GDP growth must reach 8% per year in the next 20 years. With an average GDP growth rate of only 6%/year over the past 10 years, it is difficult for Vietnam to overcome the middle-income trap.
Breakthrough from digital transformation
According to experts, in order to achieve high annual GDP growth, it must rely on an increase of labor productivity instead of being capital intensive as at present. Digital transformation will create a new growth source and this is an opportunity for Vietnam to make a breakthrough. Thanks to digital transformation, average labor productivity growth in the coming years can increase from about 5-6% to 8-10% and at that time Vietnam is able to overcome the middle-income trap.
Professor Tran Tho Dat from Hanoi National Economics University said that in the context of the ongoing 4th industrial revolution, accelerating the digital transformation process in Vietnamese enterprises will be one of the important solutions to boost productivity. A recent study by the Data 61 Foundation (Australia) shows that, in the period from 2020-2030, the digital economy alone will contribute from 7% to 16.5% of the overall labor productivity growth each year on average. The contribution of the digital economy is very important to the productivity and efficiency of the economy and is a new driving force for rapid improvement of labor productivity.
According to research firm McKinsey, digital transformation will bring trillions of dollars in benefits, thanks to increased management efficiency, increased output, increased value and reduced material costs.
In Vietnam, digital transformation has just begun and is facing many challenges. According to statistics, the digitized data of organizations in Vietnam is currently estimated at 30%.
According to data from the Ministry of Industry and Trade and the United Nations Development Program (UNDP), after surveying 2,659 enterprises in 18 industries in terms of readiness to access the achievements of the industrial revolution 4.0, 21% have just entered the race and 61% are still outside.
A recent survey by Vietnam Report shows that most Vietnamese businesses still do not know where to start their digital transformation strategy. Being afraid of change and risk is the biggest barrier. Small and medium-sized businesses are currently very confused about the concept of digital transformation. Most have not yet approached digital technologies, are not equipped with a business mindset about digital platforms, and lack customer understanding, sources for operational data, and business strategies for digital platforms.
The cost that businesses spend to serve the digital transformation strategy is not small if they want to have their own digital platform. Incomplete policies and legal frameworks and many loopholes in the settlement of disputes are hindering enterprises to promote digital transformation, especially obstacles in regulations on electronic transaction, digital signature, electronic contract, stipulating the responsibilities of the parties when a dispute occurs…
Economic experts said that, besides overcoming the typical weaknesses of an economy in the low-middle-income period, Vietnam needs to immediately start developing the creative economy. In order to bring the country into the orbit of the creative economy, it must firstly create a breakthrough in digital transformation. A creative economy is always a combination of modern technology applications with high labor productivity with constant learning and innovation. Digital tools in particular and digital technology in general will significantly increase opportunities in the development of the creative economy.
According to a study by consulting firm PwC, the growth of the creative economy is estimated to outpace the world average economic growth, with 4.6% in 2021, 4.2% higher than the average for all economies.
According to Vietnam Report, Vietnamese businesses have realized that they must be determined to perform digital transformation, otherwise they will be left behind. However, effective support from the Government is needed for successful digital transformation. The solutions proposed by enterprises: The government needs to step up investment in digital human resource training, upgrade Internet infrastructure and network security; support businesses to build digital transformation strategies with specific action plans; and have sanctions to encourage digital transformation.
Tran Thuy
In this article, domestic and foreign experts will offer solutions to help Vietnam take advantage of its strengths and overcome its weaknesses to build a digital nation.
Each report will look at "Vietnam's digital transformation path" from a different perspective. But all roads lead to a common point, which is a prosperous and happy Vietnam.