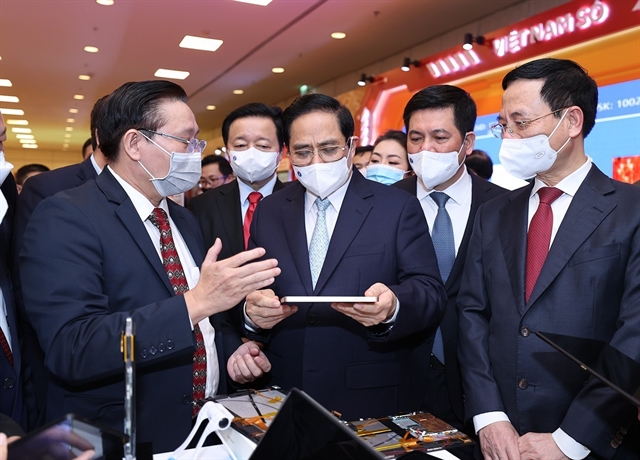 The Prime Minister and participants visited an exhibition on 'Made-in-Vietnam' tech products this year at the forum. VNA/VNS Photo Dương Giang
HÀ NỘI — Digital transformation will be the focus to effectively control the pandemic and restore socio-economic development over the next two years, Prime Minister Phạm Minh Chính has confirmed.
He made the remark while attending the third edition of a national forum on the development of Vietnamese digital enterprises in Hà Nội on Saturday.
Themed 'Digital transformation – driving force for economic recovery and development', it is a large-scale annual event of digital enterprises in Việt Nam held by the Ministry of Information and Communications.
Digital transformation is a global matter and serves all people, meaning it requires a global and people-oriented approach, according to the PM.
He underscored that the national spirit must be part of digital transformation, adding that all sectors and businesses are requested to work to raise awareness of digital transformation, speed up the process and develop human resources in the field.
PM Chính said Việt Nam's digital transformation has had some important initial results, including the development of commercial 5G networks. The digital economy contributes more and more to the national GDP, aiming to reach 20 per cent of GDP by 2025.
Minister of Information and Communications Nguyễn Mạnh Hùng said Việt Nam now has 64,000 digital technology enterprises. In 2021, their total revenue is estimated to reach US$135 billion, a year on year increase of 10 per cent.
Hùng said: "Digital enterprises are the core to promoting Việt Nam's digital transformation to convert all Vietnamese enterprises into digital enterprises, all Vietnamese organisations into digital organisations, and all citizens into digital citizens."
In 2021, more 'Made-in-Việt Nam' digital products were created, helping address some current issues and raise Việt Nam's rankings in digital technology.
He called on digital technology enterprises to engage in the development of national digital transformation platforms.
The Resolution of the 13th Party Congress and the 10-year socio-economic development strategy for 2021-2030 have identified digital transformation as the main driver of economic growth, according to the PM.
The economic recovery and development, in the context of the complicated development of the COVID-19 pandemic, depends largely on the results of national digital transformation, he said.
Digital transformation is one of the core factors to promoting socio-economic development, reforming growth models and improving national competitiveness. Developing and applying digital platforms is a breakthrough solution to promote the development of digital Government, digital economy and digital society.
"The digital transformation requests development in terms of institutions, infrastructure and human resources," said the PM.
The Prime Minister also pointed out six key fields in the implementation of digital transformation, including raising awareness about this issue, perfecting institutions, and developing digital technology enterprises, digital human resources and digital infrastructure.
But first, the role of State management must be strengthened to create favourable conditions for the development of digital technology enterprises, according to PM Chính. State agencies will focus on building institutions, mechanisms, policies, master plans, strategies and plans.
PM Chính said that the State has had guidelines and policies relating to digital transformation and those are needed to implement more synchronously and effectively in the future.
Lê Quang Huy, Chairman of the National Assembly's Committee on Science, Technology and Environment, said that perfecting the institution to build a digital nation plays a very important role.
Institutional improvement requires a more creative implementation to promote digital transformation and ensure a safe digital environment, Huy said.
The development of digital technology businesses still has both challenges but and opportunities, said PM Chính, adding that digital technology businesses are an important factor and a key driver in the national digital transformation.
Hoàng Minh Quân, CEO of Cloudify Vietnam Technology JSC – a small and medium-sized enterprise (SME), said that Việt Nam's digital economy has a remarkable growth rate thanks to the investment and incentives from the State.
According to Quân, SMEs will play a very important role in the development of the digital economy. These businesses now are aware of the importance of digital transformation but they face many difficulties in doing the transformation, including a lack of finance, IT infrastructure and human resources.
Cloudify Việt Nam has provided governance solutions in digital transformation for 2,000 enterprises and this number is expected to increase to 10,000 enterprises by 2025. It will contribute to boosting the national digital economy, according to Quân. SMEs also have a better technology foundation, better management and faster development.
At the forum, participants put forth solutions and ideas for the development of Vietnamese digital enterprises to contribute to economic recovery in the post-pandemic period.
The event included an awards ceremony honouring outstanding 'Made-in-Vietnam' tech products this year. These products were part of an exhibition at the forum.
The "Made in Vietnam digital technology product 2021" award were given for 10 products, including four products that received the Gold Award, the Azota platform for creating exam questions and exercises; Cốc Cốc search engine; VNPT wifi mesh equipment set and Viettel's Seashell trading and service platform. The award-winning Make in Vietnam products will promote the digital transformation process in Việt Nam. — VNS