Just three weeks after restarting in-person classes, many schools in HCM City are facing a shortage as an increasing number of teachers get COVID-19 infections.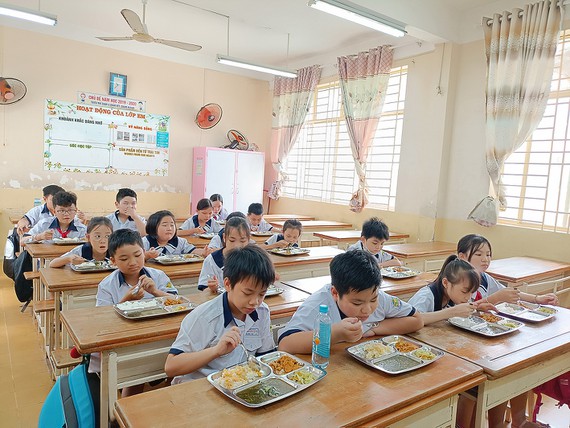 Students have lunch atthe Phan Đình Phùng Primary School in HCM City'sDistrict 3.— Photowww.sggp.org.vn
The teachers are also experiencing the added pressure of having to combine offline and online classes as a result of the pandemic situation.
Vũ Thị Hồng Ân, a teacher at the Tuổi Thơ 7 Kindergarten in District 3, told Sài Gòn Giải phóng (Liberated Sài Gòn) that she has had a long, tiring and stressful week.
To deal with the rising number of infections in schools, teachers have had to monitor and regularly update the students' health status.
Now, only about 10-12 students come to class every day instead of 22-30 prior to the outbreak.
Instead of group activities that they organised earlier, teachers now have students perform individually or in very small groups to comply with distancing regulations.
"The classrooms have become larger. Every day we divide tools and toys into two groups for students to play in the classroom and the school yard, alternately," Ân said.
School principal Vũ Đỗ Thúy Hiền said many children have had difficulties adjusting to in-person classes after a long break.
"They are no longer used to eating and napping in the class, so teachers have to work more to help them get back to the routine and class activities," she said.
Teachers also have to work hard to retrain children aged 18-36 months in each communication skill and becoming independent, she added.
Hoàng Thụy Lan Anh, class 4-7 homeroom teacher at the Phan Đình Phùng Primary School in District 3, said she was experiencing high work pressure but it was an unavoidable situation.
The class has seven students infected with COVID-19 and many close contacts (F1) of these cases are absent from school.
After school, her phone constantly gets messages and calls from parents asking about the class situation.
"From morning to night I am busy with so many tasks including preparing lesson plans, assigning learning tasks for each group of students, and answering questions from parents. It can get confusing at times," she said.
After three weeks, she and her students have gradually learned to "live safely" with the virus.
However, she and other teachers and school staff still worry about completing their work and not getting infected.
If a teacher gets infected, all students in the class switch to online learning, creating an additional burden for other teachers.
Constantly switching
Teachers in secondary and high schools are also overloaded because they have to constantly switch between two forms of offline and online teaching.
N.T.M., an English teacher at a high school in District 3, said their schedule changed every time an F0 appeared in classes.
She teaches eight classes in the 10th and 12th grades. After finishing an in person class in 10th grade, she has to teach an online one for a 12th grade class which has recorded many F0s.
"However, the school's internet network is unstable, so I have to go back home to have a stable network and teach more effectively," she said.
The Tân Phong High School in District 7 has installed two additional internet lines to the existing six to ensure that online classes go smoothly.
When a teacher gets infected with the novel coronavirus, the school will assign someone else to replace him or her.
In case no replacement teacher is found, the school will provide online classes.
The Minh Đức Secondary School in District 1 has decided to invite retired teachers to teach as a solution to deal with the current shortage.
School Principal Trần Thúy An said the retired teachers were not too worried about the risk of infection and were willing to return to teach in classrooms.
Besides, "some who have not yet fully recovered from the disease still teach online classes."
While the schools have managed to overcome several difficulties to keep lessons going, they say that the city needs to have more "radical policies" to support teachers working during pandemic times, including better allowances, equipment and teaching aids.
Source: VNS