Vietnam should exempt quarantine for double-dosed passengers and those recovering from the disease, or having negative PCR results for SARS-CoV-2, in order to promote exchanges and restore economic cooperation and travel.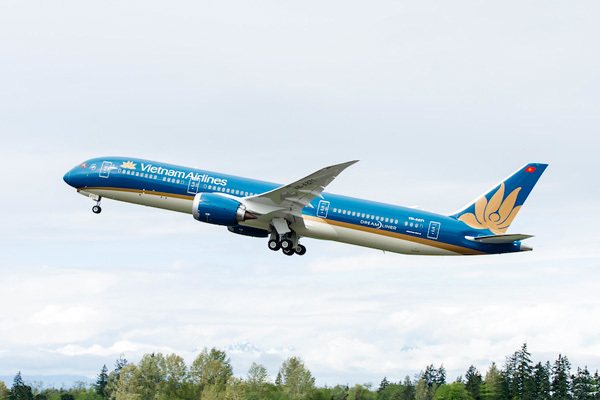 Vaccine passport bearers to be exempted from quarantine upon arrival in Vietnam. Photo: VNA
It was the proposal of foreign embassies in Vietnam at the meeting with Deputy Minister of Transport Le Anh Tuan on December 23.
According to the diplomatic missions in Vietnam, most countries have restored international flights as well as opened up borders. Therefore, they hoped Vietnamese authorities consider and reinstate immigration and visa procedures for arrivals to the pre-pandemic level.
For his part, Deputy Minister of Transport Tuan informed the diplomatic missions about the Vietnamese Government's approved plan to resume regular international commercial flights.
Representatives from embassies of countries expressed their welcome and support for the Vietnamese Government's strategy of safe, flexible adaptation and effective control of Covid-19 and the plan to resume commercial flights.
They believed that the implementation of this plan will actively contribute to promoting the restoration of economic cooperation activities between Vietnam and other countries to the pre-pandemic level, as well as creating favorable conditions for those who want to come on tourism, business, or family reunion purposes.
"The first phase of the international flight resumption plan is expected to start from January 1, 2022, and last for two weeks," Tuan said.
Regular flights will be relaunched between Vietnam and some safe markets including Beijing/ Guangzhou (China), Tokyo (Japan), Seoul (South Korea), Taipei (Taiwan (China)), Bangkok (Thailand), Singapore, Vientiane (Laos), Phnom Penh (Cambodia), San Francisco/Los Angeles (US).
These markets are considered as the most important ones in terms of political and economic cooperation with Vietnam, where a large number of foreign investors, experts, and high-tech workers wish to seek investment opportunities and work in the Southeast Asian country.
In addition, there are large communities of Vietnamese citizens living, studying, and working in these countries and territories who want to return to their homeland.
In the first phase, there will be four one-way flights per week to each destination to bring up to 28,000 passengers to Vietnam. Hanoi's Noi Bai and Ho Chi Minh City's Tan Son Nhat airports will be allowed to operate in this phase.
Local airlines are ready to fully operate the allotted flights. Vietjet Air, the low-cost airline, is ready to reopen regular international routes to Tokyo, Seoul, Taipei, Bangkok, Singapore, and Phnom Penh.
On December 23, the national flag carrier Vietnam Airlines also announced its plans to operate two-way flights between Vietnam and the US, Japan, South Korea, Taiwan (China), Singapore, Thailand, Laos, and Cambodia.
In the second phase, the national flag carrier is expected to reopen more two-way routes between Vietnam and the UK, France, Germany, Russia, Australia, Hong Kong (China), and Malaysia.
The number of flights would be high on routes with big demand such as Northeast Asia and Southeast Asia. Flights to South Korea, Japan, the UK, France, Germany, Russia, Australia, and the US are expected to be conducted by the Vietnam Airlines' wide-body aircraft, the Boeing 787 or the Airbus A350.
According to Tuan, the Ministry of Transport will consider expanding the plan further on the basis of pilot results evaluation.
The aviation authority has also negotiated with countries and territories on the resumption of air connection. At the meeting, the deputy minister suggested that diplomatic missions discuss with relevant agencies in their homeland to soon reach agreements with the Vietnamese authorities on the air connection resumption plan.

Dang Tat Thang, General Director of Bamboo Airways
"We hope that Vietnam and other countries will soon reach agreements on deploying vaccine passports and pandemic prevention regulations for visitors to/from Vietnam and other countries around the world."
Vu Duc Bien, General Director of Vietravel Airline
"We have negotiated with general agents in other countries, and our partners abroad in the preparation of reopening international air routes, firstly with Taiwan (China) and Thailand, followed by Northeast Asian countries."
Source: Hanoitimes
The Ministry of Health on Tuesday announces procedures for the issuance of Vietnam's official COVID-19 'vaccine passports' along with the passport templates effective starting December 20, 2021.