Several localities have proposed to charge COVID-19 patients with treatment fees if they refuse the vaccine without any contraindications.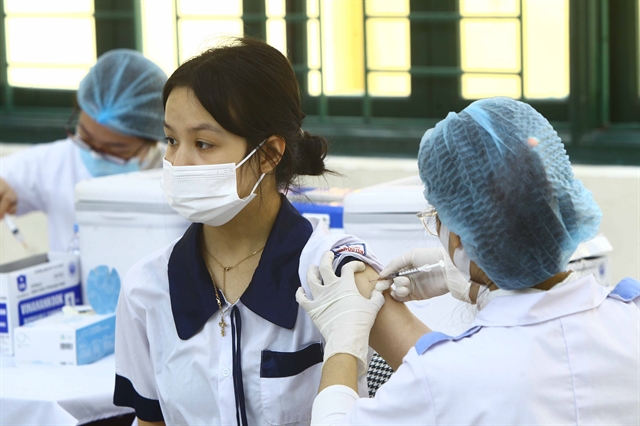 COVID-19 vaccine being administered in Hai Phong City.
The localities include Hai Phong, Quang Ninh, and Thua Thien Hue.
Following a recent working session on COVID-19 prevention and control, Hai Phong City announced that coronavirus patients who refused the vaccine without any contraindications would have to pay for medical fees themselves, starting January 1, 2022.
The city People's Committee also required its localities and businesses to assess and create a list of people who have not received the vaccine (including temporary residents in the city), aiming to complete its vaccination drive in December 2021.
Businesses in the area will also stop receiving unvaccinated workers.
Quang Ninh Province has also reached consensus that by December 15 at the latest, it will finish compiling the list of people who were prescribed the vaccine but refused to get the jab, signed statements included.
These cases will be charged medical fees if they are infected with the virus, according to the province.
Quang Ninh will start administering booster shots from December 18 and is aiming to fundamentally complete its vaccination programme in the first quarter of 2022.
Nguyen Xuan Ky, head of the provincial Steering Committee for COVID-19 prevention and control, also ordered potential-risk management for unvaccinated children under 12 years old and adults, people aged over 65 with underlying medical conditions, and workers arriving from outside the province.
Sharing the same opinion, Thua Thien – Hue is looking into charging treatment fees to coronavirus patients who declined the vaccine without contraindications.
Viet Nam has been offering free testing and treatment for COVID-19 patients at public health facilities, for which the expenses are covered by the State budget.
The country has been witnessing a significant increase in the national COVID-19 caseload, recording on average more than 15,000 new cases daily in the past seven days.
Many provinces and cities have opted for home-treatment of coronavirus patients with mild to no symptoms and self-isolation for their close contacts.
The move aims to ease the load for centralised quarantine areas, and to reserve medical facilities and field hospitals for serious cases.
Numerous localities have also set up mobile medical stations, which are tasked with aiding COVID-19 patients who are treated at home.
As of December 14, over 133.6 million doses of COVID-19 vaccines have been administered in Vieệt Nam, with more than 75 million people receiving at least one shot.
Source: VNS