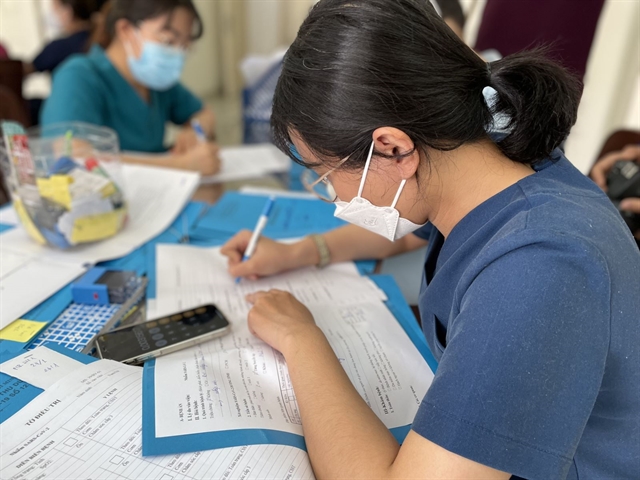 During lunch time, medical workers and volunteers at HCM City's Field Hospital 12 are still working. — VNA/VNS Photo Đan Phương
HCM CITY — Air passengers arriving at HCM City's Tân Sơn Nhất Airport that test positive for COVID-19 are immediately taken to field hospital No 12, as per protocols.
And as more and more international travellers arrive, the beds are quickly filling up.
The hospital in Thủ Đức City reopened last month as health officials expected an increase in new patients as international travel starts to resume.
There are currently more than 300 coronavirus patients being treated at the hospital, 88 of those have the new COVID-variant, Omicron.
Đoàn Văn Lợi Em, deputy head of HCM City Hospital of Dermato Venereology Medical Examination Department and deputy director of the Field Hospital No 12, said that the hospital was divided into two zones – one for those with COVID-19 positive test results and the other for those infected with Omicron.
But it's not necessarily the quantity of patients that is adding to the workload for the field hospital staff.
Em said: "At this time, we are not pressured because of the number of patients but facing language, cultural barriers, particularly the issue about food provided to the patients who come from different countries in the world.
"Previously, although there were many patients, they called the medical staff only when they have symptoms or the disease turned severe. Now, with fewer patients, medical staff have to answer a lot of questions, most of which are not related to the doctor's expertise.
"Not all patients can speak English, so sometimes we have to use gestures or body language to communicate."
Doctor Bùi Minh Tân said that besides examining and treating patients, he answers dozens of phone calls a day to consult foreign patients.
Doctor Bùi Minh Tân is busy consulting patients. — VNA/VNS Photo Đan Phương
Every day, doctor Tân is in charge of receiving patients, mostly overseas Vietnamese who are living and working abroad, returning home to celebrate Tết.
"When the patient comes to quarantine here, I have to clearly tell them that this is a field hospital, not a hotel, so living activities will not be as comfortable as at home or a hotel," Tân said.
"If the patient has any questions or symptoms, I will answer them and give them medicine. Currently, most of the patients have only mild symptoms and have had enough vaccinations, so the work is not as heavy as before."
Nguyễn Quang Nhựt, a nurse from HCM City Dermato Vernereology Hospital, said he was infected with COVID-19 while participating in disease prevention and control work such as taking testing samples, vaccination and working at the hospitals.
"For medical workers, the greatest joy is to see patients with better health conditions discharged from the hospital. We all wish the pandemic would pass soon," Nhựt said.
Lăng Thị Nguyệt, a fifth-year student from HCM City University of Medicine and Pharmacy, said that she had volunteered to work at frontline for months and at the field hospital for few weeks.
Volunteers can help computerise patients' information, process administrative papers, answer patients' concerns or contact with their families to complete necessary procedures.
Nguyệt said that she had not been home for months. In previous years, she always celebrated Tết (Lunar New Year festival) with her parents.
She said: "This time last year, I was cleaning the house and preparing Tết with my parents. This year, I would spend Tết holidays at the field hospital."
Nguyễn Minh Thắng, a volunteer from Bà Điểm Commune's Military Command, Hóc Môn District, said that he helped deliver meals to patients at the field hospital.
"There are fewer patients than before but there are still many things to do. Sometimes, I am so tired that I don't want to have a meal," he said.
Thắng said that because of the language barrier, he had a big difficulty in communicating with patients. However, he said he would still be with the patients even during Tết holidays.
Seeing apricot and peach blossoms prepared for a Tết celebration at the field hospital, all people share the same New Year wish, health for everyone and the pandemic would soon pass. — VNS
A health worker receives a COVID-19 positive patient. — VNA/VNS Photo
A Vietnamese woman returning from the US was happy to receive the news of her discharge before Tết holiday arrives. — VNA/VNS Photo
Nguyễn Minh Thắng, a volunteer from Bà Điểm Commune's Military Command, brings food trays to COVID-19 patients in isolation. — VNA/VNS Photo