The death rate, which has fallen but remains high, has been attributed to the exhaustion of medical workers, ineffective management of Covid cases, and poor facilities.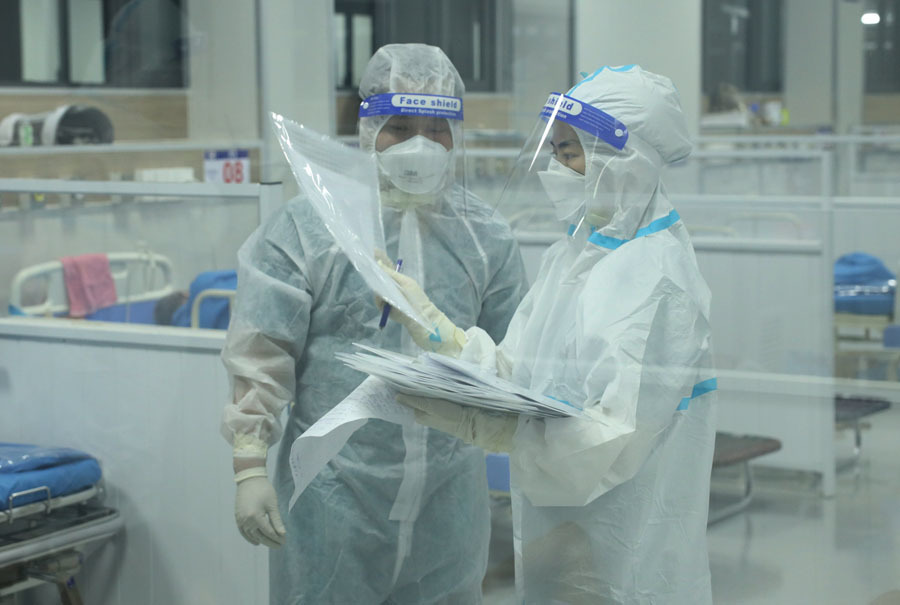 As part of a plan on preventing and controlling infectious diseases in 2022, the Ministry of Health (MOH) reported the Covid-19 situation in 2021.
The death rate fell compared with August and September, but remained high: 200 cases a day. The average number of deaths in the last seven days of 2021 was 159 cases a day. Most of the deaths were older people and people with underlying health conditions, most of whom were not fully vaccinated. In HCM City and An Giang, 85 percent of those who died had only one vaccination jab.
The number of infections soared because of the Delta variant, which resulted in an increase in the number of severe cases and deaths and overloading at local healthcare systems.
MOH attributed this to the limited capability in receiving and treating patients at grassroots level. Some localities did not implement the 'four on-site' motto and they lacked workers, medical equipment, materials and drugs. Some southern localities lacked medical workers to treat severe cases because of heavy reliance on support from central agencies.
Many medical workers became exhausted after the last two years of working in a high-pressure environment. They faced high risks of infection and trauma because of overwork. Thousands of medical workers have resigned, resulting in a shortage.
The facilities at many medical units are poor and cannot satisfy the requirements to receive and treat severe cases.
Many localities did not observe the guidelines on classifying patients. As a result, people in serious condition were treated at home, and the management of Covid patients staying at home was improper. In many cases, self-detected Covid cases did not report their infection to medical units, while others reported their cases but did not receive timely intervention.
MOH also pointed out that in many cases, severely ill patients were brought to the hospital for third-level treatment too late (third-level treatment was reserved for severely ill patients). The transfer of patients to specific treatment levels was unreasonable: asymptomatic patients or patients with mild symptoms were also brought to hospitals, which caused overloading.
The unreasonable use of drugs by people at home did not follow MOH's guidance. Covid patients used anticoagulant and anti-inflammatory drugs too early. And many localities did not invest in strengthening intensive-care capability.
Since early 2020, Vietnam has undergone four Covid waves with each one more serious than the previous one. Vietnam shifted its strategy from a zero Covid approach to 'adapting to the pandemic safely, flexibly and effectively'.
To reduce the number of hospitalizations and deaths, people need early access to healthcare service. MOH directed treatment services, including strengthening of capability of the workforce, medical equipment and biological products.
Treatment solutions were applied, including the establishment of intensive care centers and field hospitals. There are 11 intensive care centers, including five with 4,600 beds in HCM City. The three-level treatment tower model was done through online and offline consultations.
A medical oxygen supply system, especially liquid oxygen for hospitals and oxygen tanks for clinics, has been effective for respiratory support.
Public and private medical units were mobilized to fight the pandemic, with close cooperation between local hospitals and end-line hospitals to improve the capability of treatment.
The establishment of mobile clinics in communes, wards and towns was considered a breakthrough solution, helping people access healthcare service in their localities.
The number deaths fell from 300-350 cases a day to 200, while severe cases decreased by two-thirds compared with peak days.
Ngoc Trang
The Ministry of Health reported 14,978 new Covid-19 cases today, January 23, with 44 of them imported and 14,934 others locally infected, down 724 cases day-on-day.
Ho Chi Minh City, the epicenter of the recent COVID-19 outbreak in Vietnam, recorded 15 COVID-19 related deaths, including six severely ill cases earlier transferred from neighbouring localities for treatment.