While international technology giants are seeking fresh opportunities to expand further in the local cloud computing market, local players are planning for a new cooperation way to increase competitiveness, heralding stiffening competition ahead.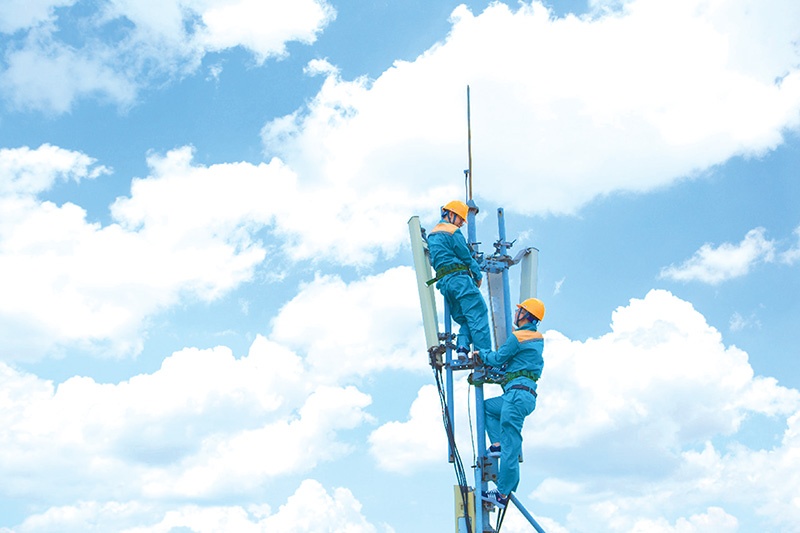 New innovations are forthcoming in the Vietnamese market when it comes to cloud and storage services, Photo: Le Toan
At a briefing with Vietnamese media last week, Dean Samuels, lead architect of Amazon Web Services (AWS), gave the details of its plan to launch a new Local Zone in Hanoi. It is a type of infrastructure deployment that places the companies' computers, storage, databases, and other services at the edge of the cloud near a large population, industry, and IT centres.
"Delivering ultra-low latency applications for a seamless user experience matters for many businesses and industries, so we are excited to bring the edge of the cloud closer to more customers in Vietnam to help meet their requirements," he said. "AWS Local Zones will empower more public and private organisations, innovative startups, and our partners to deliver a new generation of leading-edge, low-latency applications to end-users, taking advantage of the cost savings, scalability, and high availability that we provide."
The new AWS Local Zone in Hanoi will join 16 existing ones across the United States and an additional 31 planned to launch in 25 countries around the world starting in 2022, delivering single-digit millisecond latency performance at the edge of the cloud to hundreds of millions of people worldwide.
Mounting steps
AWS' new move is part of a continuation of investment to support customers of all kinds and commitment to accelerate innovation by bringing cloud infrastructure to Vietnam. As the world's most comprehensive and broadly adopted cloud offering, the US giant considers Vietnam and Asia-Pacific is an important market for future expansions.
Last year saw big steps in the market when AWS announced the general availability of AWS Outposts in Vietnam in late 2021. Outposts is a fully managed service that gives customers access to the company's infrastructure, services, APIs, and tools in virtually any data centre or co-location facility for a consistent hybrid experience. Customers can run AWS computers, storage, database, and other services locally and access the full range of services available in any AWS region to build, manage, and scale their on-premises applications.
Also in 2021, the brand-new launch of the Public Sector Startup Ramp opens new opportunities for startups in Vietnam and Southeast Asia to venture further into public sector industries with innovative solutions.
Cloud computing has three basic services: SaaS – Software as a Service, PaaS – Platform as a Service, and IaaS – Infrastructure as a Service. AWS is among the companies focusing on IaaS. Together with the company, Google Cloud Platform, Azure, VMware, and OpenStack are also strong players in this segment.
Elsewhere, leading US software innovator VMware is boosting its presence in Vietnam, showing its long-term commitment to Vietnam. In late 2021, the firm announced new advancements for VMware Cloud, the industry's first and only multi-cloud computing infrastructure that enables customers to move their enterprise apps to the cloud in nearly half the time and at less than half the cost.
VMware's growth has been largely driven by businesses' demand for digitalisation technologies to respond, adapt and accelerate to an increasingly digital-first world. Its robust partner ecosystem with leading players such as Dish, Samsung and Singtel, VMware
Pham Viet Thang, country manager of VMware Vietnam, told VIR, "On the product front, we will be strengthening our offerings at the edge to provide customers with more cost-effective options to adopt cutting-edge 5G technologies and will be looking at introducing advanced services to the local business ecosystem."
The moves by AWS, VMware, and other service providers are in anticipation of the huge growth potential of the market. According to the Authority of Information Security under the Ministry of Information and Communications (MIC), cloud computing is a new-generation telecoms infrastructure for the development of the digital economy, digital government and digital society in the next 5-10 years.
The local cloud computing market is forecast to reach $500 million by 2025 with a growth rate of 30-40 per cent. As the pandemic has catalysed market development, its growth is likely to hit 40 per cent by then.
With the promising future prospects, international cloud computing service providers eye more fresh opportunities in the public sector. They are seeking to build strong public-private partnerships.
At the Vietnam Business Forum held on February 21, representatives of business associations including the American Chamber of Commerce in Vietnam (AmCham) and its European counterpart (EuroCham) gave a number of recommendations about public-private cooperation to build cloud computing for government agencies.
AmCham chairman John Rockhold said, "We recommend the government develop and adopt smart policies to accelerate digital transformation through internationally recognised accreditation, compliance, and security mechanisms."
Specific services
Vietnam now has about 39 cloud service providers, and 27 data centres for 11 businesses. Vietnamese businesses now make up just 20 per cent of the local market, while the rest is dominated by foreign players. This leaves plenty of room for businesses to develop further.
Phan Hong Tam, director of FPT SmartCloud, said that to strengthen the development of the local market, it needs to have specific policies for cloud computing. It should separate IT industry development policy from the software and hardware industry. He also proposed a cooperation mechanism among local cloud service providers to compete with foreign players.
Echoing Tam's view, Ngo Dien Hy, deputy general director of VNPT, added that the more sharing of infrastructure among Vietnamese cloud service providers is boosted, the cheaper the costs. According to Hy, cloud computing now not is also trending towards AI and big data. Therefore, developing the industry should be further considered.
To increase competitiveness with foreign players, representatives from VNPT, VCCorp, and CMC agree that Vietnamese cloud service providers need to develop specific services to create their competitive edge.
In the National Digital Transformation Programme by 2020, with a vision towards 2030 approved by the government in 2020, tasks related to cloud computing are set out and assigned. The country is supporting the development of Vietnamese-made cloud computing services so as to enable the country to master cloud infrastructure. In the development orientation towards 2030, the MIC aims for Vietnamese firms to make up 70 per cent of the cloud computing service market.
Ha Nguyen-Co-head VBF Digital Economy Working Group
The most important strategy a government can adopt to accelerate economic and social recovery is to be a champion of digital transformation itself, and encourage change. Beyond immediate efforts, we recommend the Vietnamese government look at the long-term benefits of digital transformation and be a strong advocate for progress.
For example, as we've seen from the pandemic, the cloud has kept many governments and organisations resilient during these times of disruption with its cost savings, scalability, reliability and security.
To promote long-term resiliency, the Vietnamese government can introduce cloud-first policies to offer directional clarity for government agencies and other organisations to adopt commercial cloud computing. Leading by example, the government can demonstrate how the cloud improves transparency, delivers more innovative services to citizens, and reduces IT costs for the public sector.
The most effective policies are often ones that clarify the roles and responsibilities of government entities and cloud service providers. By embracing the cloud and its benefits, public sector organisations can focus on their core mission-serving citizens.
Alain Cany-Chairman EuroCham
Modern governments work on the front lines of service delivery with no room for administrative waste and thus need rapid access to technologies that simplify processes, reduce costs, and enable innovation. Cloud computing can play a role in creating better citizen services and facilitating inter-agency collaboration.
We recommend public-private cooperation to build cloud computing for government agencies, to adopt smart cloud-first policies. In addition, we encourage Vietnam to foster efficient digital processes to exchange goods and services internationally.
To this end, Vietnam should facilitate the growth of European and global digital businesses and their integration with Vietnam's digital economy. This can be achieved through legislation, regulations, and industry standards that allow for the free flow and exchange of data. These regulations should be compliant with international digital business practices, including the removal of data localisation requirements.
We applaud the government for consulting with the international business community on the Decree on Personal Data Protection and we welcome further consultation opportunities to ensure alignment with various international privacy laws.
Source: VIR
The financial industry is leading the way in using the cloud, but other firms in Vietnam are also using the platform for digital transformation, according to Amazon Web Services (AWS).
The cloud computing market in Vietnam in 2020 was about 133 million USD. Vietnamese enterprises only exploited about 20% of the market, mainly in the infrastructure segment.