Minh Phương
QUẢNG NINH — Sometimes people feel empty and want to escape from the hustle and bustle of the city, and at such times heading to a Vietnamese cultural village is a good choice to recharge the batteries. And it is even more so in Yên Đức village, Quảng Ninh Province, where people can indulge themselves in the fresh air and quiet.
Located 90 kilometers from Hà Nội, Yên Đức is a peaceful village that is separate from the hive of activity in the city. This rural village will ease tourist minds because of its peaceful landscape.
Passing through the village, tourists can find the rural village atmosphere with rice fields, gardens, fish ponds and friendly locals working on their farms.
Aside from the beautiful scenery, Yên Đức is rich in history, and stories of sacred relics and legends of the Lý and Trần Dynasty are passed down to generations.
Tourists can ride bicycles around Yên Đức village to wallow in the fresh air and the smell of new rice. Photos Dương Thị Mến
A community-based tourism model
With the favourable condition of nature and people, the model of community-based tourism has been promoted in Yên Đức village since 2011. Taking locals as the key component, this village has developed many tourism services. In Yên Đức, each villager is a tour guide to introduce their home town to visitors.
Dương Thị Mến, deputy director of Yên Đức village tour, said: "It was difficult at first to persuade locals to join the model because they didn't fully understand how to develop tourism in the village and they were afraid that tourism would badly affect their normal lives.
"But now this tourism model has created jobs with a stable income for more than 50 villagers. Many villagers come back to work for us to help spread and promote the image of the village to tourists."
In Yên Đức, tourists can join with locals to experience farming and other daily activities in rural villages such as catching fish and crabs, planting and harvesting vegetables.
The activity that attracts people the most is catching fish. It requires catchers to be quick to see the fish in the mud and water and fast to catch the fish. Tourists are be equipped with protective gear and fishing gear to wade into a pond. It is a fun-filled and delightful experience for tourists.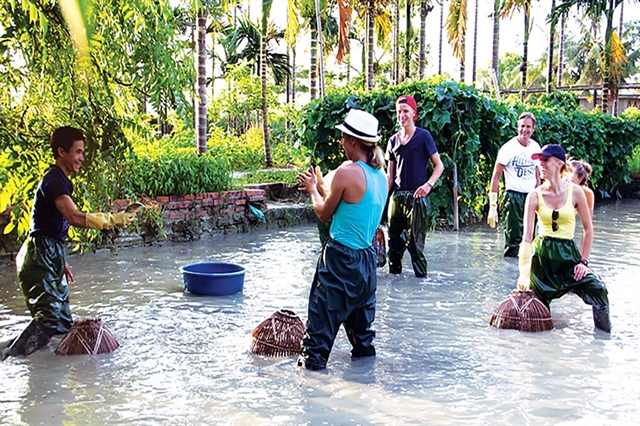 The village provides activities such as catching fish.
Apart from farming, tourists can visit local houses to learn about traditional housing architecture, family traditions and culture. The village also provides cultural activities such as puppet shows or performing chèo (traditional opera) and quan họ Bắc Ninh folk songs.
Mến said: "I worked as a farmer before, I joined the commune's performance team when I had free time, but I couldn't imagine that someday we would do tourism.
"Besides a management job, sometimes I also perform traditional songs for tourists. Tourism makes the life of mine and other villagers more colourful.
"Before the COVID-19 broke out, our village welcomed more than 20,000 tourists a year, mostly foreigners. Vietnamese tourists only accounted for 30 per cent."
To many foreign tourists, a vacation in Yên Đức is a unique experience.
Adapting to the COVID-19 pandemic
When the pandemic broke out in 2020, the number of visitors to Yên Đức decreased significantly. It became a challenge for the village as they could only welcome domestic visitors.
Since April 2020, the village decided to provide a team-building service for schools or businesses instead. Besides traditional farming experiences, the village also invests in building bonding games during the tour to make it more fun and suitable for group activities.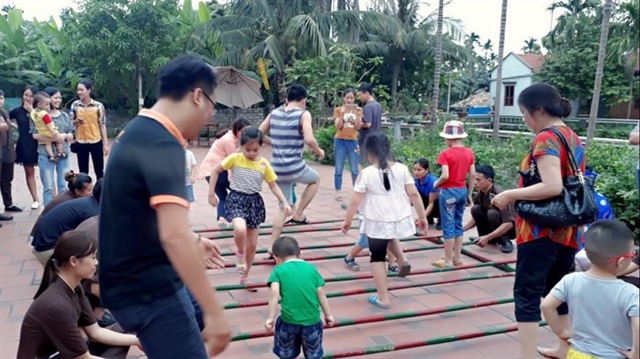 Since April 2020, Yên Đức village decided to provide a team-building service for schools and businesses.
Lý Thị Hằng, director of Yên Đức village tour, said: "We had studied about the trends and financial conditions of Vietnamese people when traveling. We built new programmes coming up with many new ideas to bring a more enjoyable experience to visitors."
"The best tourist experience with the lowest price is what we aimed for during the COVID-19 time."
The change showed some positive signals. However, the COVID-19 pandemic is still complicated and the village hopes to see a brighter future for its tourist activities.
Mến said: "We cannot welcome tourists even domestic tourists now. We have to switch to farming work, as we did before, to make ends meet. We hope that the pandemic can be controlled so tourism can return to normal soon." — VNS