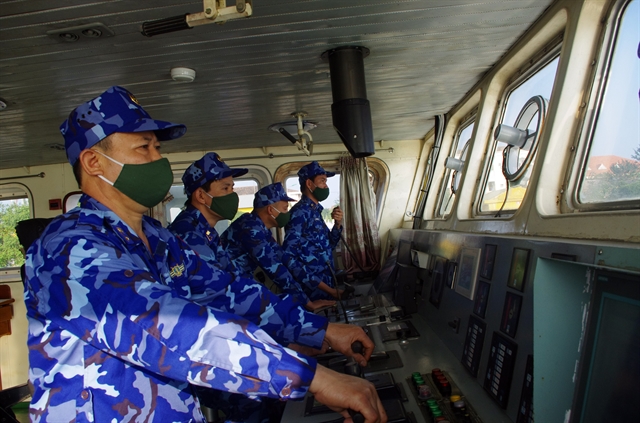 Soldiers of CSB2005 are ready for a long routine patrol mission over the Lunar New Year. —VNA/VNS Photos
HÀ NỘI — While many people on the mainland are preparing to welcome a warm and happy Tết with their families, coast guard sailors are continuing their long routine patrol missions at sea.
They are on duty to ensure COVID-19 pandemic prevention and control and protect the sovereignty of Việt Nam's sea and islands during the traditional Lunar New Year holiday.
In the early morning of January 23, at Đông Hải military port in Hải Phòng, a ship of the coast guard region 1 was ready to set sail to protect security and peace in the area of Bạch Long Vĩ islands.
The sound of the engines resounded through the air as CSB 4036 prepared to set sail. Onboard, sailors made video calls to say goodbye to their families and loved ones before the ship left port. The farewell for a mission over the Tết holiday touched many hearts.
Before leaving the mainland, officers and sailors completed all preparations for a voyage that will last over a month. The ship was filled with food to welcome in the new spring at sea.
Major Ngô Thế Trung, leader of Squadron 112, said complicated developments usually occurred in the Gulf of Tonkin during this time, especially in foggy weather. Many foreign fishing boats blatantly violate the country's waters for illegal fishing.
Therefore, the coast guard ship must patrol regularly to drive violating fishing boats out of the waters under Việt Nam's sovereignty.
In addition, he said, the COVID-19 pandemic still had many unpredictable risks, so the task for ships on duty was to effectively carry out pandemic prevention and control at sea.
Captain Ngô Đức Quang Hòa, captain of the ship CSB 4036 said all officers and soldiers would strengthen supervision and fight against illegal entry by sea to ensure the nation's pandemic prevention.
Senior Lieutenant Colonel Trần Văn Năm, Political Commissar of the Squadron 11, said all officers and sailors were determined to ensure security and safety both in the air and at sea.
The unit would maintain the ships on duty and complete any task given to them.
A very important task was to ensure a warm Tết for all people on board to help forget about homesickness, he said.
Soldiers pack chưng cakes for their long voyage.
In the military port of the Coast Guard Regions 2 and 4 sailors were busy transporting food, vegetables and necessities onboard, including ingredients to make chưng cake. Each ship is stocked with enough food to welcome in the new year.
Many of the sailors are very young and must temporarily put aside their own joy to be on duty for Tết at sea.
Placing a tray of five types of fruits on Uncle Hồ's altar, Senior Lieutenant Lê Xuân Trường, Captain of Coast Guard Ship 4038 under the Coast Guard Region 2, said the team planted these chillies in pots at the unit's barracks.
"The chilli tree was ripe on the day the ship set sail," he said.
Over the past year, the ship CSB 4038 has been on duty combatting smuggling and commercial fraud, as well as COVID-19 pandemic prevention.
Colonel Đỗ Văn Hiếu, Political Commissar of the Coast Guard Region 4, said the unit paid special attention to combat readiness forces, especially ships on duty at sea as well as island points.
The unit would organise early Tết for officers and soldiers on the ship, including providing chưng cake and art performances during their island docking and at sea.
Major General Lê Quang Đạo, commander of the Việt Nam Coast Guard, talks with officers and soldiers on the bridge of CSB 4032 before they set sail.
Major General Lê Quang Đạo, commander of the Việt Nam Coast Guard, said the ships on duty must perform well on patrol duties and ensure combat readiness while taking care of the soldiers welcoming in the New Year at sea.
He said Tết duty at sea meant having to be away from family and relatives, so chưng cakes, candies, flowers, and fruits had been prepared for the long trip.
"Those of us at sea during Tết would like to wish everyone on the mainland a happy Lunar New Year filled with joy and happiness. At sea, we will unite together, overcome all difficulties and waves to firmly protect the sovereignty of the sea and islands of the Fatherland," said Major Lâm Văn Hanh, Captain of the ship CSB 4036. — VNS