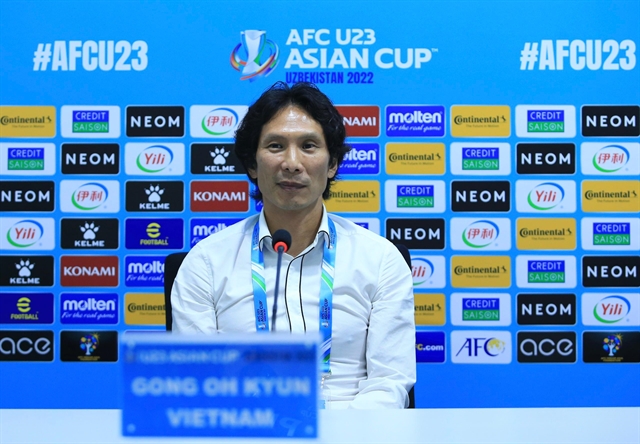 Coach Gong Oh-kyun of U23 Việt Nam team. Photo VFF
HÀ NỘI — Under 23 coach Gong Oh-kyun has apologised to supporters after his team were eliminated from the 2022 AFC U23 Asian Cup.
Gong did thank the players for their efforts in the tournament, after they lost by two goals to nil at the hands of Saudi Arabia in the quarter-finals on Sunday.
"I'm sorry that the Vietnamese team didn't have a better performance against Saudi Arabia," the South Korean coach said after the match.
"I hope my players forget about this tournament and perform better in the upcoming events. When Saudi Arabia took the lead, I told the players not to give up, try to play well and they fought hard."
However, the 47-year-old Gong was also satisfied with the Vietnamese team's performance as they made every effort at the Asian event.
"Congratulations to Saudi Arabia for reaching the semi-finals. I have only spent 17 days preparing for the AFC Championship with the Vietnamese team. This is the first tournament in my career as head coach. I appreciate the Vietnamese players very much," Gong said.
"The whole team competed well to prove their ability. I think they will grow up in the future, may be one or two years from now."
Under the guidance of Gong, Việt Nam played confidently, with the active pressing philosophy of the South Korean coach.
However, the class and strength of the defending runners-up of the tournament showed clearly. Two goals came at important moments of each half, causing Việt Nam to be eliminated.
Goalkeeper Quan Văn Chuẩn received a red card and left the field after making a mistake that prevented a clear scoring opportunity from the opponent.
At that time, Việt Nam had run out of substitutions, so striker Nhâm Mạnh Dũng had to take over in the nets.
Coach Gong had no complaints over the decision.
"The red card for Việt Nam was reasonable," he said.
"At that time, I was only worried that the players would give up and no longer have the motivation to play. But they didn't do so, they still played hard until the end."
Speaking after the match, coach Saad Al-Shehri of Saudi Arabia admitted: "Việt Nam played well with good organisation and good tactics. We faced many difficulties when playing them."
Việt Nam closed their journey at the final round of AFC U23 Asian Cup with two draws, one win and one loss, in which the best performance of the team was in the draw matches against South Korea and Thailand.
After the AFC tournament in Uzbekistan, Việt Nam are expected to continue to grow under coach Gong having obtained certain good results after his short time with the team. VNS