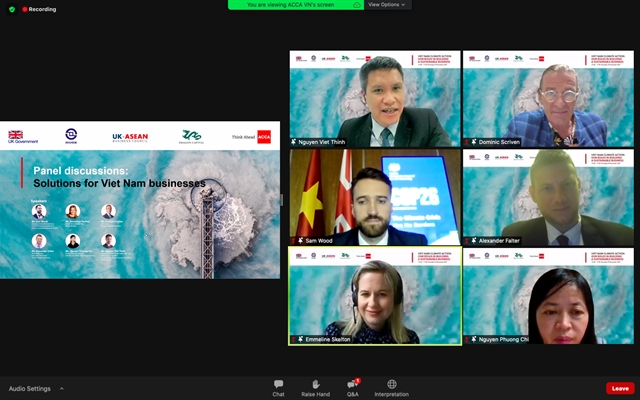 Speakers at the webinar 'Vietnam climate action: Our roles in building a sustainable business'. — Photo courtesy of the organiser
HCM CITY — The climate agenda will redefine the world of business in the coming decades, and there is a critical need for leaders in governments and elsewhere to grasp this challenge and respond to it, a webinar on business sustainability heard.
Speaking at 'Vietnam climate action: Our roles in building a sustainable business' organised by the UK Department for International Trade and Ho Chi Minh Stock Exchange last week, Gareth Ward, the British ambassador to Vietnam, said: "I am pleased that more and more international companies are prioritising the green agenda in their business models, through high ESG (environment, social, and governance) standards, as well as robust and transparent climate reporting.
"Whilst much progress has been made on climate action, there is of course more to be done and together. We as the UK continue to stand ready to offer our support to Việt Nam, through policy dialogue, expertise and finance."
Phạm Hoàng Hải, partnership development head at the Việt Nam Chamber of Commerce and Industry's Vietnam Business Council for Sustainable Development, said: "It is great to see how active and creative businesses are in designing and accelerating solutions that balance business performance and sustainable goals.
"The Việt Nam Chamber of Commerce and Industry is supporting the climate efforts by connecting our members with businesses and organisations which share the same vision to devise effective strategies for their sustainable development."
Ren Varma, mainland Southeast Asia portfolio head of the Association of Chartered Certified Accountants (ACCA), said the ACCA has launched an online sustainability hub that provides finance professionals around the world with access to highly relevant resources and knowledge, which enables them to rise to this global challenge.
"We are also glad that the Sustainability Reporting Awards led by ACCA for the last 9 years as part of the annual Vietnam Listed Company Reporting Awards has brought about positive changes in how listed companies build and implement sustainability strategy."
Dominic Scriven, chairman of Dragon Capital Group, said: "We are committed to Việt Nam for the long-term; therefore, the long-term interests of the country are the same as ours. We believe that climate change, greenhouse gas emissions and bio-diversity loss are inter-related and inseparable threats to businesses and communities."
Lê Công Điền, director of the State Securities Commission's public companies supervision department, said an event of this nature enables businesses to find practical ideas and lessons for their next plan of sustainable development.
Co-organised by Dragon Capital and the ACCA, the webinar attracted the participation of over 200 delegates from regulators, listed companies, international and local organisations, BritCham Vietnam, the ACCA, and others. — VNS